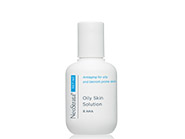 Write a Review - Receive 50 Rewards Points!
Tell us your thoughts about NeoStrata Oily Skin Solution - AHA 8 so we can help you find the right products. With your review, you'll also receive 50 Rewards Points. Please note that it may take up to 72 hours for a review to appear on site. All reviews are subject to moderator approval.
Write a Review
24 Results
How about a million stars??
I'm convinced that this and the Neostrata Gel Plus AHA 15 are my fountains of youth. I alternate between these two products. My skin is clear, even-toned, with nary a wrinkle or blemish in sight. If I do get a pimple, it's extremely mild and heals particularly quickly when I apply twice a day as opposed to my standard once in the evening. It's a bit drying during the winter, so I do use a thick cream over it during the colder months. I'm 40 years old, and people are shocked by my age, and I even got carded several weeks ago. Plus a bottle seems to last forever. I apply with my hands to ensure every drop is put to use.
Loving this product.
I love all products of Neostrata. This product is better, stronger than AHA 8% of Paula's Choice. It has alcohol denat. but my skin still feels good and soft after using it. Love it.
15 plus years!
I have acne prone / sensitive skin and I've been using this product for over 15 years. Coworkers, friends, and family members comment me that I still look like I'm in my late 20s - I just turned 42 in January! There are times I do like to try new products, but I always come back to Neostrata.
love it!
This product works with my Obagi regimen! I love using this every morning
aha solution
Wonderful stuff. Keeps skin soft . Reduces wrinkles also.
Great product
It works for my oily skin very well.
So far, so good
I have been using this toner as part of my new skincare regime. My skin is looking really clear and I have been complimented on it. Make sure you always moisturize with it, as I have found my skin will become dry if I don't do this.
Love this stuff
It's the only stuff that clears up my hormonal acne. Used this years ago at the recommendation of my dermatologist. Over time I got away from it and have recently found it again. Very pleased.
Old Faithful
Ive been using this product religiously for almost 5 years, and I continue to use to it because it works great.
Great Product for oily skin
I generally use this product in the morning before applying anything else to my face. It is a nice mattifier, but it doesnt make your face look cakey or powdery dry. Its almost like a natural dry kind of look, if that makes any sense. I have oily skin and this works out very well for me as the first prep before I start putting any medication, serums, lotions, makeup or foundation of any type on my skin. This product is also safe to use throughout the day, if you dont wear makeup, (foundation of any kind), to keep oil at bay but I wear makeup everyday so I will not be using it in this way.
GENTLE AND EFFECTIVE
This is my first t ime using this product. It works as well as others have commented. Its not harsh on my skin and little bit goes a long way!
Oily Large Pore Acne Prone Skin----THIS WORKS
Yes, I am a middle aged woman with acne prone skin....blackheads, oiliness and pimples. this product has really helped reduce my adult acne. I like the way it tingles inititally, but does not irritate. I am thankful this product line exists, as I have tried so many others.
Works
Really keeps oil at bay without causing dryness
Works well
I bought this for my daughter and it works very well on her problem areas of breaking out. And it makes her skin look very smooth. I learned about it from my sister who uses this on recommendation of her dermatologist. It makes her skin look young and smooth too.
Wow!
I thought that this was going to sting or burn but it's so soothing and gentle it surprised me! It leaves my skin feeling fresh, clean, and hydrated. helps keep my skin matte too. Neostrata is amazing their products are so gentle but they are hard hitters. Love, love, love the entire product line!
Good product
This one lived up to all the positive reviews.
IT WORKS!
I've tried about every product on the market to reduce the oils in my skin and this one truly works. I've had less break-outs since I've being using it and doesn't over dry my skin. I use it in the morning and before bed time. Worth the purchase!
It Actually Works
I never would have believed it, but it works. I use it twice a day but started at once just to make sure it wouldn't over dry. I'd recommend other products from this brand as well as they compliment one another nicely and have mild, if any, fragrance which is key for me.
This really works!
I have combination skin and I use this product partial area (oily zone) on my face twice a day. This solution keeps my skin clean and I noticed that large pores on my nose are shrinking dramatically. This really works!
Great Buy
I have oily skin and have never found a product to control that, well this one really works and it feels like you have nothing on your skin. Another thing that I really like is it does not clog your pores as some of the oil control product do. I will be buying this again!
Good for oily.combo skin
This solution is the perfect concentration. Not too harsh, but does the trick. It leaves your skin feeling refreshed. Wish I would have purchased sooner. I also like other products in the neostrata line (especially the new anti-aging regime). Try it! It works well....
Ecellent Product!!!
My 16 year old daughter has been struggling with acne. I've taken her to several dermatologists & the products recommended have not worked for her. I bought this product along with the antibacterial cleanser & the results were fabulous. Her skin is clear & smooth. I highly recommend this product!!
great product
If you have dry skin, do not try this product, b/c it's way too good. BUT, if you have oily skin, this is the product for you. The glycolic acid in this product helps reduce pores too!
Miracle In A Bottle
I have been using this product for over 5 years, and this is the best oily skin product on the market! For years I was plagued with breakouts and very oily skin, and my dermatologist recommended this product. I was skeptical since I had tried numerous products over the years for acne/oily skin to no avail. This product, however, solved my problem skin. It gently exfoliates and gives your skin a wonderful glow. It also works wonders on aging skin without drying out your complexion with harsh chemicals. I have recommended it to my friends.