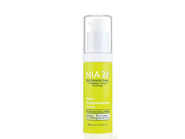 Write a Review - Receive 50 Rewards Points!
Tell us your thoughts about NIA24 Rapid Depigmentation Serum so we can help you find the right products. With your review, you'll also receive 50 Rewards Points. Please note that it may take up to 72 hours for a review to appear on site. All reviews are subject to moderator approval.
Write a Review
25 Results
Great product!
I use this morning and night. Love it! I have melasma, so it's not getting rid of that completely, but it definitely helps
Love it!
I love most of the NIA24 products. I've used them for several years now - I'm a skin care junkie and have tried everything, and I've never stuck with anything so long. It seems to be the one brand that never irritates my super sensitive skin. No rash, no pimples, no rosacea flares. This serum keeps my skin calm and my skin tone even. I use it at night, under the intensive recovery cream. Never switching - this brand is it for me.
Used a year and ok results
Nothing special. I really like the philosophy behind Nia24 but this was just not as effective as I would have liked. Obagi has been the only thing to really work well on my sun damage.
mixed results on discoloration
I have been using this product for at least six months, and I have had mixed results. Perhaps results depend on what caused discoloration? I have both brown spots from sun damage and melasma from pregnancy. I do feel that all discoloration has at least lightened a bit. However, I dont think that the more prominent sun spots I have have improved all that much. I still have to use concealer over them, etc. I have had better, though still mixed, results with melasma. I had that horrible "mask of pregnancy" melasma moustache, and its almost completely gone. (My son is almost 12, and so the discoloration has been there for quite some time). I have actually seen better results with this product than I did with hydraquinone (sp?). However, I have a large melasma patch on my forehead that is still there. I think the difference might be that my forehead has seen so much sun, especially when I was young and dumb and didnt wear much sunscreen. Basically the brown spots that I think are related to bad sunscreen habits from my teenage years (Im 45) have faded a bit but not much. The product has fared better with other discoloration. I have seen good enough results to convince me to try one more bottle (still have some left in first bottle -- it lasts!). However, I have not seen the rapid results I had hoped to see.
Does what it says
I think this is an excellent skin lightening agent if you are looking for an alternative to hydroquinone. The serum is light and wears sheer under other products and makeup. The bottle is a bit small for the amount it costs but since the product is effective, its easily justifiable. Highly recommended especially for breakout-prone skin.
NIA Rapid Depigmentation Serum
Love the product. Makes a big difference in my face!!! I would highly recommend it! The spots have gotten lighter and some have disappeared!!!
sun damage on chest
I am using this for sun damage on my chest along with the recovery cream after applying the Rapid Depigmentation Cream. it is helping with the brown spots and the wrinkles, I am 49 years old and trying to reverse some ofd the sun damage to my skin. All the products in this line are excellent!
Like this product!
So far I really like this product. I have lots of sun spots on my face and hands. I am on my second bottle, and it seems to be working. Many spots are lighter and overall my face looks brighter. I has caused some light peeling.
Diminish dark spots
I have very fair skin and have begun to notice dark spots from age and time in the sun. This product seems gentle and truly lightens up the dark spots. I do not know the magic behind lightening only the dark spots but i like it!
Great product for age spots
This product is wonderful. I have very reactive skin, and I have had no irritation. My age spots are fading with regular use of this product.
Love this product line
I've tried numerous other products to help with brown spots on my forehead and cheeks. I am very pleased with the results I'm seeing from this product. I've been using it for a couple of months now and the discoloration has almost completely disappeared. Is it expensive, yes, does it work, yes.... will I continue to buy it, you bet!
Not working, not worth it...
Sadly, this product has not really performed for me. I have some melasma on my upper lip area, and have used 4% hydroquinone on and off for a year or so. It works but you really can't stay on it for any extended period of time. The fact that I leave my house every day means that this condition will never really leave me entirely, unfortunately, and in the Spring and Summer months it definitely gets more pronounced. I wear 50 SPF every single day of my life, rain or shine. In any event, I bought this just from doing a search on lovelyskin.com and reading reviews. I considered other products and made a decision based purely on reviews and ingredients. After using it for 2+ months, it really has had ZERO effect on my dark patches. So, maybe my skin just doesn't respond to these ingredients. I'm disappointed, and I felt like I should put this out there just in case there's someone who's on the fence. My skin does feel soft and smooth but I have lots of other products that do that, too. So it isn't doing what I bought it to do: lighten my dark areas. In my opinion, it's not really worth the money. I do have success with other products from this site and others, just not NIA24 Rapid Depigmentation Serum.
Love it...
Loved the way it made my skin feel...
Like what I see
I have been using this product for about 3 weeks. I hope it will lighten or rid my face of one age spot in particular. So far, I notice that my skin is brighter and clearer, in general. A little goes a long way.
Nia works again!
I appreciate the Nia line. It appears to be working slowly but surely on some annoying sun spots I have.
Too soon to tell
I've been using this product for about a week now, and I really like the way it is abosrobed into the skin. Howver, it's too soon to tell whether or not it can beat my old standby, Clinicians Complex, for fading brown spots.
It Is Working...
The treated areas are definitely getting lighter!
Seems Working !
It seems making my complexion brighter. The result shown after using for 3-4 days, only in AM though. So, if I use it day and night, it may even better. But it's too expensive to use day and night
This really makes a difference.
I've only used this for one month and already see improvement. I am hoping that it will also work on my patches of melasma. I use this in conjuncton with NIA24 SKIN STRENGTHENING and NIA24 EYE CREAM and TNS ESSENTIAL SERUM.
Works Great
I have been using the product twice a day for about a week now and already see my brown spots fading. I do use it in conjunction with other NIA products and I think all of them are great. I am very pleased with the way my skin looks.
Works!
I received a sample of this and have been using it once a day in the AM. I can't believe my eyes! My acne marks are almost GONE! As in vanished! I'm a little concerned that it contains Vitamin C... I hear that is can make you breakout if you're acne prone (which I am)... but I haven't had any breakouts with this at all. So, I think it may be ok:)
Worth it.
I was very skeptical at first, but I had a pretty bad hyperdepigmentation problem and was willing to try anything. I really didn't want to spend the money for this product, but I am oh-so-very glad that I did. IT IS WORTH EVERY PENNY. I know this sounds ridiculous, but I swear I noticed a difference in the first couple days. I have had the product for a few weeks now and I barely have to wear any foundation any more. One pump covers my whole face - use it twice a day - and this product will last a long time. Seriously. Worth it.
Gentle but it works!
NIA 24 Rapid Rapid Depigmentation Serum is a product I will continue to use. It has a neutral fragrance and doesn't interfere with make up or sunscreen. It has a great texture and I am seeing improvement in my face and hands.
NIA 24 Rapid Depigmentation Serum
I am a Health & Physical Education teacher as well as an Outdoor educator. I am always outside and in the elements. Although I routinely wear sunscreen, I do have some pigmentation spots on my face - I tried a sample of the serum and was satified with the quick results. I bought the full-size product and use it only 1x/day instead of 2x/day as recommended. My skin is sensitive and can tolerate this dosage. I am pleased with the results and will continue using it.
Great product
Have been using in conjuction with my other NIA products and seems to be working. Very easy to apply.