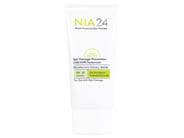 Reviews For
NIA24 Sun Damage Prevention UVA/UVB Sunscreen SPF 30
44 Results
Great Product!
I have enjoyed using many of the NIA24 products. I especially love this sunscreen, as it is creamy, offers SPF 30 protection, and absorbs well into the skin. SO sad this not going to be available
This sunscreen is SO good!!! I have oily skin & it doesn't make my skin more oily at all!!! It doesn't cause breakouts, feels like a lotion instead of a sunscreen & sinks in quickly <3 Micahfh
Verified Purchase
My go to sunscreen
My skin really likes this, and it works well with makeup. fiveone5
Verified Purchase
NIA 24 Sunscreen UVA/UVB
Excellent product that I've been using for several years. Unfortunately, I've been notified that NIA is going out of business. LovelySkin Customer
Verified Purchase
Almost perfect
If your skin is normal to dry, this will likely be excellent. Ingredients are impressive so you get true skin care along with SPF. Cannot say it is heavy, but still too heavy for my face. Great for my hands & forearms when they're exposed, and it is moisturizing. LovelySkin Customer
Verified Purchase
Good Sunscreen
I really like all NIA24 products, and the sunscreen is amazing. I do however like NIA's broad-spectrum better than this one, as it is thicker and multitasks as a primer for my dry skin. Great Sunscreen
I really like this sunscreen. It goes on nicely and doesn't leave any noticeable film. I think it does a great job of protecting my face from the sun. LovelySkin Customer
Verified Purchase
Great sun protection
I received this sunscreen as a sample, and it works great! I have a few dark spots on my face from Acne scarring and this sunscreen helped protect those spots as well as the rest of my face! Will buy. Does the job
Great SPF moisturizer. Applies smoothly with no clumps. Happy with purchase. Nia sunscreen
This product is a must in my skin care routine. Even though some moisturizers I use have sunscreen I always use this sunscreen and it smells great too. LovelySkin Customer
Verified Purchase
Great product line!
I started using the NIA24 product line about 3 weeks ago. I use this along with the Skin Strengthening Complex and Depigmentation Serum. I can't believe it took me so long to try this brand. After only a few days, I noticed how much healthier and brighter my skin looked. It has not been long enough to tell if the products are helping fade my brown spots, but so far I am very impressed with this line. Other than a small amount of concealer to cover a couple of dark spots that I have, I have not felt the need to wear any makeup after I started using these products. I was previously using a much more expensive brand, and this already has it beat by a long shot. I am looking forward to its long-term benefits.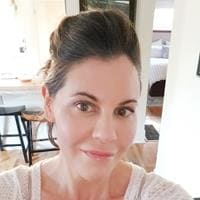 Excellent Sunscreen plus more
For me, this is the only sunscreen I purchase. It is not greasy, smells great, and lasts a long time even with daily use. But, I found that I can mix NIA24 Sun Damage Prevention with my facial foundations, and it goes on beautifully. I bought a foundation that was a half shade too dark. I mixed it with NIA24 Sun Damage Prevention, and it turned the foundation into a CC Cream that matched my skin perfectly. Excellent product. LovelySkin Customer
Verified Purchase
Love this stuff!!!
This is my all time favorite sunscreen. Light scent plus the added benefit of Niacin! Can't go wrong with this one. LovelySkin Customer
Verified Purchase
Mom loves it!
Bought this for mom. It makes her skin feel smooth and soft and improves her pigmented skin without irritation. Slightly stronger scent and more moisturizing than NIA24 Sun Damage Prevention Broad Spectrum SPF 30 100% Mineral Sunscreen. LovelySkin Customer
Verified Purchase
the best!
Normally, I wouldn't purchase a sunscreen at this cost, but I tried a sample and loved it. I have been looking for the perfect sunscreen for a long time–red hair, freckles, extremely sensitive to sun–and I believe I found it. This will be my daily summertime sunscreen. LovelySkin Customer
Verified Purchase
perfect for my oily easily broken out skin!
This sunscreen I love! it doesn't make me break out. It goes on light and may be a bit white when first put on, but I have yet to burn while wearing this on my face! I love that it's not particularly oily, and I don't feel like i have sunscreen on when I put it on! It's wonderful! NIA24 Sun Damage Prevention UVA/UVB Sunscreen SPF 30
I have used Nia 24 SunDamage for several years and my face does not get sunburn. LovelySkin Customer
Verified Purchase
Perfect
The only sunscreen that doesn't break me out. The mineral one is OK too, but I much prefer this one - it leaves no white cast at all. If I'll be out all day, I'll use the EltaMD clear, because it has higher protection, but that one does break me out after a few days. This one is my every day sunscreen. I can't recommend it enough! LovelySkin Customer
Verified Purchase
Works great for my dry skin
I really like this sunscreen. I wear it daily and it absorbs quickly. I don't have to wait too long to put makeup on. I also really like the scent. It doesn't smell like sunscreen. LovelySkin Customer
Verified Purchase
Not for me
Very heavy going on & makes my skin feel dryer then it already is. excellent sunscreen
This is really a sunscreen and treatment in one. This protects with no sensitivity, makes my skin feel firmer when I use it, and remarkably lightened some tough brown patches on cheeks. A keeper! LovelySkin Customer
Verified Purchase
Good stuff!
I like how this moisturizing sunscreen melts into my skin. And the smell, mmm, I cant get enough of the fresh, clean fragrance! Ive only had a good experience with this sunscreen, no breakouts buffaloprince
Verified Purchase
Great sun block
This is so nice and feels so good on your skin and stays! It makes your skin feel fed somehow and the best part is, you are protected from aging sun rays. Do not hesitate to get this one when you are in the market for sun block. I am 62 and this is a must have. LovelySkin Customer
Verified Purchase
Best sun prevention product
I love the way this sunscreen blends in nicely, no white, chalking residue. It doesn't sweat off when I play tennis either! LovelySkin Customer
Verified Purchase