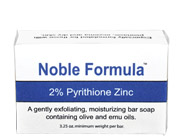 Write a Review - Receive 50 Rewards Points!
Tell us your thoughts about Noble Formula Bar Soap so we can help you find the right products. With your review, you'll also receive 50 Rewards Points. Please note that it may take up to 72 hours for a review to appear on site. All reviews are subject to moderator approval.
Write a Review
19 Results
Best face soap for sensitive skin
I've struggled with sensitive skin for a long time. Have been using this product for months, and my face is healthiest it's ever been. Highly recommended!
Noble soap
I've been using this for years to cleanse my face. I have seborrheic dermatitis and this soap minimizes flare ups. I can go 6-9 months without symptoms using Noble soap without needing Rx of Ketoconazole. When I do get flare ups, I continue using this soap to cleanse my face before I apply my topical Rx. I keep the soap on my face for 3-5 minutes before rinsing to give time for the antifungal to work.
Only soap I use on my face!
I have red scaly itchy spots on my face and regular soap worsens the condition. Noble soap is the only soap that is gentle enough for my face. The bumps in the soap bar act as an exfoliant and make my face feel really clean! Love this soap!
Noble formula
This soap helps with breakouts, but does feel a little drying if you have dry skin.
Love this soap!
I use this soap for my face, and it leaves my face soft,gentle exfoliation, and helps relieve my rosacea. I highly recommend this product.
Happy Customer
Im a happy customer because I have eczema, and psoriasis as well as dry skin and I think I found the thing that will help my condition. The itching alone is so annoying. Well, Ive been using this soap for a few days now and already I notice a difference. I feel I made the right choice. Im also glad I bought 2 bars.
A soap that works!
This is my 4th bar of Noble Soap, 2 for myself and 2 for family members. I have suffered for years with dry scaly patches over my eyebrows that spread to include my ears and bridge of my nose. I actually thought I may have Lupus! My face looked as if I had 3rd degree burns. My dermatologist had written expensive Rx over the years but NOTHING worked. Finally, I saw Noble Soap advertised on TV dr. show. I had nothing to loose so I ordered my first bar. It started to clear my skin within 2 months. Not only did it work but the bar lasts for at least 4 months. I recommend it to anyone who has suffered with red, itching, scaling skin. It is gentle on my face, and soothing. LovelySkin.com, has the very best price plus free shipping and free samples are always included. If you have cried and stayed inside because you were ashamed to be seen , try this. IT works.
Doctor Reccommended
This soap has helped clear up my Eczema. I have been using it for 2 years.
Good for Dermatitis
I found that when I applied my eyebrow pencil, I had some skin flaking in the eyebrows. This really puzzled me. I researched it and found the cause is a form of dermatitis just in the eyebrow (and for some people eyelid) area. This soap was recommended. After about a week of using it and really working it into my eyebrows, the dermatitis stopped. The only thing I dont really like is the exfoliating particles. They are a bit big and scratchy. I just lather it up in my hands and apply it to my face and neck. Be sure to rinse well so you dont get it in your eyes. I will definitely keep buying it to keep the dermatitis under control!
slippery slope of managing rosacea
I have had rosacea for many years and have had difficulty controlling redness with associated burning, excessive dryness, and clogged pores. Washing my face twice daily with the emu formula soap controls the redness and eliminates the burning and dryness. Although I notice some soap residue in the sink after rinsing my face, my skin always feels soft and clean, have less issues with clogged pores and have eliminated my need for a face moisturizer.
Works Well
I bought this to treat the Tinea Versicolor on my chest and it seems to work very well. The Tinea Versicolor is finally going away! I use it 2-3 times a day in place of my ordinary soap all over my body. It lathers great and leaves my skin very smooth. It's not as drying as dandruff shampoos and it doesn't irritate my skin. One bar lasts me about 2 weeks. I'm definitely ordering more!
not the same as znp!
I thought this Noble bar soap would be a good replacement for my discontinued ZNP bar soap but it is totaly not a good replacement! This bar soap does NOT clean the skin well and leaves a greasy residue! I would not reccommend it and I plan to throw this Noble bar soap out! MOST disappointed on this product-especially for $12.
Noble Formula Zinc Soap
I am extremely satisfied with this product. Expensive but Effective.
znp alternative
I tried many othe products in an attempt to control my dermititus and nothing seemed to work. After using this product, I've finally found what i needed. This soap does exactly what it the manufacturer claims. It also does not dry my skin like other soap. This is GREAT ! I will continue to use this soap. I find it actually works BETTER than ZNP. Thank you so, so much.
works on flaky shin
I have dry and flaky skin in patches on my face and this soap is working to clear this up. It leaves my skin smooth and soft, not dry like other soaps. I love this Noble soap!
works so far
I have only been using this soap on my face for a short time. It is a little strong on my cheeks, but it works well on the flaky skin in my eyebrows and hairline.
Working great so far
Feels good while using it and doesn't leave skin dry.
Noble Soap
Noble soap controls the flaking of my skin without drying it out! So far it is working well for me.....
noble soap
Noble soap is great replacement for ZNP. In fact, it works better because it's less drying than ZNP. It's only slightly pricier, but hopefully will not have the supply issues that ZNP regularly has in the US. Even if ZNP is available in the future, I will use Noble soap instead.