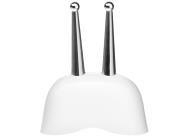 Write a Review - Receive 50 Rewards Points!
Tell us your thoughts about NuFACE Trinity ELE Attachment so we can help you find the right products. With your review, you'll also receive 50 Rewards Points. Please note that it may take up to 72 hours for a review to appear on site. All reviews are subject to moderator approval.
Write a Review
16 Results
Works Well
I like this attachment, especially for upper eyelids and brows. My only complaint is that the attachments are not that easy to interchange on the NuFACE device. Nice Attachment
I love my NuFACE Trinity and am somewhat pleased with the ELE Attachment. It allows me to focus on small areas that the Facial Trainer can't reach. I haven't yet seen the results I'd hoped to, but I've only been using it (5 days a week) for about a month. LovelySkin Customer
Verified Purchase
Good accessory
This is a useful accessory for the NuFACE device because this attachment can concentrate on eye & lip area, since the original attachment would be too big for these small areas. LovelySkin Customer
Verified Purchase
A Must BUY Attachment
I never expected this ELE attachment to be so fantastic. I have about 2 more weeks before my 60-day routine of 5x a week but the results are already clear. The skin above my eye and beneath the brow shows a definite tightening and improvement. I use ELE on the nasal labials, lips and also on the one funky part of my jaw (on both sides of the face) that wants to dip :0....it is now definitely tighter. I strongly recommend buying this to use in conjunction with the contour. I prefer organic aloe vera to their prep gel. After the treatment my face is tighter with the aloe vera and I feel a slight tingle. I do it in the evening so I can leave most of the gel on -- mixed with matrxyl serum. Daytime, it's too sticky and must be removed in order to apply sunscreen and foundation. I look forward to being able to use it only 3 x a week. I set up a mirror and do it in front of my TV because I often don''t have time in the morning. Using the contour first followed by ELE can easily take 45 mins -- but so worth it. My skin looks fabulous too. And I don''t think I''ll need Botox again on the furrows -- for best results on these be sure you''re not just placing the prongs on the furrow - I notice how it's better to follow a V shape going UP towards your hairline. I do this on both sides (the bottom point indicating the actual line between brow -- then go up -- as you do with the contour face attachment). Thank you for carrying this and including it in your sale. LovelySkin Customer
Verified Purchase LovelySkin Customer
Verified Purchase
Not crazy about this attachment
I really like my Trinity device. It is easy to use and seems to be working especially on my lower face. Not crazy about the smaller eye and lip attachment. I feel I can accomplish the same with the larger one it came with. My favorite attachment is the LED light. I can use it while I walk around doing things around the house. Unlike my baby quasar which needs to be plugged in and covers smaller areas at a time. LovelySkin Customer
Verified Purchase
Such a great tool !!
I am loving my ELE attachment for my NuFACE tool. I use it almost every night and see a considerable improvement to eye area. Great product. LovelySkin Customer
Verified Purchase
NUFACE ELE ATTACHMENT
I love the ELE attachment. I had good results without it, but now after getting the ELE attachment, the results are amazing. I used to be a smoker, and I had more lines around my mouth than anywhere else on my face. The deep wrinkles are becoming fine lines, and they just get better the more I use it. I use it everyday! This is a must have, and I wish I would have purchased it right away. My family and friends tell me how I look younger and asked if I had fillers injected. Nope! Definitely from the NuFACE and ELE attachment! Great addition to an already great product
I love the Elle attachment to the trinity! The probes allow you to target areas hard to reach with the larger ball attachment, so your can address around the eyes, mouth and frown lines. I have seen great results with the ELE and hate I did not purchase it when I bought the Trinity. Lots of questions from my friends: "Did you have something done?!" So you know it works. Great Product
This was the first product that I had contact with, and I was very impressed. I have been using it for about 3 weeks now and my eyelids have lifted, and the change is very noticeable. I have received several complements, but people cannot put their finger on what is exactly what is the difference (and I like that). Thank You Nuface NuFace Trinity ELE attachment
This attachment might take some time in learning how to use it. My comments are said respectfully, as I have droopy eyelids! Even with my non expert handling of this attachment I have seen a lift in my towards my brow. It seems to open up my eye area noticeably. I am sure with more use my skill level will improve and the outcome will even be better. I am satisfied and I hope you would be too. LovelySkin Customer
Verified Purchase
Happy I bought the Ele Attachment
I have had my NuFace device for a couple of years now and I really love it. I was a bit skeptical about buying the Ele Attachment but I'm happy I finally did. It's much more efficient for getting into the smaller areas of the face and around the eyes. It took me a few tries to get the hang of it after watching the "how to" videos but it was worth the time. LovelySkin Customer
Verified Purchase
good attatchment
Nice to have an attachment option so a whole new device is not needed. LovelySkin Customer
Verified Purchase
Ele attachment
This attachment makes it easier to target the hard to reach areas of the face including the eye area and the eyelid. I cannot tell the difference yet after using it twice so far. I will continue to use together with the NuFACE Pro and the wrinkle reducer attachment. LovelySkin Customer
Verified Purchase
Maintaining Volume
I have not noticed a great deal of difference while using the ELE attachment, but my facial fillers around mouth and naso-labial folds seem to be holding up well, more so than usual. I have already rated the NuFace Trinity itself, which I find very effective. LovelySkin Customer
Verified Purchase
Love it
This attachment is great with the Nuface trinity for places where the "large" head cannot get to, have been wanting something like this for a while, glad I finally got it