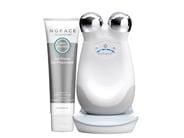 Write a Review - Receive 50 Rewards Points!
Tell us your thoughts about NuFACE Trinity Facial Toning Kit so we can help you find the right products. With your review, you'll also receive 50 Rewards Points. Please note that it may take up to 72 hours for a review to appear on site. All reviews are subject to moderator approval.
Write a Review
11 Results
What Took Me So Long?
I have dithered about purchasing this for over a year and finally took advantage of LovelySkin's deal early last month. After five weeks of using the NuFACE, I am a bit shocked by how well it's working for me. I'm 62 and have always taken good care of my skin. Yes, ye olde people always tell me how good my skin looks has been true for me. But, about two years ago I began noticing a lot more sagging, dullness and deeper lines. The NuFACE is not a miracle worker but if you're looking for firmer and brighter skin, give this a try. I am using it in conjunction with prescription Retin-A and feel the two work well together. Honestly, I began seeing a difference after the first week. Keeping my eyes peeled for the lip/eye attachment to go on sale. Will definitely buy it as well. LovelySkin Customer
Verified Purchase
NuFACE is Awesome!
I started using NuFACE when it was first introduced by my aesthetician. It has been many years, and I use it probably 4- 5 times a week. I use all three attachments and have made the process part of my skin care regime. Like any skin care product, you need to use it and continue using for results. I'm 67 and have noticed a big difference. In fact, there was a period of time (surgery) that I was unable to use NuFACE. I could not wait to start it up again. Enjoy the results. LovelySkin Customer
Verified Purchase
Be consistent and give it time - It works!
I'm 52, almost 53, and I take very good care of my skin. I've been consistently using this device for just about one month now, and I'm being honest when I say, this thing works! It seriously does. I was seeing jowls forming, and that alarmed me. Since using this product, I have seen a significant improvement not only around the jaw area but my overall face as well. It looks healthier, smoother and tighter. I already know this is one device I will not go without. LovelySkin Customer
Verified Purchase
Too Soon
The device is elegantly packaged and was shipped expeditiously, to my surprise. The uniquely sleek designed device functions as described. I have been using the Trinity device for only 2 weeks so I would say that my review of the product is premature. I will update after 60 days as recommended. That being said this review is based on packaging, appearance, and the functioning properties. LovelySkin Customer
Verified Purchase
NuFace works for me!
I am 60 years old and I bought the NuFace Trinity for my birthday. So far, I absolutely love it. I also purchased the ELE attachment and I must say that my face and neck feel and look so toned! I am only 2 weeks into using the device but there are already good signs that the bit of a jowl is being tackled as well as the frown line on my forehead. I am glad I made this investment and I highly recommend this product. LovelySkin Customer
Verified Purchase
Nu Face rocks
I highly recommend this - if toning and tightening is what you want, purchase this! Who knew these 63 year old jowls could shrink?! 😉 LovelySkin Customer
Verified Purchase
Superb Service & Amazing Discount
Superb service & amazing discount as always ! All items are well packed & arrived safely. Im now starting to switch my regular purchases from skinstore.com & skincarerx.com to ♡ LOVELYSKIN.COM ♡ Highly recommend to all overseas shoppers especially for those who live in Asia. It takes only 2/3 working days for delivery which is really amazing ! LovelySkin Customer
Verified Purchase
nu face trinity
Well I have only had a week. So first, I got the peach one it is beautiful. Goes great in bathroom. So far in one weeks time. I do all the treatment once a day. I do see my eyes brows lifting, and my jowls firming up. So I am giving it a four for right now for such short of time. Waiting to see how much more it will do. If it continues, I will buy the eye and small line attachments LovelySkin Customer
Verified Purchase
Requires patience
Ive used my NuFace for five weeks, and have concentrated on my left jowl area, which drooped more than my right side due to sleeping on my left side. My left side is now even with my right side. My eyes are more open and my skin is more even, with smaller pores. Ive used my two attachments for just two weeks, so cannot comment about their results yet. They were difficult to attach and remove initially, but are becoming easier. I have noticed some worsening of facial capillaries around my nose, but avoid that areas as much as possible. I wish the return period were two months instead of one, because I believe it takes that long to see definite results. Overall, I am very pleased and glad that I have been patient in using it. Work but stop working too soon
I used this device for the NuFace trinity device for less than 2 weeks. The result seems to show some improvement on my face. However, the device stop working, not power on even though the battery shows full. I follow the reset instruction, 24 hours later, still not power on ... I have to return the device. So i did not get a chance to try the device for 60 days ..... LovelySkin Customer
Verified Purchase
Works very well.
Fantastic product. It was recommended to me at the Four Seasons Spa. I was allergic to the original primer therefore the company rep recommended a pure aloe vera gel as a replacement. My skin looks awesome. I was paying a small fortune for laser treatments and this product works great for the fraction of the cost.