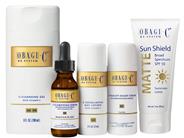 Reviews For


Obagi-C Fx System - Normal to Dry Skin (New Hydroquinone-Free Formula) View Product Details
Write a Review - Receive 50 Rewards Points!
Tell us your thoughts about Obagi-C Fx System - Normal to Dry Skin (New Hydroquinone-Free Formula) so we can help you find the right products. With your review, you'll also receive 50 Rewards Points. Please note that it may take up to 72 hours for a review to appear on site. All reviews are subject to moderator approval.
Write a Review
25 Results
Made my face very dry
I had to stop using this. It made my face so dry it was itching! Terrik812
Verified Purchase
Not as expected
I have used the serum and loved it, so when I saw this package deal I wanted to try it! I do enjoy the face wash and day cream. The night cream smells so bad I cannot use it, I wondered if the product was bad? The sunscreen glides on smoothly, but begins to crumble up and make little pieces all over my face. I haven't even been wearing makeup because I've not been working or going anywhere, so I'd hate to see what it does to my makeup! Even with that said I "powered" through using the entire system for a couple of weeks and my face was dryer than before. I'll stick to the serum a couple days a week and I'll search again for a skin care line I can use for my dry aging skin. Atribou
Verified Purchase
Obagi FX C Clarifying Serum
I have been using Obagi for 7 years and always purchased from your site. I ordered the whole kit about 3 weeks ago and I have noticed that the C Serum is too watery and feels like it has too much alcohol. When I compared it to my previous purchased, I noticed that the label on the kit pictured is not the same that the bottle included on my kit. I also noticed that the bottle is a little smaller. This product is very pricey, and I would like to make sure that am getting what I have been paid for. Within the kit, this is the only one that looks like a look alike. LovelySkin Customer
Verified Purchase
skin
Wonderful, skin is so smooth. Obagi
I was disappointed and will not buy again. The smell of moisturizers was not my favorite. The cleanser was great. vitamin C was great but can get more strength elsewhere. Not for my skin type
My skin problems need the hydroquinone as my Dermatologist prescribed. I just sent it back for exchanging—good customer service. LovelySkin Customer
Verified Purchase
Great Product!
I've used Obagi products for the past 20 years. Several times, I've tried other less expensive skin care lines, but always come back to Obagi. I totally see and feel the difference after using Obagi C-Fx again for only a couple of weeks. Have never found better products and will always be my favorite. LovelySkin Customer
Verified Purchase
A Must Have
For many many years I used the C Rx with Hydroquinone with great results. I stopped for about 3 yrs and noticed a huge difference in my skin and not for the better. Went back and my skin became very sensitive and did not have a good reaction, that never happened in the 20 yrs I used that product. My sister was happy as a lark as she took that version lol but I was bummed until I realized there is an FX version for sensitive skin. I couldn't be happier! I love the Obagi C system so much, I am 52 yrs old and do not have any wrinkles and am so glad now that my skin is changing that there is still a system that is working for my now sensitive skin. My skin is looking great once again. You won't regret this buying/using this system and will see immediate results that only get better. LovelySkin Customer
Verified Purchase
Obagi-C Fx System
I was truly amazed with the products. My skin was so dry, extremely dry, it was itchy and having rushes. I decided to purchased Obagi and try the Obagi-C Fx System, In just 2-3 days, it shows a lot of difference, my skin somehow healed, after a week itchiness is gone, rushes is gone, it even become soft and hair like lines are gone. I just want to know what would be the next step I should do after the Obagi-C Fox System. I am not going to use other products anymore. I will stick to Obagi. Awesome. LovelySkin Customer
Verified Purchase
Better than expected!
I have been trying to streamline my skincare and was looking for a kit that would carry the majority of skincare items I need. After some searching, I found this. I was absolutely blown away with how quickly I experienced results. Within a week my adult acne was almost completely gone, and much of my PIH had faded. By week two my skin was more plump, and by week three my pores had shrunk considerably and fine lines were diminishing. The kit comes with full size products, is easy to use and I believe it is a great value. I am hooked! LovelySkin Customer
Verified Purchase
These products are great!
I highly recommend this line! It's worth the money you spend. LovelySkin Customer
Verified Purchase
Obagi Vitamin C
My skin is sensitive, and this product line worked great! LovelySkin Customer
Verified Purchase
Obagi c fx system
I love this product! Noticed a big difference in my skin after only a few weeks. Will definitely order this again! LovelySkin Customer
Verified Purchase
Loved everything but night cream
Everything is nice just has to return it because of smell of night cream😢. LovelySkin Customer
Verified Purchase
Best products
Really good, amazing for blemishes, I love Obagi C. LovelySkin Customer
Verified Purchase
2 weeks.
Just saw my derm today. Have been using Epionce for years as well as Differen for acne. She couldn't believe how my skin looked. It is smooth. Less irritation. Less acne! LovelySkin Customer
Verified Purchase
decent
I have only been using for a few days. I don't see a different in my dark spots yet. I know it will take longer than a few days though. My skin is normally very dry and this product is somewhat moisturizing. I'm sure I need to give it more time. I am excited to see the results. LovelySkin Customer
Verified Purchase
GREAT GIFT
I bought this set for my mom as a gift, and she loves it :) LovelySkin Customer
Verified Purchase
Everything you need
This is a great value and gives you everything you need. It was a great line to use when I was pregnant and didn't want to use some of the other ingredients that I was used to using. LovelySkin Customer
Verified Purchase
Obagi -c fx system review
Love this, have been using Obagi for a number of years. I have very sensitive skin, which this system seems to work best. I've also tried a lot of other brands to no avail. Either I would break out, skin was red or itching. These are not too harsh but keep the blotches away which is a tendency here in the sunshine state. The sunscreen works beautifully, easy to wear with makeup being applied afterwards. I also have facials once a month, my aesthetician says I have one of the most perfect skin tones she has ever seen. What a great compliment wow! Thanks to Obagi and my dedication to good skin. Thanks for allowing me to express how great these products really work. Disappointed!
Made my skin extremely dry. Spots got darker. It's been more than a month and have no improvement. Wouldn't suggest this over price product. LovelySkin Customer
Verified Purchase
Obagi is amazing
i went back on Obaji Nuderm system after being off for 9 months and huge difference! After my first week people were telling how great I looked, after week 2 I was really noticing and people thought I was having in office things done, but it was just my Obagi. Fabulous ! I will be 50 in 2 weeks and my skin looks so young, smooth and amazing, I barely have to ware makeup, just enough to look professional! Obagi C FX System
Obagi is an excellent system. Regardless of the products I try, I always return to Obagi. I have sensitive skin and cannot tolerate hydroquonine and the FX system is great for people who are sensitive to hydroquonine. My skin is much smoother and looks great. LovelySkin Customer
Verified Purchase
Incredible
Excellent product! Have always done monthly peels, but do not have to anymore. My skin has never looked better. The tone is even, dark spots are lighter, skin is tight. Well worth the money & a little goes a long way, so it lasts a long time. LovelySkin Customer
Verified Purchase
Obagi-C FX System - Normal to Dry Skin
Excellent product and great savings. I use these products every day, and I have had excellent results. LovelySkin Customer
Verified Purchase