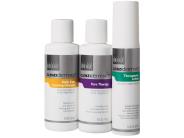 Write a Review - Receive 50 Rewards Points!
Tell us your thoughts about Obagi CLENZIderm MD Acne Therapeutic System - Normal to Oily so we can help you find the right products. With your review, you'll also receive 50 Rewards Points. Please note that it may take up to 72 hours for a review to appear on site. All reviews are subject to moderator approval.
Write a Review
19 Results
RESCUED ME FROM ACNE !!
For the last 6 years I have struggled with mild acne. I was getting small break outs of a few white heads during my menstrual cycles. I tried so many products but nothing has given me the results that this system has. This took away clogged pores/blackheads HONESTLY!! I learned after combining a different face wash with the Pore Therapy that you need the whole system. Thank you Obagi for providing great products!
Love the Benzoyl Peroxide!!!
Have been using Clenziderm cleanser and pore therapy for over a year, and just added the therapeutic benzoyl peroxide lotion for Normal to Oily skin to my regimen. It definitely is making a difference in drying up comedones and minimizing pore size. At 69 I still have oily skin and cannot use any creams, etc. that can possibly clog my pores. Ive only been using the therapeutic lotion for several weeks but notice a difference already.
Great product
this is the second time that I order this kit for my daughter and I saw the difference in her face the first week......she is so happy to use it because her face does not get dry nor flaky ....and her face looks so fresh now
Life changer
Ive always had sensitve skin, but life and hormone stress resulted in a huge breakout. It had a lot of cystic acne and oil. When I was younger Id used the the original Obagi face cleanser. Remembering that it had improved my skin wrt breakouts - so I figured this product might help on my now larger scale breakout. It worked wonders - Id probably pay 5x as much for it and I recommend it to all my friends.
Obaji Clenziderm MD acne therapeutic system
I started using this product years a ago through the recommendation of an aesthetician. Within 2 weeks I started seeing a difference in my skin. The occasion breakouts had seemed to stop and eventually I noticed that my skin seemed clearer, and no more blackheads. Ive been using it ever since. I recently ran out and havent used it for 2 weeks, and within a week my skin has started to breakout. I has worked great for me and I highly recommend this product. Although I suffer from occasional breakouts, I am not sure how it will work for those who have really problematic acne problems.
this works!!!
I have suffered from acne since my 20s and tried everything over the counter to prescribed medication from dermatologists and nothing came close to this Obagi CLENZiderm acne system has done to my face. I still break out during my menstrual cycle but my pores are much smaller and hardly get cystic acne. People have seen the difference within a month.
Nice Combination
I ordered this for a family member that has had long term problems with cystic acne. We are hoping over time that this product will be effective. The cysts did increase and she said that was normal for her when starting a new program. She likes the Obagi moisturizer in the Clendizerm line as it helps with the tight, dry feeling.
It works!
When I first tried it, it dried up my skin. But, Ive been using it for a while and I have no more blackheads & whiteheads on my skin! This product really did a good job on cleaning my acne.
New Customer
Its only been a week and a half since I started using this 3 step system, and my skin had been very oily before. Now its so dry and peeling so Im only doing it once a day. It is however drying out some acne but Im still breaking out. I will keep using it and hopefully a miracle will happen! Ill post another review here in a few weeks.
Obagi clenziderm
Ive been using this product for a week now. My skin is clearing up amazingly fast! Small breakouts are disappearing and the cystic pimples are finally shrinking. Unfortunately this product is extremely drying. My skin is peeling and really tight. I emailed LovelySkin for some advice and they suggested an Obagi Nuderm moisturizer. Im waiting for its arrival and hoping it will help. Ive been having problems with adult acne for 2 yrs now after going off birth control, with it worsening over the past 6 months, clenziderm is the only product that seems to be helping.
So Far, So Good!
Ive been using the acne system for a few weeks now and can see a difference in complexion. Should have tried it sooner!!
Best acne system
I have battled acne prone skin forever and all the antiaging products seemed to exacerbate it. Finally decided to try Clenziderm because I love all the other Obagi products. My blackheads are a thing of the past! Best stuff!
A+++
If you have acne prone skin, I swear by this product, It truly works great. Just great! If you have sensitive skin, the last step will tingle just a little bit, but it passes quickly.
Works!
I ordered for my son. A couple of weeks later, his skin had improved.
Clearer skin
I love the Obagi line; only line that has had great results for my skin! I currently use the Nu-Derm and C line and I highly recommend any product from this line; and this is no exception!! My skin has been much clearer lately but I was still getting the occasional hormonal breakouts. I have been using this product hoping that it will help with the hormonal breakouts. My face feels very clean after applying these products; and I can feel it working. Until using the Obaji products, I never got compliments on my skin and now in my late 30's I do and it feels great!! Also, lovelyskin is the best site for ordering high quality skin care products with great customer service.
Love it!
clearded my acne right up and didn't dry out or irritate my skin.
So far so good
I bought Obagi Cleziderm for my daughter. She has used it for a week and is seeing good results so far. I'll give it a couple of weeks and then check in.
Proven Results with an slight inconvenience
This product delivers as promised. Within weeks, clearer skin is noticeable. The daily cleanser and pore therapy have a fresh scent and leave your face feeling really clean. However, the Therapeutic Lotion is designed with a tricky pump (it literally comes with instructions). After several unsuccessful attempts to get it to work, I now am forced to unscrew the top off daily and insert a Q-tip to get the lotion out. Perhaps the pump needs a re-design so that it is more user friendly.
Best Skincare Site!
Hands down the best skincare commerce site that I have ever shopped.