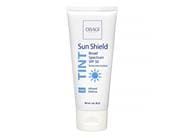 Reviews For
Obagi Medical Sun Shield Tint Broad Spectrum Sunscreen SPF 50
205 Results
My favorite sunblock for the summer
I love this sunscreen for my face because of a few reasons - it doesn't make me break out - it doesn't let my skin burn - I can wear it to give me a slight coverage when I don't feel like wearing a full face of makeup to go for a walk or to the store - a little goes a long way Californialove89
Verified Purchase
Obagi warm tint spf
Love it. Great coverage. Great color. Wear it every day. Feels smooth and light on my skin. And it is saving my face. Highly recommend. LovelySkin Customer
Verified Purchase
Obagi Medical Sun Shield
I'm so happy that the Obagi Sun Shield has returned! It not only gives excellent sun protection but also enhances the beautiful color of your skin. LovelySkin Customer
Verified Purchase
Obagi sunscreen
I love this sunscreen. It was not available for a long time and I was so disappointed. I wear it alone with no makeup and my skin at 67 looks great. I am on the golf course 4 to 5 hours most days and the protection is great. I do top it with a powdered sunscreen after 2 hours. Some may think it is too thick but I love the texture. foodlover
Verified Purchase
Obagi Sun Shield Tint
I am so happy to see this sunscreen back again. It is my very favorite! It is a little thicker than a lot of other sunscreens but goes on smoothly and stays on for a longer period of time than most. I use the warm tone which gives me some rich color that lasts throughout the day. I highly recommend this amazing sunscreen. Obagi Sunscreen - Warm Tint
I have used this product for a number of years now.It was first recommended by my dermatologist because I have a lot of sun damage on my face and I wanted something that was not only a good sunscreen, but something that worked like makeup, to provide coverage of the damage to my skin. This product does both, and I love it. The consistency of the product is not greasy or heavy, and does not leave a film on the skin that looks like sunblock. It has a beautiful finish that looks natural on my skin. I would highly recommend it if you are looking for one product that works as both a sunblock and makeup foundation. LovelySkin Customer
Verified Purchase
Best tinted sunscreen
Obagi medical sun shield tint has become my favorite. It give me a very natural coverage, feels very light and doesn't clog pores. Would recommend to anyone who has sensitive skin or uneven toned skin. SkincareFan
Verified Purchase
Obagi SPF 50 tinted
I live this product! I no longer use any other or foundation. It is silky, no greasy, odorless. Margsimon
Verified Purchase
Not for me
I felt the applicator hole was too big and put too much out at once. I also thought that it had a great texture and color however, came off on anything it touched and therefore I will have to go back to my other brand. LovelySkin Customer
Verified Purchase
Best sunscreen ever!
It is very difficult to find a sunscreen for a man like me with a brown skin tone. All of the sunscreen I tried gave me a white cast except for this one. It blends perfectly in my brown skin. LovelySkin Customer
Verified Purchase
Too dark for fair skin
I tried this sunscreen in the shade "cool" - I am very fair, like Fitzpatrick 1. This sunscreen spreads nicely and has a nice texture, but appeared dark orange on my face, even with lots of blending. It was particularly orange in my eyebrows and along my hairline. I'm glad it was on sale, because I'm not going to be able to use it again. LovelySkin Customer
Verified Purchase
Love this tinted sunscreen
I am so glad to see this back in stock! I just ordered the cool! I use as sunscreen and a primer. It works well with foundations and does not ball up. I also use it alone on weekends. Thank you! HollyinAL
Verified Purchase
Best Sunscreen
I love this sunscreen. It's not necessarily the most lightweight, but I have never had a breakout from this. I tend to breakout easily. It's the most superior anti aging sunscreen in my opinion. I see the difference. LovelySkin Customer
Verified Purchase
SPF
This is so perfect, the color is great for my fair skin and I use it everyday after skincare routines and before my foundation. During summertime I can just wear this alone and my skin looks perfect. I feel this gives me enough cover for days I don't want to have foundation on or just want to look natural. And, it is an easy way to wear SPF every single day. LovelySkin Customer
Verified Purchase
Amazing product!
Can't say enough how much I love this sunblock! The BEST sunscreen for your face. Nice tint and goes on so smoothly. LovelySkin Customer
Verified Purchase
Fantastic!!!!
I'm 60 and have been using this product for 5 years approximately. My skin has never looked better!! I don''t even need to wear makeup when I use this. My skin feels heavenly when I apply it. I live in MN with harsh winters that dry my skin and the moisturizing and anti-oxidant ingredients are very soothing to my skin. I use it in the heat in AZ too, and it doesn't melt away. The tints blend perfectly, adapting to a variety of tones of skin colors. LovelySkin Customer
Verified Purchase
LOVE
I have used Obagi for years, but I had never tried this tinted sunscreen until now. Just like all other Obagi products, it's superb. Great coverage and the cool looks great with my fair skin, not too dark, but gives a nice glow, while protecting my skin! LovelySkin Customer
Verified Purchase
LOVE, LOVE, LOVE
LOVE Obagi. Use daily, on the farm. Feels great. Lasts too....Nice feel!! Good sunscreen
I really love Obagi products, and I had high hopes for this sunscreen. I wanted the warm but EVERYWHERE was sold out, so I tried the cool. It matched my skin tone pretty well, but it was basically the same as my IT CC cream which has SPF 30. I was hoping for less of a makeup type consistency, and that's why I rated 4 stars instead of 5. Aside from the hangup I had about consistency, this is a great sunscreen. Does the job and doesn't make me breakout. AnneHalm
Verified Purchase
Definitely Protected
The Obagi Broad Spectrum Sunscreen is excellent. It provides great coverage, and the sun is definitely not going to get by this sunscreen. LovelySkin Customer
Verified Purchase
Skin Tint Cool Tone
Nice product packaging and easy to use tube with cap. I like consistency and love how the Obagi brand is consistent with skin care concerns. I give it four stars because I think the "Cool" tint could be a better color. Great broad-spectrum sunscreen
I really like this when I need more UVA coverage. I like that it doesn't have the oxybenzone in it. It goes on silky and lightweight, absorbs nicely and isn't sticky. I've worn both the cool and warm shades, and they both work. But, warm is very nice for tanned skin or those with warm undertones like me. LovelySkin Customer
Verified Purchase
Sunscreen
Love this product, doesn't feel heavy on my face and protected very well. LovelySkin Customer
Verified Purchase
Great Sunscreen
This is a very nice sunscreen that does not cause me to break out and gives a nice medium coverage. I have received so many compliments on my skin when I use it. I use it over my regular sunscreen. It works great. LovelySkin Customer
Verified Purchase
Sunscreen
Good product, especially like the tint. It's not really good for darker skin types, but it does help. I am a skin type 5 with some pigmentation and still would prefer using the tint rather than the regular. LovelySkin Customer
Verified Purchase