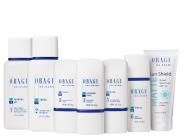 Reviews For


Obagi Nu-Derm Fx Starter - Normal to Oily Skin (New Hydroquinone-Free Formula) View Product Details
Write a Review - Receive 50 Rewards Points!
Tell us your thoughts about Obagi Nu-Derm Fx Starter - Normal to Oily Skin (New Hydroquinone-Free Formula) so we can help you find the right products. With your review, you'll also receive 50 Rewards Points. Please note that it may take up to 72 hours for a review to appear on site. All reviews are subject to moderator approval.
Write a Review
24 Results
Perfect!
Indeed this Nu Derm set works well with my skin. It's non-acnegenic and it makes my skin bright and blemish free. I'm happy I decided to try this set LovelySkin Customer
Verified Purchase
A Long-time Favorite of Mine
I first used this Obagi kit in 2004 in conjunction with a series Obagi Blue Peel (a type of chemical peel) treatments. A string of adult acne messes with my complexion and Obagi was an absolute lifesaver for my skin. While I strayed from this product for a while, it is now back to being my permanent skincare choice. I am loyal to products that work and though I have tried many others, Obagi is still the best in my book. Mullavey
Verified Purchase
Great Skin Care Kit
My dermatologist recommended Obagi products when I went in for my last skin check up. I started using this system(I have been using it about 4 weeks) and I get so many compliments on my skin and makeup. The only thing I have changed is this skin care system, so I am loving it. Personally for me doing all the steps in the am caused my makeup to not apply as well, so I do all my morning steps in the evening and just use the vitamin C serum(I bought separately) and moisturizer w/spf during the day. armista
Verified Purchase
I love Obagi
My esthetician recommended Obagi to me 2 year ago and I'm still using this brand. I like the way this system makes my skin feel and look. Marissa
Verified Purchase
Love my Obagi!
I purchased the Obagi skin care system to help even out my skin tone and help lighten my dark age/Sun spots. I've been so very pleased with the results! In the beginning it did seem like there were so many steps and that it would take so much more time to complete my skin care routine. I am happy to report that the steps are quick and easy and they work!!! Very Happy with the results of this line!! Fantastic Results
This has done wonders for my complexion. Gentle on skin and significant reduction in brown spots. Would highly recommend. Well worth the money. LovelySkin Customer
Verified Purchase
Highly effective!
This kit comes with a six step process that is so easy to use. Each product has a number and is labeled am/pm to show when it is used. Using this skin care system for nearly two months, I have had dramatic results of faded age spots, reduced pore size, fewer fine lines, and overall glowing skin. I use this regimen along with Tretinoin (prescription )and Vitamin C serum. I also substituted the stronger versions of the clear and blender. (I will use the Fx products during my maintenance phase). During the first several weeks, there was a lot of flakiness and peeling skin. My esthetician advised instead of using blender with tretinoin daily, I should only use it 2-3 times a week until my skin adjusted. I do have to say that on some days, my skin looked pretty bad, and my wrinkles seemed worse. But, after staying with the program, it's now two months later, and I can see great skin. Always, always wear the sunscreen! Fabulous
It has been 4 years since I purchased the Obagi system from my plastic surgeon. In the interim I have used several other systems—some of which are more expensive. I get better results with Obagi Nu-derm. LovelySkin Customer
Verified Purchase
Amazing!!!
Love this product, top of the line!!!! LovelySkin Customer
Verified Purchase
I love Obagi Nu Derm Fx
The Obagi Nu-Derm Fx product keeps my skin free of acne and gives it a supple feel and radiant appearance. I am quite pleased with the results. I also like the fact that it doesn't contain hydroquinone. Jemimah
Verified Purchase
Amazing product
I've used the Obagi Nu-derm system in the past and loved it. I was worried that this FX version wouldn't be as great as the original. I've been using it for a couple of months now, and it's just as great. Thank you, LovelySkin! LovelySkin Customer
Verified Purchase
Obagi Nu-Derm Starter
Product is gentle to the skin, not smelly, no sticky, stinging, itchy feeling. Hasn't seen a very dramatic results yet tho. Just been a month since I started with the product, will still give it time. LovelySkin Customer
Verified Purchase
Obagi
I use nothing else on my face. I would recommend this product to everyone. LovelySkin Customer
Verified Purchase
Obagi Nu Derm FX
I've used OBAGI before, but when I stopped, I wish I didn't. Anyway, I can tell the difference on my skin. The cleanser is super. It cleanses well. This was recommended by my doctor. I am waiting to see how it will help fade my skin discoloration due to harsh chemical and dark spots on both of my cheeks. Can't wait for the result! LovelySkin Customer
Verified Purchase
A complete set that really works!!
I went to see the aesthetician recently because my skin was having some issues. I'm in my early 40s, and my skin was looking dull! The aesthetician recommended me to try this range, and I was sold when he showed me the before and after pictures of his patients who are currently using this range. He told me to get the trial kit first, and after using for a month plus, I can see some improvement on my skin hence will continue using this range. Totally recommended! LovelySkin Customer
Verified Purchase
The BEST!
The BEST product out there! It is expensive but it lasts a long time if you use as directed. I've used many products and by far this is the BEST! LovelySkin Customer
Verified Purchase
Excellent brighter skin
I love these products. Like many others I have tried so many product lines And this is the best. My skin is much brighter. I have noticed my fine wrinkles reduced most of all I know I look so much better no more dull skin! LovelySkin Customer
Verified Purchase
So far, So Good
I have oily t-zone with dry patches on my cheeks and sides of my nose. I am 53 and am starting to get age spots(!) and my pores seem larger than ever but the worst of it is I have adult hormonal acne on my chin and forehead. I heard of Obagi, saw videos on the use, read reviews and decided to try this system. I use a Clarisonic as it keeps the acne at bay somewhat but with this face wash the acne has disappeared! I still have small under the skin bumps and my skin in these acne prone areas is red and splotchy but no active pimples and that''s a godsend! The pores are still visible but smaller and the overall texture of my skin is smoother, softer. I no longer have dry patches. I have faithfully been using the system morning and night for 4 weeks and my skin is better than when I started but it is not great. I still have dark spots, uneven splotches, and redness. Still I'm going to continue using Obagi and pick the products from the kit that felt good on my skin, like step #3, and shop for others to get my skin to where I can be make up free. LovelySkin Customer
Verified Purchase
Love it!
My mom's been using these products for about a month now and she loves them. She feels the difference on her skin. LovelySkin Customer
Verified Purchase
Obagi renew fx
This skin care system is awesome. I can see how clear my face is looking with each use. I don't even break out as much as I used to because this system takes care of it right away. Even my aesthetician can't get over how good my skin looks and she was the one who recommended obagi to me. LovelySkin Customer
Verified Purchase
Great Product
Awesome Product! Not only is this the best but also the customer service is spectacular! LovelySkin Customer
Verified Purchase
good
It works but I still like the original formula with hydroquinone. LovelySkin Customer
Verified Purchase
Great system of products without harsh chemicals
I am really enjoying this system that is free of hydroquinone. I have not had any redness or reaction and am enjoying all the products. I look forward to applying these, especially at night because I know that is the best time to allow these products to effectively rejuvenate and repair my skin. Will continue to use! LovelySkin Customer
Verified Purchase