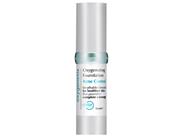 Write a Review - Receive 50 Rewards Points!
Tell us your thoughts about Oxygenetix Acne Control Foundation so we can help you find the right products. With your review, you'll also receive 50 Rewards Points. Please note that it may take up to 72 hours for a review to appear on site. All reviews are subject to moderator approval.
Write a Review
21 Results
Not like the original Oxygenetix
I used the original foundation and really loved it. I was excited to try this for acne control, as I am 36 and still have issues with acne. Unfortunately, the acne foundation does not provide the same type of coverage, it seems thinner or more "watery." Second applications look "cakey."
Good product, slightly more coverage
I was pleasantly surprised with this product. I've been using the Oxygenetix foundation because my skin is prone to acne. I like the original version so I thought I would give this a try. It seems more matte with slightly more coverage. I'm not sure that the salicylic acid provided benefit. This is a good product and I will continue to use.
Acne prone skin
I love this product ! I have acne prone skin and also have frequent microneedling and laser treatments. This foundation I am able to completely cover everything!
Great foundation
Great foundation, feels lightweight but has good coverage.
Nice but not perfect
Great light coverage but definitely not a full coverage. It doesn't matter how many layers I put it on, it can't hide the dark post acne scars I have, but it definitely hides redness and my mild acne scars that are more pink and not brown or red. Another problem - the product is a little bit sticky to the touch after fully absorbed so it needs to be powdered after. On the other hand it stays all day, does not cake and does not irritate or break me out. Specially I love the feeling of this product on me because it really feels like you don't have any makeup on and the skin really breathing. It is a great everyday makeup because your skin looks natural and healthy in daylight so you can hide the majority of your skin problems without looking like you're loaded with makeup, and also it actually helps treating the problems of the skin.
This works for me
I'm in my mid thirties and still break out. I have oily skin and large pores. Outta of all the products out there this works best for me.
Acne Foundation
OMG! This is the best foundation I have ever used and I don't think I will ever change. First of all, it is a small bottle but a little goes along way. The first time I applied this foundation, I could not believe how my skin looked... amazing... basically erased all my imperfections instantly... I used a pump and a little bit more... used my fingers... it didn't look like a mask, it didn't transfer to my clothes, it last all day and I barely shine. My small little pimples were gone .... even my mom complemented on my skin that day. I don't think I'll ever go back to what I used to buy before. Oxygenetix rocks!!!!
Requires Some Patience But Overall Good Product
When I first tried this foundation, it was as a sample my aesthetician gave me. I did not like how difficult it was to apply and the overall coverage. But then I saw some YouTube videos on different foundation routines, and learned how to apply it correctly. Since this is the only foundation my aesthetician recommends (because I'm constantly in treatment for skin issues) I figured the extra investment was worth it. I like that it doesn't irritate my skin as it is healing, that my skin actually feels like it's benefiting from the product, and that it gives me enough coverage. The gel based formula allows for this and I like the SPF benefits too. If you like heavy, thick coverage foundation, this product probably won't meet your expectations. But if you want something light to medium to cover and protect your skin as it heals, this is worth the price!
Favorite foundation
This foundation does everything. It is full coverage, SPF 25, anti acne, and has antioxidants. I didn't think I would like it as much as lycogel but I love it even more. Easy color match and always in stock.
Favorite Foundation
My favorite foundation. Full coverage yet feels at looks light
Good as a base coat
The coverage on this is not great if you use it alone You need to apply twice, and even then it won't begin to cover acne scars or blemishes. However, the reason I gave it 4 stars, instead of less, is... if you apply a mineral base over the top of this, it actually covers most blemishes quite nicely -without caking, like most foundations do. (I use the Jane Iredale). But I do not suggest this if you want this product alone to cover blemishes. The regular Oxygenetics foundation has a bit better coverage but I like this one for acne control (the other one made me break out).
Love it!
I've used this foundation for almost two years and am very happy with it. You can build coverage or wear it shear. I do wish it was less expensive though.
best foundation
I've been using it for several years, and this is the best foundation I've found. It doesn't irritate my acne at all, and It covers without the thick cake like look.
Satisfied
I love this makeup! Perfect coverage even for acne-prone skin. The only reason I didn't rate it all five stars is because it can be a little pricey and I had trouble with the air pump.
The one must have
The best healing product for acne. So worthy even if you think it's expensive. Tremendously over one product. Seems to last forever. Best choice for teenagers acne problem instead of heavy medicine.
Best Foundation For Sensitive Skin
Having rosacea, adult acne, and super sensitive skin, I've struggled to find a foundation that works for me. I'm so glad my search led me to Oxygenetix Acne Control Foundation. I love that it provides good coverage and is long lasting.
Expensive but effective
As a long time acne sufferer, this product was first introduced to me by my cosmetic dermatologist. I wouldn't say it is perfect, but it's better than many other things I have tried on the market and especially other non-comedogenic or non-acnegenic. It goes on light, as if you were going without makeup at all, but can be built up for those stubborn areas. It isn't irritating or drying and will last me all throughout a twelve hour shift. With that being said, I tend to have oily skin and don't like that the product creates a shine. I also find it expensive, but it works and using LovelySkin as the vendor provides the best financial deal.
Really like this a lot
I think this is their best product and doesn't dry out as easily as the other.
Didn''t help
I did not see a clearing of my acne with this makeup. I had a bottle before purchasing through this site from a local doc so I used this product for awhile and for the cost, it was too expensive with little benefits. It has good coverage though.
Awesome
This is better than the original foundation. It has much more coverage
wonderful
great coverage! It gives my face a dewy finish