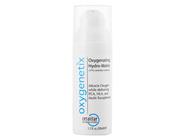 Write a Review - Receive 50 Rewards Points!
Tell us your thoughts about Oxygenetix Oxygenating Hydro-Matrix - 50 ml so we can help you find the right products. With your review, you'll also receive 50 Rewards Points. Please note that it may take up to 72 hours for a review to appear on site. All reviews are subject to moderator approval.
Write a Review
23 Results
Nice Product
This is a nice product but doesn't provide me with enough moisture in the dead of winter. I think I will like it more in the summertime.
Good for post-procedure
This enabled my skin to breathe post-needling but is otherwise not moisturizing enough for my hyper-dry, mature skin.
Oxygenetix oxygenating moisturizer
I absolutely love this product!! I have oily, acne prone skin and this moisturizer did not cause any breakouts!!! I have been searching for a product like this for such a long time and now I have found what works for me!
Excellent lotion for your skin
The feeling, the after feeling, the smoothness. It stays great on your skin, and you feel such a relief. It is so nice that you look forward to the moment you put it on.
Oxygenetix Oxygenating Moisturizer - 50 ml
Bought this based upon a referral, and so far, I love it. Very moisturizing without breakouts. I love the texture and how it seeps into the skin.
Perfect Moisterizer
Oxygenetix Oxygenating Moisturizer is a wonderful moisturizer. It is not so heavy like some that cake on the face. I am over 60 years and it eliminates any dryness without being greasy. It does not clog the pores. Excellent product.
Perfect for oily skin
I have very oily acne prone skin, and to top it off I live in Hawaii. This moisturizer is lightweight and really has improved the quality of my skin since using it. It is very healing, since it has Aloe Vera. I love this product.
Works Great With Oxygenetix Foundation
Love that this moisturizer is light and gentle for sensitive skin and does not cause breakouts. Works great with Oxygenetix Foundation.
Must have
I have been using this product for over 2 years. I started using it with the foundation. I use it to cover my brown spots. Recommended by my dermatologist. It is a perfect combo when using the foundation. It is light weight, no breakouts and each bottle lasts about 4-5 months. Absorbs right away and it works wells with other products.
Light and Soft
Love this product. Super light and airy but really makes a impact!
Wonderful!
Ive used this moisturizer for almost a year now and love it. My skin is in better shape than it had been in a very long time. I intend to stick with it forever. Give it a try and you wont regret it. I also use the foundation and its just as perfect.
A decent moisturizer, but not worth the hefty price tag
This moisturizer works relatively well, but nothing spectacular. I have tried other products that were much less money and worked just as well. I dont have any specific complaints about it, but I will not be purchasing again.
Love it
Oxygenetix Oxygenating Moisturizer goes on smooth and I apply it before applying my Oxygenetix Oxygenating foundation. If I forget and dont apply this moisturizer, the foundation feels on my face.
Love this moisturizer
After I tried the foundation I decided to try the moisturizer. I apply it before bed and before putting on the foundation. It is wonderful. My skin feels moisturized and there is absolutely no irritation. In fact, Ive noticed that some of my blemishes and peeling have decreased since Ive been using it. Its wonderful and I highly recommend it as well as the foundation.
Not as moisturizing as I would like
Like the foundation, I think this moisturizer feels so breathable on the skin. However, it does not feel as moisturizing for my dry skin compared to the other moisturizers I had used before. having said that, I am going to stick to it for a while and see if it really has healing powers for my occasional mini-breakouts.
Great going on then gone, gone, gone
I will not be re-purchasing this product as it felt great while I was putting it on but that feeling lasted only a few minutes. I have very dry skin and this product did nothing for me.
I love this product more and more
my skin actually looks and feels better. I got a few pimples (side effect of going of birth control) and the red marks are healing in record time. Amazing product
Love it
I love this product will buy again and again
Feels good!
I love this moisturizer. The first time I used it my face got really red a few minutes later, then a few minutes later the red subsided. I discovered I shouldn't use the moisturizer immediately after cleansing, but wait a few minutes. After that initial use everything is fine and this moisturizer keeps my rosacea calm all day — a first for me in more than 30 years of rosacea. This mositurizer feel good and keep my skin soft all day.
Oxygenetix
I have used the foundation for several months. It is by far the best products I have used in the 35 years I have worn foundation. The moisturizer is just as good. My skin feels hydrated, clear and pampered all day.
Love this too!
They have greatly improved this product - great and allows the foundation to glide on smoothly and last - my skin looks so nice - all the time with OXYGENETIX products.
Wow...Fabulous Product
I received my oxygenating moisturizer yesterday morning and immediately removed my makeup and tried my new product. It went on smoothly and my face felt like velvet. I have been using the Oxgentix makeup for some time and love it. The makeup seemed to apply easier with use of the moisturizer and I even used it on cleansed skin as a nightime moisturizer. When I awoke this morning my skin felt smooth and hydrated. I love love love this product and am sorry it took me so long to make a purchase. Of course I used it again this morning and my dog walking pals asked if I had a facial. Guess my skin is already a winner.
Another great Product
I have very sensitive and acne prone skin and this did not cause any break outs. In addition, a little goes a long way and it applies like silk. It penetrates into the skin very well leaving my skin feeling very soft and nourished. It also helps with fine lines. I also love that its breathable and soothing to the skin. I plan on making this part of my skincare routine especially under my Oxygenetix Foundation when my skin feels dry which can occasionally occur due to the New York temperatures during the winter.