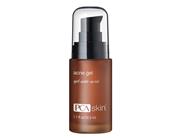 Write a Review - Receive 50 Rewards Points!
Tell us your thoughts about PCA SKIN Acne Gel so we can help you find the right products. With your review, you'll also receive 50 Rewards Points. Please note that it may take up to 72 hours for a review to appear on site. All reviews are subject to moderator approval.
Write a Review
17 Results
Great for keeping acne under control
Great for keeping acne under control. It's my go to when I see a bump forming and overnight, works like magic.
The BEST for Breakouts and More....
I have always had a Combination Skin, with the warmer weather coming I wanted to be prepared for the pimples. Well, I cannot believe how a very small amount and I mean "small amount" that cleared my blackheads on my chin and around the nose area. They were not that visible, but, I knew they were there. Acne knows NO Age, I am a Boomer and will enjoy a clear complexion with My PCA SKIN ACNE GEL.
A little pump goes a long way!
I am not a fan of pump applications but I find that the formula behind this acne gel really works for me particularly for whiteheads. One pump is enough for me to dab on any problem areas I have. Dries quickly and clear (only if you put a little otherwise it does leave a bit of a light yellowy/orangey film but not unsightly only if you rub off on tissue).
Great
I like the product, it works quickly, a little bit dry, but use once a day should be fine.
This Product Does the Job!
My chin periodically develops areas of clogged pores. After using Acne Gel a few days, the area cleared up. After using a small amount of the gel daily, my chin area is clear. Great product! You don't need much to make a positive difference!
Great product
Salicylic acid is a common ingredient in acne-controlling skin care products. It is difficult to find 2% concentration at the drug store, but it can be done. For a while, I was using one of the drugstore products because it was cheaper and (I thought) did the same thing. Im now on my second bottle of the PCA SKIN Acne Gel because it is NOT the same as what I was buying at the drug store. It must be something about the combination of acids, but my skin has never been clearer. Im also using other PCA products, so it might also be the combination of ingredients and an increase in skin maintenance that is helping my skin. I dont plan on experimenting any more to find out. Im very happy.
It works
Have tried several other product lines to clear up those rotating one or two adult breakouts. Finally found PCA SKIN Acne Gel and with regular, routine application have seen great results. Just purchased my third bottle. Has reduced the number of breakouts significantly. I have seen weeks with clear skin.
Awesome
This stuff is awesome! I bought this for by teenage son. It is very light, almost like a serum and it drys clear. His facial acne is 80% clear after 1 week! His PIH from acne is fading too!
Great Gel :D
I love this gel! It is delicate to the face and helps keep my acne under control :)
great!
im so glad i tried this product...it doesnt sting, sinks right in, and does not leave a film. i will continue to purchase this!
2nd time purchase
This is the 2nd time I Purchased this product because it works so well for me. The salylic acid combined with azeliac acid was a really great idea because it also faded scarring left by breakouts and lightens the skin. It is a an all in one product for this reason. My mom also uses the pigment gel for age spots, etc, but has also used this to clean pores and brighten areas of the face. I am glad that I have found something that works so well and lasts quite a long time. One bottle lasted me about an entire year, so well worth it in retrospect.
Acne Gel
This is my 3rd time buying this product. Dab it on at night and clears by the next morning!
Great spot treatment that doesn't dry skin
I started using this product in my second trimester of pregnancy. With my pregnancy, I had a lot of problems with my skin. The acne serum does a pretty good job of keeping my skin clear, but most importantly never dries it out. A good addition to the other PCA products I use.
AMAZING
I had been using a prescription acne product for about a year and although it was drying, it made my skin clearer so I stuck with it. Every two weeks I go get a facial and my esthetician had recomended this product, PCA clearskin and the PCA facial wash for oily/problem skin every time I went. Finally I gave in and purchased the products and im so glad I did, This product is AMAZING. It doesnt dry out your skin like other harsh products and it really worked to clear up my acne. If you use this product with the PCA clearskin product and PCA facial was for oily/problem skin it really works well. You must try this product it is truelly awesome, and if you buy it from lovelyskin.com right now its currently 25% thats a GREAT deal on an AWESOME product.
perfect for spot treatment!
but I even use it all over, twice daily since I have problem skin, and constant blackheads. Miracle worker. My husband even once in a while will ask to borrow!
Great for blackheads and white heads
I got the acne gel for my daughter and her skin looks very good. She has combination skin with problem areas of breakout. She just applies the acne get where her problem breakout area is at night and by morning her skin has cleared considerably, if not fully.
None better
Fantastic spot treatment. Works wonders on my premenstrual outbreaks.