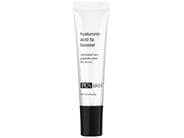 Reviews For
PCA SKIN Hyaluronic Acid Lip Booster
$46.00
Moisture for lips
This lip booster is extremely moisturizing, feels great, and says on all day. (Even under a mask!) It's the only thing I put on my lips now. Love it! LovelySkin Customer
Verified Purchase
IN LOVE!
If you're on the fence about this — just do it! I was given several samples of this lip Product and Noticed a difference just from the samples. I even bought one for my mom! I love the texture and love the very mild mint smell/taste. A little goes a long way. Great product. LovelySkin Customer
Verified Purchase
Obsessed!
I received a generous sample in the mail from Lovely Skin and decided to give it a go. I could not be more pleased with this product. While working from home my skin and lips have been drier then ever and this has absolutely helped. LadyWilder
Verified Purchase
Great moisturizer
This is a GREAT moisturizer for lips. I am not sure I see any "plumping" but it is fantastic for hydrating. LovelySkin Customer
Verified Purchase
Best lip soother ever
I'll never buy a basic lip balm again. PCA Skin h/a lip booster actually heals my lips, can be worn under lipstick and lasts for hours. LibbyLeigh
Verified Purchase
Lip booster
This product has helped dry lips, but I have noticed NO lip boosting,,.. HA lip booster
Love this. Long lasting and I do see a little plumping! LovelySkin Customer
Verified Purchase
Very hydrating!
This is the best product I've tried to keep my lips hydrated overnight. It's pricey for such a small tube so I only use it at night. It also plumped my little lip wrinkles above my lip and visibly smoothed my lips after just a few minutes of applying it. I would definitely consider again...just wish the tube wasn't so small. LovelySkin Customer
Verified Purchase
Makes lips look lovely
As someone who cannot stand to wear lip balm, I was shocked by how good my lips felt and looked after trying a sample of this product. Lips look healthy, natural and defined. No stickiness. I ordered immediately, have used for several weeks and am not disappointed. LovelySkin Customer
Verified Purchase
Love the product wish it had a different applicator
I originally received this product as a sample. I loved the sample and immediately ordered the product. When the product came it was not in a pot or similar container so that you could apply it as you liked. It is in a tube with an application tip. For some reason that does not go on as smooth as sometimes too much comes out and sometimes not enough. I have figured out a workaround which is to apply it to my finger and then apply to my lips but I still wish it came in a pot. It's a small complaint because overall I think it is a great product. I am definitely glad that I purchased it. It is very hydrating and there is no flavor (good or bad) to it. As far as its lip boosting claims, I am not sure that I can say I noticed much difference. But in every other way it is a great lip moisturizer. Perfect
I have always had chapped lips but OMG this product is AMAZING. LovelySkin Customer
Verified Purchase
PCA Skin Lip Boost
I really like this product. The texture is nice, not too sticky. The slightly sweet & minty taste is nice as well. I think it might be the best moisturizing lip balm I've ever used for chapped lips. Since I cured the chap with this and continue to use it, I haven't experienced chapped lips since. I'm very impressed with that! I have yet to notice much plumping effect but they say that comes with time. Currently, I've been using it for less than 2 wks. I'll definitely purchase again, even if just for the moisturizing benefits. Itsjustme
Verified Purchase
Lips Moisturizer
Works perfectly moisturizing lips but I haven't seen any effect as a lip booster PCA Keeps Dry Lips Away
PCA Skin Hyaluronic Acid Lip Booster is the best product I have found so far that helps to keep my lips moist all day. I apply it in the morning, after I eat and at night before I go to bed. I recommend this product. Great hydrating lip booster
Love this lip booster! Keeps my lips hydrated and will definitely buy again! LovelySkin Customer
Verified Purchase
Good product
I received a test sample of this product and decided I wanted to add it to my daily routine. I have not used it long enough to place a value on it at this point. The tube you receive is very small and I apply it several times a day. I hope it lasts longer than it looks like it will. LovelySkin Customer
Verified Purchase
HCA Lip Booster
I tried this initially as a sample and fell in love with it. Since then I have ordered 2 more to keep by me at all times. It smooths your lips so nicely. Skimpy
I loved the sample of this product but was very disappointed with the small size of the product I ordered. It was barely bigger than the free sample. I'm not certain I would order this again. Frowner
Verified Purchase
Was okay
It was moisturizing but definitely not a lip booster. LovelySkin Customer
Verified Purchase
It does moisturize.
Lovelyskin sent a sample which I used for a week. A little goes a long way. I purchased since it definitely moisturizers my lips. I don't see plumping but that's not what I cared about. I use each night and wake up with soft lips. I think it works better than other lip moisturizers I have used—-and I feel it stays on for a pretty long time. LovelySkin Customer
Verified Purchase
PCA SKIN Hyaluronic Acid Lip Booster
I love this product! It makes your feel so soft and hydrated, will definitely keep using this! Good lip moisturizer
Great moisturizer but haven't noticed any lip boosting. Not worth the price. LovelySkin Customer
Verified Purchase
One of a kind
From the first time of using, lips are soft and smooth for all day long, taste pleasant nice hydration. Will see about the plumping soon, looks promising. Like but no plumping effect!
Like this on my lips, not sticky and doesn't burn or tingle but so far I haven't noticed a "plumping" effect. Will continue to use and see if things change :) The Best
I am obsessed with this stuff. You will never be able to use chapstick again bc this is so far superior. Feels like it is actually hydrates from within versus just some funk sitting in your lips