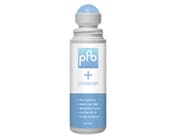 Reviews For
PFB Vanish + Chromabright
$31.95
Not Bad
I bought this in hopes that it would help me with the dark areas on my inner thighs and along my bikini line. I've been using this for over a month and in a matter of a couple of weeks, I could see a difference. I've used it on other areas of my body, including my face, where I have some acne scars, and this has really helped lighten up all the dark spots. I've already purchased a second bottle to make sure there is no lapse in application. Great product
Wonderful face brightener. Really helps to fade dark spots. Boobear
Verified Purchase
Honestly it's the best
I have had ingrown hair. Since I started using this I have not seen a ingrown hair or bump... I have recommended it to my best friend and she loves it as well. My guy friend got bumps from his barber maybe because of unclean tools from cutting his hair. I recommended it to him he bought it and it's all cleared up now, best ever honestly. LovelySkin Customer
Verified Purchase
Love this product
Works quick and results come in 2 weeks LovelySkin Customer
Verified Purchase
Fantastic Product!
Very effective at fading scars. I've been using this product for several weeks and it is already working. Much better than the other lightening products that I tried. LovelySkin Customer
Verified Purchase
Love it
I love how my skin peels and it helps with my ingrown hairs AND discoloration. Will continue to spend my money on this it's worth it ! LovelySkin Customer
Verified Purchase
Great product
Saw this product on a YouTube review. I decided to try it. It has done awesome at preventing razor burn & bumps. Will continue to purchase this product. ashgrey23
Verified Purchase
Magic
This stuff is unlike any other for razor burn and it smells really good in my opinion. LovelySkin Customer
Verified Purchase
Works!
I don't even use this as consistently as I should, but I notice a difference in the area I do apply it, and I will add it to my regimen. It seems to keep any area where you need to shave much smoother and lighter. Tengerbelle
Verified Purchase
Same great product
I purchased this years ago through Amazon and it was great. Bought it again on Amazon and it was NOT the same product. But because I loved it so much and the fact that Amazon has been peddling old/fake products lately; I decided to give LovelySkin a try. BOY AM I GLAD I DID! The product has not changed and is still wonderful. It was the vendor. Works great for hair bumps and definitely is lightening my scars after only a couple of weeks. MoMalone
Verified Purchase
Peels!
Have been using it for 2 weeks now and notice the skin peeling after a couple of days. Not sure if the color discoloration is lighter but will keep on using until I see a difference! Rosey28
Verified Purchase
Best Purchase Ever!
I saw immediate benefits from using this product. I was prone to ingrown hairs and every time I would get waxed I would have to deal with it, but now I've been using the PFB daily and have not had ANY more issues with ingrown hair. I recommend this product to anyone. LovelySkin Customer
Verified Purchase
Most effective product I've tried!
I am a woman of color with medium-deep skin tone, and I have struggled with pseudofolliculitis on the backs of my thighs since I was a teen. This is the first product to visibly give me results, and my skin feels smoother. Even my boyfriend has noticed. I highly recommend this product. I have recently started including other products into my skin recovery routine that have helped to safely speed up the exfoliation and healing process. In the shower, I cleanse and exfoliate with Dove body wash for sensitive skin and an oil by Melanin. I wash off the oil with the Dove soap, and follow it up with Lavo glycolic acid face wash. As an after-shower moisturizer, I sometimes make a cocktail of Lavo tea tree gel with salicylic acid, Jergens ultra healing lotion, Phat Water by Fenty Skin, an SPF, and a lotion by Simple. Ever since I introduced the glycolic acid and oil (for exfoliating) and stopped using a shower puff, I have seen the major difference in the texture of my skin. I also use it for the hyperpigmentation on my legs and chest that is also known as "strawberry skin." PrettySkinSquad
Verified Purchase
Great for razor bumps
I love using this after I shower. It helps relieve any razor bumps I may get from shaving. LovelySkin Customer
Verified Purchase
Amazing
I've been ordering if for about a year now and I love it LovelySkin Customer
Verified Purchase
PFB
So good so far it is not sticky and goes on well love how it has a roll on and dries quickly. Recommended. LovelySkin Customer
Verified Purchase
Actually clears my hyperpigmentation!
I have been using this product for a couple of weeks now and I'e noticed my skin under my armpit has lighten up and minimized my razor bumps. I definitely recommend this product since it's already showing results in just a couple of weeks. LovelySkin Customer
Verified Purchase
Wonderful
I will definitely repurchase! LovelySkin Customer
Verified Purchase
Pending results
I have been using the product over a month now, and I haven't seen any results as others I read before ordering product myself. Im still optimistic since the product says two months. LovelySkin Customer
Verified Purchase
Dramatic change
This made a huge difference in my bikini line nothing else worked before I tried this! Worth it for sure. This Works
I have tried everything over the counter. I have hair bumps and from pluck my skin had many, many dark spots. I was embarrassed because it was very noticeable. During the first week I saw results. My skin was so bad I used the product twice a day and now I barely notice any dark spots. I recommend this to anyone with hair bumps, discolored skin and spots. Now if only they can come up with a product to kill the hair cells on my face. LindaJC
Verified Purchase
Amazing Product
Saw results really quickly + it's great for multiple areas. kind of small for $30 but I'd buy it again. nyremak
Verified Purchase
Good so far
Helped with razor burn so far. Going to need some time to see if it helps with discoloration. LovelySkin Customer
Verified Purchase
BUY IT!!
Absolutely love this stuff, have been buying it for years. It's completely eliminated ingrown hairs after waxing and other acne breakouts I'd have in those areas. It also lightens any post-inflammatory hyperpigmentation left behind by any bad ingrowns/cystic acne. LovelySkin Customer
Verified Purchase
Give results
Beside the strong camphor smell, this roll on does what it says. I can see the difference. It has a lot of alcohol so one needs to wait a day or two to start using it. LovelySkin Customer
Verified Purchase