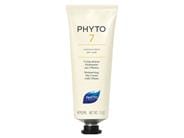 Write a Review - Receive 50 Rewards Points!
Tell us your thoughts about PHYTO 7 Moisturizing Day Cream so we can help you find the right products. With your review, you'll also receive 50 Rewards Points. Please note that it may take up to 72 hours for a review to appear on site. All reviews are subject to moderator approval.
Write a Review
19 Results
Favorite
The stuff is my absolute favorite. It has transformed I hey like dry hair into soft shiny healthy hair. It was such an amazing and good product that I started using other products from this line. Even if you don't use the shampoo and conditioner from PHTYO, this hair cream is still worth it's weight in gold. Need all the help
LOVE. This has helped my dry hair. It helps so much. LovelySkin Customer
Verified Purchase
It's ok
This does a good job as far as moisturizing and conditioning but does not add shine or definition. Smoothing and soft hair!
Got a sample of this and decided to take it to Minneapolis for a 5-day business event. So impressed with the results! I didn't use it on wet hair, but rather after it was blow dried. Just a pea size amount emulsified in my hands and then worked through my hair made it so smooth, shiny and frizz free. In humidity, I am the Lion King. So this product was amazing for me. I wash my hair every 3-4 days so I kept applying a small amount in my hair each of those days and got a lot of compliments on how beautiful my hair is. It was really manageable and soft and shiny. I'm on this site now to buy it, as it was such a great product. As for that sample, at the rate I use it, it lasted almost 2 weeks with almost daily minimal use. I gave a pea sized amount to a friend with waist length hair and after application she said wow, that's pretty good stuff! Bought the product after recieving a sample
The sample I loved but not in love with the leave in. It's expensive for the amount of product you have to use. Plus, the scent smells like herbs. It does moisturize slightly but not worth the investment. LovelySkin Customer
Verified Purchase
Amazing!
I received a free sample of this product and used it about 3 times and then knew I had to add it to my hair washing routine. My hair is soft and shinier after using and it's definitely helping repair split ends. LovelySkin Customer
Verified Purchase
great product
I looked for a long time for a right product for dry, curly hair and this one is really made a difference for my hair. I use it almost every day. LovelySkin Customer
Verified Purchase
Happy to find this again!
I used this product for several years previously and then when I moved to a new city, could not find it. I was happy to see LovelySkin carrying it! I have long, thin-ish straight hair and tend to go much longer between cuts than I should. This product helps keep my ends in decent shape and is an excellent detangler. It isn't heavy or greasy at all. I have tried several split end remedies and this is by far my favorite. I still use a small amount of regular conditioner after shampooing and follow with this before combing. LovelySkin Customer
Verified Purchase
Phyto 7 is the best for my hair
Used to have mostly blondish/light brown hair before coloring it and it is medium thickness. I have been using this product for years, and it makes a huge difference on the ends of my straight hair. It makes it look shiny and fuller. Sometimes, my scalp feels irritated, so I rub some on the back bottom of my scalp. So happy to have Phyto 7! LovelySkin Customer
Verified Purchase
Nice and light alternative to conditioners
I can't use conditioners because of my fine hair. I was looking for a product with natural ingredients that would keep my hair hydrated and this turned out to be a good option, and even if the quantity in which it comes is very small, you only need to use a tiny amount. Helps tame dryness and frizziness
I use this product on the ends of my hair after every shampoo and in between if my hair is dry and flyaway. It works to tame dry hair, provide a little shine and does not weigh the hair down. If you use a small amount it works well. You will know you used too much if your hair becomes limp and greasy. A little goes a long way. LovelySkin Customer
Verified Purchase
Good
Nice, lightweight smoothing cream to put on prior to blowdrying. However I've recently switched to their new Phytospecific Thermoperfect product. It's like this but it protects hair from heat. LovelySkin Customer
Verified Purchase
"invisible" leave in conditioner
I've been using Phyto 7 Hydrating Cream for a year. I started using it with Phytolium Shampoo. While I alternate Phytolium with another shampoo I ALWAYS condition with Phyto 7. It is so light weight it really is "invisible" yet it is so effective that my very dry hair now has new strength and body. Results seen with first use. Fragile hair - not a problem! LovelySkin Customer
Verified Purchase
Just the right amount of moisture
I use this everyday when I wakeup. It gives me just the right amount of moisture and slip without my hair reverting back to being frizzy. I like to follow it up with the phyto thermoperfect heat protector when I'm using my blow dryer and the phyto baobab oil to seal in moisture. (4c chemically straightened with phytospecific index 2) LovelySkin Customer
Verified Purchase
Excellent hydrating cream
Ive been using PHYTO 7 for years. Have tried other products but have found this one to be the best for keeping my hair hydrated. I wash my hair every day and need something to protect it from the stripping effect of shampoo and the drying out of blow-dryers. LovelySkin Customer
Verified Purchase
Phyto 7 Hydrating Day Cream
One of the very first products I have purchase from this line and it is an amazing product. The fact that Phyto products are plant based and not packet with chemicals that are not good for you, I highly recommend Phyto Hair Care Products. I am not interested in any other hair care products. This one in particular, gives you silky strands and works as a detanglar as well. I AM HOOKED! I just want to add that LovelySkin has the best deals for Phyto products. I receive my orders very promptly and would recommend purchasing from them. Good company and great products. LovelySkin Customer
Verified Purchase
phyto 70 - softer hair
i have very thick, coarse, wavy hair. I read about this product in a national magazine and decided to try it. It somewhat tamed my hair. It did make my hair softer which was a nice surprise. With the amount of hair I have, i ended up using about a dime size drop on each side. This product is somewhat expensive for only 1.7 oz and at this rate it will be gone soon. I would say it worked, but i also live in Colorado and we have zero humidity which means my hair is much flatter, less frizzer here anyway. If it were less money, i would probably rebuy, I liked how soft my hair was. Otherwise not sure i would spend that much again. Also not sure how well it will hold up in a humid climate. LovelySkin Customer
Verified Purchase
Great for managing frizz
As I have started to get a few gray strands of hair, I noticed that my hair has become dry and a little frizzy. I use the product to keep my hair in place. Theres no build-up. LovelySkin Customer
Verified Purchase
The product I've been looking for!
I am so glad that I received a sample of this. I've been looking for this product for a long time. This moisturizes my hair -- it doesn't just coat it with silicones, which keep moisture out -- and it doesn't weigh my hair down or make it look greasy. My hair has been looking very dry this winter, and now it looks healthy and shiny and bouncy. I saw a difference with the first use, and after three uses my hair is in much better condition.