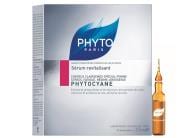 Write a Review - Receive 50 Rewards Points!
Tell us your thoughts about PHYTO Phytocyane Treatment Revitalizing Serum so we can help you find the right products. With your review, you'll also receive 50 Rewards Points. Please note that it may take up to 72 hours for a review to appear on site. All reviews are subject to moderator approval.
Write a Review
18 Results
Excellent
The review comes as I am finishing my first box. The treatment certainly does thicken your hair. I am going to do another month. LovelySkin Customer
Verified Purchase
Disapointed with packaging
They come in glass ampoules that have to be broken to use the product. The plastic cap to apply the product attaches to the glass ampoule. After I was finally able to open the glass ampoule I was applying and not much was coming out so I pressed the ampoule firmly and it exploded in my hand into a 100 little pieces all over the countertop. My six month old baby was with me in the bathroom and grabbed a piece that went on the floor. I freaked out. Unfortunately will have to return the product due to the unsafe packaging. AnaHine
Verified Purchase
Post partum hair loss? USE THIS!
I used this for severe postpartum hair loss and it worked. I used 3 boxes of it and used it with the phyto vitamins, phyto scalp elixir, Phytocyane shampoo and it worked amazingly! my hair has come in healthier than before. It is very watery and comes with plenty in each vial for my long hair. feels nice on scalp. LovelySkin Customer
Verified Purchase
Great product with visible benefits
Product leaves hair shiny and manageable, you can see they difference in volume/body and hair quality. My hair is growing
I experienced a medical issue that resulted in me losing a lot more hair than normal. I was freaked out, so I looked into purchasing a hair serum that helps acute hair loss. I started using it 3 times a week. I didn't see any difference from the first box, so I bought a second box. I definitely saw less hair loss and started noticing little hairs growing. I now use it once or twice a week. When I am finished with this box, I will take a break. The only issue that I have with this product is that the little plastic nozzle doesn't stay on the vial well. LovelySkin Customer
Verified Purchase
PHYTO
Very good product. I recommend and love it. Thinning Hair
I've always had thin hair, but my hairstylist recommended I try this product when I began losing more hair due to stress. It has worked wonderfully for me. It does take a little while to notice results, but it does help hair grow back and look more healthy. I use this product along with the Phytocyane Shampoo about 3x a week and love what it has done for my hair! LovelySkin Customer
Verified Purchase
Best hair serum!
I've always been a fan of Phyto hair products. And now I'm even more of a fan with trying this serum. Definitely have noticed less brittle hair, more thickness and indeed more density around my hair line. Will continue to use this product! LovelySkin Customer
Verified Purchase
Wonderful
I have used this product in the past. And it was pricey back then for me. I am back on it, and I regret all those years that I didn't use it. It is worth every penny. I'll recommend it to anyone who wants long strong shinny hair. LovelySkin Customer
Verified Purchase
Nice product
Hair has more volume and is healthier when using this product. One has to use regularly if one has thin, fine hair as I do. LovelySkin Customer
Verified Purchase
Hard to use
Ended up throwing the box out. They are glass vials you have to break open. Too much of a hassle. LovelySkin Customer
Verified Purchase
Love this !!!
I've been using this product for couple months. I can notice new hairs growing every time I look in the mirror. The product works as advertise. Highly recommended !!! LovelySkin Customer
Verified Purchase
Hair treatment for thinning hair
I have noticed hair growth in the area were my hair was thinning, I can see progress thanks to the Phyto treatments, I am very satisfied with the results. LovelySkin Customer
Verified Purchase
fantastic
I love this treatment, it takes time to show effect but it works! The price is a problem, I wish they add more ampules to the pack. LovelySkin Customer
Verified Purchase
Little hair is growing
So I use bunches of hair growth products, I was not sure this product was working until I stopped using it. Phytocayne
I am on the maintenance program of this treatment. It appears to have helped my thinning hair on the top of my head due to medication, stress and aging. It has helped enough that I will probably stay on the maintenance program for an extended period of time. The day that I use this every week my hair is unbelievably thick and full! LovelySkin Customer
Verified Purchase
Revitalized!
I love this treatment, I used as directed, 3 a week the first month and now on second month 1 a week. I can really tell the difference, it really has brought a lot of body and life back to my hair. I am 50 years old and due to what is probably hormone fluctuation my hair had become lifeless. LovelySkin Customer
Verified Purchase
Can't do without!!
I have been using this product for two years - after my stylist referred me to them after my hair started thinning after a great deal of stress. I still use the vials once or twice a week to head off any future thinning - I am the Mom and Wife of US Marines, so stress is a pretty constant issue in my life, but this product has made a huge difference in how much my hair shows it! LovelySkin Customer
Verified Purchase