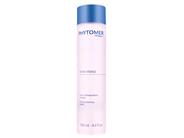 Write a Review - Receive 50 Rewards Points!
Tell us your thoughts about PHYTOMER Rosee Visage Toning Cleansing Lotion so we can help you find the right products. With your review, you'll also receive 50 Rewards Points. Please note that it may take up to 72 hours for a review to appear on site. All reviews are subject to moderator approval.
Write a Review
25 Results
Great Scent and Good Toner
Great rose scent. Good for sensitive skin. I used to have severe acne problem. This is the only toner that won't irritate my skin. Now my acne problem gone. This is still my favorite toner for daily use.
Phytomer Rosee Visage Toner is one product I am never without!
Phytomer Rosee Visage Toner is my go to for not only a toner but for removing eye makeup without any eye irritation or filminess that comes from the oilier products I have tried. I have been using this for years and always have an extra bottle, so I never run out.
Very pleased!
The PHYTOMER Rosee Visage Toning Cleansing Lotion is a great toner and cleanser all in one. I have been looking for one that works well with sensitive skin and found this to be perfect!
Best toner on the market !
I've been using this toner along with several other Phytomer products for over twenty years. This toner cleanses so thoroughly that I've never had a problem with large pores. I'm 73 years old and people think I'm in my fifties. I highly recommend this toner!!!
Great Product
This toner is great. Leaves skin clean feeling without stripping moisture. Getting the cleanser for free is an added bonus. My skin has never looked better and I get compliments all the time. The smell is light and pleasant, and it works wonderfully on sensitive skin like mine.
Phytomer Rosee Visage Toning Cleansing Lotion is gentle and lovely.
Phytomer Rosee Visage Toning Cleansing Lotion is gentle and lovely. Its great for sensitive skin--it has no alcohol--and smells terrific.
Perfect toner for me
I like using a toner to get the last bit of makeup off of my break-out prone skin, but also love the soothing quality of this one for my rosacea. Leaves my skin super clean but soft!
Yummmmm
As a professed product junkie, I've used them all. The faint scent of roses is just one of the beautiful things about this toner. My face has never felt as soft or moisturized from a toner. No drying or tightness after applied. I love it! A bonus - I apply with my hands (no cotton ball) and my hands are soft too!
great for sensitive skin
Gentle but cleans and tones exceptionally well
Excellent Product!
This products works as a toner and maker up remover. Very gentle on my skin. I have been using this product for many, many years and have not been disappointed.
Great toner
I love this toner. Does not dry my sensitive skin. Makes my face feel fresh and clean.
Perfect for sensitive, dry skin
I have been using this product for over five years now. It is perfect for sensitive, dry skin like mine- particularly in the cold, winter months. I apply it after using the Phytomer Peeling Vegetal Gentle Exfoliant.
Fabulous Toner
This toner is ideal. I have combination skin, and it leaves my skin soft and smooth without being too heavy. It also smells great!
By far the best toner ever!
This product is very gentle, non-drying, non-irritating and can be used on my oily skin as well as when I am on accutane with no side effects. It is also great to remove mascara without burning or stinging my eyes, even when I get a little in my eye by accident. I have been using it for at least 4 years now.
my review
I have been using this product for years and love it! It gets the extra dirt and make-up off and makes my skin feel fresh and light. I also love the light rose scent!
Good product
I use it for a toner as well as an eye make-up remover. It is gentle, works effectively and a great deal for the money. I wouldn't use anything else!
Phytomer Rose Visage
I have been using this toner for many years. I have tried a few others in between and have always gone back to this one. It removes any dirt left after cleansing, is gentle on my skin, leaves my skin feeling refreshed and is not drying. It also smells fresh and clean.
The most wonderful toner ever!
I have sensitive skin, but still want a good toner. I have tried many quality products through the years. None have been as wonderful as Rose Visage. It is soothing, yet strong enough to get your face clean. Besides using it as a daily toner on my face, I also apply it when my face has been in the sun or irritated in any way.
Excellent Product
I have very sensitive/oily skin and this product is very soothing. It is amazing how much additional dirt/makeup it removes after I wash my face!
Exceptional
Although this product is actually a toner, it is a phenomenal eye make up remover. Very gentle, yet removes even waterproof mascara quickly and easily. Highly recommend as both a toner and make up remover.
Perfect Toner
I have been using this product for years. It is a great way to complete the face washing process without leaving my skin dry and depleted. I feel like I get the benefit of a toner thru scented water. It is a perfect compliment to my regimen.
Sweet smell for a sweet product.
This is the perfect toner/make-up remover. Smells wonderful and doesn't dry skin out.
Rose toner very good
I find this make-up remover and toner all-in-one really good when you are tired and can't go through the whole routine. It works well, is natural, not tested on animals and smells lovely.
Natalia
It is essential for the everyday skin care. It works with any kind of skin. I have used it for four years.
Thanks You Roses
I've been using this product for about 5 years and cannot live without it. It gets rid of make-up, hydrates the skin and gives you a healthy glow.