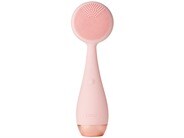 Reviews For
PMD Clean Pro Rose Quartz
$179.00
PMD CleanPro Rose Quartz
I love the PMD clean pro rose quartz, it makes my face feel wonderful. I try to use it twice a day and wow it's great I recommend it to all ladies. Worth every penny! Gentle yet effective
I was for years using a Clairsonic, but have switched now to the PMD & I really like it, better than the Clairsonic. It has more settings within the device whereas with the Clairsonic you would have to change the brush to get a gentler or firmer action. And with PMD you just push the built- in button and you never change brushes..there are not any. LovelySkin Customer
Verified Purchase
Perfect for cleansing
This device is amazing for a clean face. I like it because I never have to touch my face and my skin feels so much cleaner and more refreshed. Reese79
Verified Purchase
I am in LOVE!
I wish I would have bought this a long time ago. I have been using this one week and can see/feel a huge difference. The warming feature feels so good as part of my night time routine. Very relaxing! GANurse
Verified Purchase
Heaven
This has changed my face's life! Every time I use my PMD clean pro I feel like I am at the spa. This is such a treat to get this type of deep cleanse in my own home. I also tried it out on a couple of my girls and they love it too. One of my daughters comes up to my bathroom and uses it at the end of the day. I don't worry about sharing bacteria with my daughters because of the material the PMD is made of. Loving my PMD Clean Pro!!
I absolutely love this product! I have been using it for several weeks now, and my skin looks and feels better than ever!! I have tried many other products, but this one is a keeper. PMD clean pro
I love my PMD clean pro! It works great and feels so nice on my face. I love the active warmth setting. Something about the quartz smells really nice too!