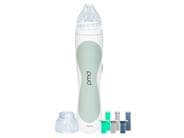 Reviews For
PMD Personal Microderm Device
$159.00
Amazing!
I have ordered sooo many face products, from hyaluron injectors, creams, everything under the sun. After receiving the PMD Microderm device, and using it for the first time, I knew this device was different, and noticed smoothness immediately! PMD device
This is a neat little device, I swear I noticed results after my first try. Love it! LovelySkin Customer
Verified Purchase
Nice
Used a couple of times and it definitely takes a technique to get it right and make sure you're not letting the device give too much suction in one spot. Can't speak to long term use but glad I have this device in my arsenal. Love
This is my second PMD. My last one was about 4 years old, and I used it so much the suction gave out. Love this tool, so I ordered a new one! LovelySkin Customer
Verified Purchase
Used in the past
I have used this in the past however my daughter decided to take mine. I splurged an bought a new one. This will not provide the benefits as the derm office however if you are consistent and can't afford the 4 week visit to the derm's office, this will provide results you are looking for. LovelySkin Customer
Verified Purchase
Brilliant
I am loving this product for my face, hands, feet--and wherever else. I can litterally feel and see such a significant difference. I have been getting compliments wherever I go about the glow I have, the health and freshness of my skin, and my over-all "beauty" which has not happened (with such sincere responses) in many years now. I love using the red course tips on my feet. They are ALL effective!! I just LOVE THIS DEVICE!!!!! pmd personal microderm device
ehen will I get my items LovelySkin Customer
Verified Purchase
Great results but there is a learning curve!
Ive had medi grade microdermabrasion before but I hated the down time. This allows total control when using the different disks. I did scab over a few places but I wont make those same mistakes again that resulted in scabbing. The suction didnt seem that powerful until I used it on the delicate tissue under the eye. It sucked it right in even though I was holding my skin taut. Definitely a great way to exfoliate. I also used a courser insert on top of my hands and then used a glycolic acid hand cream. The result there was immediate. It definitely is well worth the money! Just go light with pressure and make sure the disk is in the correct locations! Learning curve!
I found this really hard to use. I dont want to fault the product for perhaps my user error, but this came out very uneven and I developed light scabs in certain spots. Wont use again. Wonderful Device
I have had my PMD for about a year now and I really like it. Very easy to use-watching the DVD is important-and the results are great. Has really helped my ageing, menopausal skin look better. Softest skin ever!!!
I just used my PMD for the first time today. It worked well. Will take practice to get to using it to its best! I also did a ten minute peel and my skin is the softest I have ever felt it!! So smooth!! Silky soft!! I am amazed!! I do recommend to buy the recovery moisturizer! Or a product for after a procedure!! LovelySkin Customer
Verified Purchase
good!
Im trying to get use how the product works! For me, not really easy to use. Sometimes the suction too strong & will cause redness on my face! Overall , still good because can see the dirt on the dics. LovelySkin Customer
Verified Purchase
It really works!
I was happily surprised that this light weight product works so well. The results are very similar to having a professional treatment at a small fraction of the cost. I find the device easy to use. I did not find it necessary to watch the instructional video. It plugs right in, so there is no battery to charge. It exfoliated my skin really well leaving it smooth and fresh looking just like a professional treatment. I am very pleased with this product. LovelySkin Customer
Verified Purchase
Not Sure
I am not sure about this product. It could be user flaw, but I found this product a little difficult to use because of the tiny pads. Its hard to tell what you have gone over and what you havent and going over the curved parts of the face were difficult for me. I was left with red stripes for a few days (you could see what I missed and what I didnt) and some of my skin got rough. I am not sure if it was my sking reacting to the microderm or if it was the moisturizer but it ended up being extremely oily for almost an entire week. After the week past, my face looked great though... its possible this is a great product and I just need a little practice but I only used it once because I was so embarrassed with how my face looked for the week. I gave the product four stars, because it could just be me... I have had a microderm done by an esthetician before and I dont recall my face becoming so oily afterwards. I do like how my skin looked after the oiliness and roughness went away... I will try again some day. Good luck to those who use this. Maybe get some help using it or practice on different areas of your body first. -Note, I did read the instructions and watched the dvd, as advised.. it was just hard for me. LovelySkin Customer
Verified Purchase
marvelous Device
I bought PMD Personal Microderm Device and felt it is a very good product I've got from LovelySkin. At first, I hesitated buying it because I never knew how to use it. But I encouraged myself that I should try new things, maybe it's not that hard to operate it. I felt happy and worthy after I bought it and used it. It is special and not difficult to use, just watch the VCD included in the product and use it according to the instructions. The result is excellent, my skin looks tight and smooth after using it and it absorbs skin care products 20 times better than before. Ill use it continuously and will recommend it to my friends. LovelySkin Customer
Verified Purchase
easy to use
this item is unbelievable easy to use, but I feel a little hurt every time I use it..... so my suggestion is dont use it in day time use it once a week and use it before sleep will be better. LovelySkin Customer
Verified Purchase
Worked great the first time I used it.
This product was extremely easy to use and works wonderfully. It does the micro-dermabrasion with out any pain. I had used others before, however, this one is the very best! I highly recommend this to anyone who wants is thinking about doing this at home. LovelySkin Customer
Verified Purchase
This is no joke!
READ THE DIRECTIONS before you plunge into operating this machine. This is a REAL deal machine dont let its small size fool you. Its amazing to me how well it works! The suction is surprisingly strong... I use to get microderms at a med spa every 2 weeks.... now I go once a month. If you need a deep exfoliation, dont buy scrubs, buy this machine. LovelySkin Customer
Verified Purchase
My Favorite new product!
I have used this for the last 3 weeks, and after just the first treatment, I could see a big difference in my skin. It's really easy to use and to clean. This is something I'll always use and its just once a week. LovelySkin Customer
LovelySkin Employee
PMD Review
The PMD is a wonderful device thats the perfect hand-held size. The instructions were understandable and the product works great so far. I like that its not battery operated and that its a pretty versatile product that allow you to exfoliate not only your face but your body as well. It comes with a couple of discs along with an instructional CD to help you get started. LovelySkin Customer
Verified Purchase