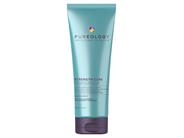 Reviews For
Pureology Strength Cure Superfood Treatment
Favorite Treatment
This makes my hair sooooooo soft. Smell is mild. I use it 2x a week mainly focusing on the ends. I also added the shampoo and daily conditioner to my regimen. wxgal22
Verified Purchase
Excellent product for dry hair!!
I use this after every shampoo! I will apply it throughout my hair and let sit on there for about 5 minutes before rinsing out! It does wonders.... Excellent
My hair definitely looks healthy and shiny I even see my hair longer. It works!
I love this mask. I purchased based on all of the reviews. This mask definitely makes your hair feel like silk. I've been using it once a month for 3 or 4 months, and my hair is definitely softer. I'm giving it four stars because the smell is okay. You can't smell it once your hair is washed and dried; however, it's not my favorite scent in the shower. I love fresh vibrant scents and this doesn't have an amazing smell to me. I will be purchasing some other products to try and find a better smelling mask on this site. LovelySkin Customer
Verified Purchase
BEST MASQUE EVER
I have very fine hair that is colored with dimensional highlights. This product is the best weekly masque ever. It doesn't weigh down my hair, helps my ends from breaking and fraying. Plus gives a very healthy glow to my hair. Superfood is Awesone
I really like this conditioner. My stylist recommended it because my hair has become very dry lately. I just turned 50 ,so maybe that has something to do with it. Anyway, nowadays I try to only wash my hair every 3 days, and when I stick to that routine in combination with the superfood, my hair seems to stay in optimal condition with very little breakage, and LovelySkin offers this product at a much more reasonable price than my salon does. LovelySkin Customer
Verified Purchase
Softens
I use Pureology shampoo and conditioner, so I expected nothing but the best out of this mask. I have heavily highlighted blonde hair and leave this in overnight and wash out in the morning. My hair is super soft until the next wash! LovelySkin Customer
Verified Purchase