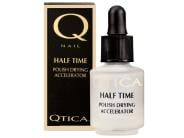 Reviews For
Qtica Half Time Polish Drying Accelerator
$22.00
Shining Star!
I've searched high and low for years and years looking for that magic item that would dry my manicure in less time than it takes me to smudge and mess it up - which is when I walk out the door, usually. I'm not a fan of gel nails, though I love the look of them. Lately, as in since Covid, I've been using a popular brand of nail polish stickers. I put on a top coat over them and then applied Half Time. My nails grew out before even one chip! I'm certain that the hardener aspect of Half Time played a huge role. I've finally found my nail holy grail! Yoga108
Verified Purchase
It works
It works quickly and it doesn't have an unpleasant scent to it. Perfect way to dry nails quickly
I have used the Qtica half time polish drying accelerator for years after a manicurist introduced me to the product. It dries nails in half the time and prevents smudging of polish. It doesn't dry out the skin around the nail! LovelySkin Customer
Verified Purchase