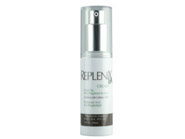 Write a Review - Receive 50 Rewards Points!
Tell us your thoughts about Replenix CF Cream so we can help you find the right products. With your review, you'll also receive 50 Rewards Points. Please note that it may take up to 72 hours for a review to appear on site. All reviews are subject to moderator approval.
Write a Review
19 Results
Love it!
I use this in the AM and PM. As a Retin A user this product helps tremendously with the redness and irritation that Retin A can cause when initially starting. As an added bonus it also helps with rosacea. I had a small patch of rosacea in the nose area and it has taken that away. I think this an all around great product for any skin type or condition. I have only seen positive results from this product and will continue to purchase.
Essential for sensitive skin
I have very sensitive facial skin and this product is essential for keeping it looking healthy. Highly recommended
Love Replenix
I love Replenix CF cream, I have been using it for several years now, keeps my hairline from breaking out and my skin loves it.
Replenix CF cream
Love the way it feels going on and makes my skin feel softer afterwards. I wear it by itself or with make up. Plan to reorder when I need it.
just ok
I like this but prefer the power of three cream better. this might work better in the summer months actually because it's less moisturizing.
Healing product
I have oily combo skin hard to control with hormonal acne. I have used both the serum and cream from Replenix CF. It sooths the skin--can be drying so you will need a moisturizer or hyaluronic serum. I use Replenix during the day--along with sunscreen, evening Dr. prescribed retin-a and the program is complete. I have used this going on two years and have a mild case of rosacea. Bottle is small but lasts at least 3 months--only need two pumps.
Nice product
This product is a gel like consistency. It absorbs into the skin very quickly and it is smooth and soft. I am using this product as part of a larger skin care program, layering it with other products. I am hoping it is combating the free radicals! I recommend that you try it but use it with other products like Vitamin C during the day and a retinoid at night. I actually layer it with my Tretinoin to help prevent irritation from the retinoid product. It is working!
Excellent cream !
I have been using this cream now for 3 weeks. I LOVE it ! I only use a half pump in the AM and half in the PM. Then I use my moisturizer over that. I feel a half pump is enough for my sensitive skin. Eventually I will work up to a full pump. But for now this works. Doesn't sting or burn my Rosacea skin. This is more like a serum to me. So if you have very dry skin, you may need a moisturizer afterwards. This cream plus my RX cream from my derm is really helping my rosacea. I feel this cream also helps repair a damaged skin barrier. Does help with redness as well. When I run out, I will buy this again, no question!!! It's a bit pricey but I do feel it's worth it for healthy looking skin.
Fast results
I bought this product to reviews and recommendations as my skin gets rather irritated with retinol creams. I apply after cleansing and toning and before retinol product. My skin is less irritated and moisturized. I will definitely purchase again and again.
Nice Product
I think that the Replenix CF Cream definitely helps to reduce redness, and I appreciate that it has no fragrance and does not irritate my sensitive skin. If you have dry skin, though, you will most likely need to layer it under another moisturizer or use the Replenix Power of Three Cream instead.
Excellent Product
Ive used CF Cream for more than a year. During the transition season between fall and winter when my skin is irritated by tretinoin cream I apply it before the tretinoin cream and I do not have issues with irritation and excessive peeling. During the rest of the year I use it under sunscreen as a moisturizer. iI love the feel on my skin. It is very light, scent free and not at all greasy.
Great Product
It was recommended to me that I use this cream before I apply my Retin A to help my skin tolerate the product. After using it for a week after increasing my Retin A it has been amazing and has lessened any skin irritation.
Impressed
This is the first review that I have ever written for anything Ive purchased so that alone says quite alot I feel. I feel this moisturiser delivered everything it promised and I was especially impressed because I seem to have the most temperamental skin type....dry, sensitive, red, aging but also prone to break outs! So finding a product that doesnt cause my skin to react in some way is massive for me .The ONLY thing precluding me from giving it 5 stars is that sometimes my skin would still be a little dry in places afterwards, so I would then need to top up with a richer cream. However it is a superb all round base moisturiser. I would be interested to know if this product tests on animals as this would effect future purchase decisions
Works for my rosacea and seb dermatitis
I was diagnosed with both rosacea and seborrheic dermatitis this year. I know. Lucky me. Did a lot of research online and found this product recommended by a dermatologist in CA. It is light and goes on very smooth. I agree with other reviewers-it isnt as moisturizing as other creams but boy, does it make your skin soft and smooth. My skin has never felt this good. I have dry skin but I use it as a base coat and it works. I apply it after washing my face and then put on a little 1% hydrocortisone cream on certain spots for my seb dermatitis. I then apply sunscreen which gives me that extra moisture. It works well for me as a base layer. Try it. If you find your skin is still too dry, I recommend switching to Replenixs Power of Three Cream.
GREAT PRODUCT!!!!!!
My skin loves this product! Before this I was not able to tolerate the retinoid, now I put this at night before the retinoid cream and my skin does not get irritated. Also I used it by day as a moisturizer, because the skin absorbs this light cream and doesnt get oily. Completely recommended!!!
Pricey, but really reduces redness
Ive had mild to moderate rosacea since my late 20s, when my skin was much oilier. I managed my skin with a Paulas Choice routine for years, but now that Im in my late 30s I find her products are too harsh or too clogging for my combination skin, especially in winter. I ordered this lotion with hopes of repairing my damaged skin barrier, and I have to say, the results are amazing! My pores appear smaller, and my redness is greatly diminished. I would give it 5 stars if it were more moisturizing (and its the most expensive face lotion Ive ever purchased!), but then again, something more moisturizing might clog my pores. I will definitely order this again.
Love this stuff!
I love using Replenix CF Cream... it works wonders on my face, helps diminish the redness in my cheeks, and you cant go wrong with the price on LovelySkins website!
replenix green tea cream
highly recommended
Excellent moisturizer
I use this under my daily moisturizer. It works great around the eyes and mouth. My dermatologist in Richmond, VA recommmended this years ago, and I can get it at a much better price at Lovleyskin than in her office!