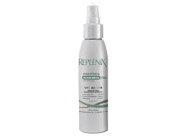 Write a Review - Receive 50 Rewards Points!
Tell us your thoughts about Replenix Sheer Physical Sunscreen SPF 50+ so we can help you find the right products. With your review, you'll also receive 50 Rewards Points. Please note that it may take up to 72 hours for a review to appear on site. All reviews are subject to moderator approval.
Write a Review
15 Results
Difficult to pump but good product
I would rate higher if the pump were not so stiff. Nice to reach your back without inhaling the spray.
Light mineral sunscreen
This is the only mineral sunscreen my husband will use. It feels light on the skin. We spray it on our body and then rub it in. We spray our hands and rub it on our faces.
Best sunscreen...especially for tennis players!
I have purchased this sunscreen over and over again. I was introduced to it at the office of a cosmetic surgeon, so I felt comfortable that some research had been done on it. I use it on my neck and the back of my hands. I play tennis and hike and at 62 years old, I am really working hard to preserve that delicate area.
Great physical sunscreen
This is a very nice physical sunscreen. Easy to use and leaves no white cast. It goes on a little shiny but dries down to nice matte finish and is great under makeup. Highly recommend.
Best of the best!
This is the best sunscreen ever. It is super easy to apply, dries to a non-shiny finish and doesnt interfere with makeup. In addition, it contains enough healthy skin treatment ingredients that one feels virtuous applying it! The only downside is the price.
YES!!
I have been searching and searching and searching for a product like this! It works great on my whole body. You cant see it at all after application. This will help me improve my sunscreen routine (previously wore sunscreen daily on face/neck only) I love the added healthy ingredients that you dont find in other sunscreens. No "sunscreeny" smell at all.
Amazing Protection, Flawless Look
I am a sunscreen addict as a fair skinned, blue eyed CO girl. I love this matte, liquid, non-whitening anti-oxidant rich formula for my combo, breakout prone skin. Due to the amount of Zinc it is a little drying, but with the proper moisturizer under it it is perfection. The sun is strong in CO and this offers full protection....I get no tanning, sun spots, etc. The liquid formula is very easy to spread and it works great under all types of makeup..liquid, powder, mineral, cream with no balling, pilling. Even my husband loves this sunscreen.
Great
I love this sunscreen spray it is lightweight and has excellent ingredients like green tea and Coenzyme Q-10.
Too Drying for Me
I bought this SPF 50 sunscreen by Replenix when my dermatologist was out of my mainstay SPF 30 sunscreen by Glycolix Elite. Both both products are based on Zinc Oxide (12% and 17%,, respectively) and both are from Topix lines, which I love, so I was confident that this would be a reasonable substitute. Wrong. While Glycolix Elite SPF 30 is a medium-thick moisturizing cream, Replenix Sheer Physical SPF 50+ is a thin liquid that is not moisturizing enough for my dry skin. At least not during the winter. The Replenix sunscreen seems fine for the first few hours, but my skin would feel and look dry by the end of the day. After a few days, I noticed that my skin was drier in general. This is probably a great sunscreen for those with oily or normal skin. Now that were having an early summer in California, Ive started adding the Replenix Sheer Physical SPF 50+ to my usual sunscreen cocktail in order to sheer it out a bit, and Im quite happy with the results. I dont know if I can use up the entire 4 oz bottle this spring/summer, so Im not sure if its worth a repurchase next year. Ill probably repurchase anyway, as summer is hardly the time to dilute the effectiveness of my SPF 30 cocktail.
Great sunscreen for the body
I used this sunscreen on my arms and neck recently on a vacation in California and it worked great. You should put on two layers like the directions indicate. Like others, I found it a little too drying on my face, but its a great sunscreen for the body that feels light and not greasy.
Works well
My family used this on a sunny vacation. It was a hit with the teenage guys as it did not leave a white cast on the leg hair! They asked me to buy more. Provided good protection and no one got sunburn.
Not for me
I really wanted this sunscreen to work for me. Pure zinc sunscreen in a super lightweight liquidy base--what could be better for my super sensitive, combination skin? And at first it seemed perfect: matte, not whitening nor irritating. But alas, my skin hated it. Within a week, my skin became super dry, even though I used moisturizer underneath, and my skin broke out. So disappointing!
The Best Sunscreen Ive Tried (and Ive tried a lot)
I dont know if this is the best sunscreen ever but it is the best one Ive tried. Ive tried so many and spent so much money. Most lacked protection, were irritating, left a white cast, broke me out and the list goes on. When I first tried it I liked it but I wasnt sure so I went and bought another sunscreen. Ive since gone back to this one. This is the only sunscreen Ive ever repurchased. Also for the amount you get its not expensive compared to the other brands sold here that only give you 1 ounce. NO white cast. It isnt thick. It applies wet but dries to a somewhat matte finish. Doesnt break me out or irritate me. Has great antioxidants for extra protection.
Different
This is different but in a good way. My sensitive skin likes it but can be a little drying. Does not burn or sting or cause me to breakout. I think I would prefer the cream formulation but LovelySkin does not carry it.
The best physical sunscreen I've ever used
I've been using this sunscreen for about 4-5 months, and its all-zinc formula is perfect for my acne-prone oily skin that's sensitive to chemical sunscreens. It applies as a thin slightly tinted liquid, but it blends clear and is invisible on my skin. I've tried liquid foundations, mineral powder foundations, and BB creams over it, and all apply smoothly with no pilling. It has never broken me out, and I love that it has added anti-oxidants.