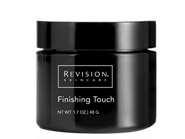 Write a Review - Receive 50 Rewards Points!
Tell us your thoughts about Revision Skincare Finishing Touch - 1.7 oz so we can help you find the right products. With your review, you'll also receive 50 Rewards Points. Please note that it may take up to 72 hours for a review to appear on site. All reviews are subject to moderator approval.
Write a Review
25 Results
Finishing Touch by Revision
I Love this product and use it about three times a week. On the days I use this Amazing scrub, I notice my pores to be smaller, my skin is left brighter all because the natural exfoliants gently polishes away any imperfections!
Great scrub
Will definitely purchase again!
finishing touch
this is good for cleaning off dead skin cells. Great product!
Revision Finishing Touch
I have slowly been incorporating Revision products into my skin care regime over the last year. I selected Finishing Touch as I thought it would be a good addition. I have been using it for about 3 weeks and am really happy with it. The tiny beads in it really seem to clean your skin and make it feel very smooth. I use it twice a week. It seems a great addition to my current products from Revision. I do have sensitive skin and have had no issue with the Revision line.
Gentle and effective enough for oily & sensitive skin
I love these products. I live in a hot and humid environment indoor and outdoor. I have sensitive skin and oily skin. This product does wonders. Twice a week followed by Hydrating Serum and life is perfect.
just like it says
This is a great product for sloughing off the dead skin. I feel totally polished after using it, and it feels much cleaner and smoother than using a facial brush. I like the gritty feel of it. When I've finished using it on my face, I swipe off some of it and use it on the backs of my hands to make them smoother, too. Great product I've used for several years. Will keep buying it.
Love this Scrub
This scrub is gentle, yet makes a very visible difference in skin tone and pore size. I use it just a couple times a week and it makes my skin look fresh, younger and healthy. I'm very happy with this purchase and will continue to buy and recommend!
The best scrub I tried!!
I love this exfoliator ! Its effective yet gentle, I can use it every day and it just makes me glow!!!
Revision Finishing Touch
After one use it made my face break out. I will continue to use my clarisonic instead.
Finishing Touch
Really nice exfoliating scrub. No real "bang" ingredients for anti-aging but good for buffing off dead skin. Probably could find something comparable at a better price.
Revision does exactly that!
Received a sample of this product and loved how it made my face feel. Just like getting a dermabrasion visit! Leaves your skin smooth and creamy. I do not use it more than once a week. I am 58 with a good skincare regime and feel like this is a nice addition. The amount needed for each use is small so it appears the container will last a while. I like that it comes with an applicator to scoup out the product. I keep it in my shower and use it there.
Wow! This is amazing!
I received a sample of this with one of my many orders of Intellishade. I finally tried it, as I havent been able to get in for a microdermabrasion facial - just too busy. I absolutely love this. It works beautifully. Skin feels so soft afterwards. I definitely recommend this and will be buying it over and over again.
Smooth Move
I love this scrub and use it everyday. In using some previous scrubs it felt like I was rubbing boulders all over my face! This one has very fine particles that are easy to wash away. My face feels so clean and so smooth! I used this on some scarring I got on my face from a laser treatment gone wrong....dont ask! Ugh! I have noticed that even the scarring has improved some. Very happy about that. I hope they never stop making this stuff! I love it!
Gentle exfoliant
I love this product. I use it every day. This is how I start my day, every day. I used to have oily skin but as I have aged it is more normal. Finishing Touch is great to remove dead skin and stimulate new growth.
Real gentle product
I like this product because it is gentle. I used it after my exfoliation to try and remove some of the dead skin. My skin feels soft afterwards.
LOVE, LOVE, LOVE
I use twice a week -- which gives my skin a soft smooth feeling after each use.
Glow!
I love this product! It is the perfect product to give my 40+ skin a good glow. My skin has begun to get a little rough at times and this takes it back a few years. HATE it when I run out.....Im totally addicted.
Little rough
I like the scrub. It feels nice and smells nice, but I worry that it is too harsh. The problem is I am unsure if it is the scrub alone, but my skin does not feel as good as it did with my prior product. I just started using this product line. I feel like my prior product exfoliated better, but without the grain feely. That being said, sometimes the grainy feel feels good. I think I will try to use it only once a week. I was using it about 3 times a week at first.
Serious Stuff
OK forget microdem when you have a bottle of this in your cabinet. This is not for the sensitive wimpy skinned person. This really is microderm in a bottle. My skin is baby soft after using this. Well worth it!
Smooth skin
I love this scrub! I have tried numerous scrubs and really like this one. My skin is glowing after I use it. It also has a wonderful smell.
Great Scrub
This is the absolute best scrub you can do to exfoliate your face it does feel like it could be a mini micro dembrasion. Strongly recommended.
First time I ACTUALLY fell in love with an exfoliator
I used this product only once, which came as a sample, and I'm already loving it.I never spend money on cleansers, and use an organic bar soap with sponge that really does the deep cleaning better than any foam cleansers. But after receiving this, I ordered a full size before the cyber week deal ended :D:D:D Someone wrote it feels grainy, but this is SUPPOSED to be grainy to actually exfoliate and do the "microdermabrasion" job. It works so much better than over the counter, drugstore products. I always thought expensive cleansers are just part of marketing, but this one is different. Rub it at a moderate speed for one minute in each area, such as forehead, nose, chin, cheek, and rinse off by splashing water 20 times to completely remove the little grainy stuff. It removes all black heads completely like my sponge does, but it also lifts up more dead skin layer and shows the newer, softer skin underneath. I really like this product and hope to see better results. I'm so glad that lovelyskin offers sale!! I got it 25% on cyber week deal, yet it is still 20% off for friends and family
Perfect scrub!
The super fine grains make this scrub perfect. It exfoliates like a dream and smells light and clean. I highly, highly recommend this. I first use the brightening face wash and then (once a week) add just a bit of the scrub to it on my face for exfoliation. It really does a fantastic job.
Revision Skincare Finishing Touch
Loved the scrub not too abrasive good tingly sensation skin felt smooth and hydrated afterwards
Revision Skincare Finishing Touch
good scrub, but a little grainy.