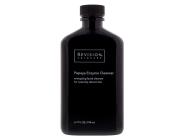 Write a Review - Receive 50 Rewards Points!
Tell us your thoughts about Revision Skincare Papaya Enzyme Cleanser - 6.7 fl oz so we can help you find the right products. With your review, you'll also receive 50 Rewards Points. Please note that it may take up to 72 hours for a review to appear on site. All reviews are subject to moderator approval.
Write a Review
24 Results
Go-To Facial Cleanser
This is my everyday facial cleanser. It has a nice scent and cleanses thoroughly. The product also lasts for a long time.
Gentle and Effective
I have heard good things about papaya enzyme cleansers and this is a good one. I use every evening after removing make-up. It gets everything off and leaves skin feeling soft and smooth. Very pleased with Revision Skincare products.
Returned
I returned this and went back to Revision's brightening face wash. It's much better. I think this one caused me to break out a bit actually.
Gentle clean leaves skin glowing
I first experienced Revision's Skincare Papaya Enzyme Cleanser when I chose it as a sample on an order and was really surprised with how much I liked it, so decided to try it out more consistently. I'd been using a similar product from Jan Marini about once a week for many years but as I've aged, found it began to irritate my skin. Not so with Revision's papaya enzyme cleanser. It does a great job deep cleaning and leaves my skin glowing and revitalized without any hint of dryness. I'm certain I could use it frequently if desired without any dryness or irritation. What a welcome surprise to have discovered it from a sample :)
Revision has better cleansers
This is a very liquidy wash. Was expecting better cleansing properties. Much prefer the brightening wash. I do not think you get the exfolliation you expect from the title.
Revision Papaya Enzyme Cleanser
I love this cleanser. I do not use near my eye area and take my eye makeup off prior to washing my face. It has not dried my skin out and I have sensitive yet combination skin. It has a very pleasant smell and does not leave my skin tight or uncomfortable after use. I do think it has brightened my complexion some in combination with the other Revision products I use as well.
Gentle but powerful!
I really enjoy using this! Takes my makeup off easily, including mascara, but is very gentle and non-drying to my sensitive skin. Had gotten a sample and liked do much I bought the large size. Lovely scent as well!
Noticed a difference right away
My skin had a glow that was noticed by several coworkers within 1 week of use. I have dry and sometimes red irritated skin but this was great on my face. Great pricing for this product as well.
Nice discovery
I received a sample of the Papaya Enzyme Cleanser. The sample lasted several face washes. It does a really good job of removing my water resistant, tinted sunscreen. I find other cleansers don't always get all the tinted sunscreen off. My skin feels very clean, no oil and not dry. I just ordered the full size.
Good cleanser
This is a good, light cleanser. I like the Revision Brightening Cleanser for everyday use and use this one after a chemical peel or microneedling as it is gentle.
The Power of Papaya!
This is one of my very favorite cleansers, by Revision (or anyone for that matter). My skin is sensitive and while this cleanser can remove the most stubborn make-up, it never dries out your skin. I love the pleasant smell and for as often as I use it (day and night), you only need a small amount, so it's a great value for a product that I feel is very affordable as well. Thumbs up!
good cleanser
This cleanser does an excellent job of taking makeup off at end of day. I only use it in the evening.
Cleans thoroughly
This is my favorite product for getting my face really clean. After using I am assured all makeup is removed, my skin feels refreshed and I am ready to apply my needed facial products in the AM and PM.
Much gentle than other brands
I have been using Papaya Enzyme cleanser for slightly more than a year now and this is my first time purchasing Revision brand. Honestly, I cannot really tell the difference but what I noticed is that this brand's Papaya Enzyme cleanser does not dry out my skin or cause any breakouts. Also, my skin looks clear. I believe it has to do with the Brightening Face Wash by Revision and 30% Vitamin (also by Revision) that I have been using for about 2 months now. My skin looks much better than before and these products really help get rid of hyperpigmentation when used in conjunction with HQ 4% (should not use more than 3 months and MUST apply at least SPF30 broad spectrum sunscreen every day and wear sunglasses whenever in the sun even on cloudy days you will find different brands of HQ 4% and sunscreen products here). Shipping is fast and sometimes the order comes with freebies/samples. So far the best site that offers a wide array of skincare products that I have come across as I am an avid online shopper. Cheers!
Best Bargain in Town
I love it! I love it! What more can I say about a full line of the best products on the market. Compared to several medical grade facial wash products that I have used for decades, this product delivers at one third the price.
excellent!
great cleanser! i use this at night when double-cleansing. does not make my oily skin feel tight and does a great job of exfoliating. i have not been disappointed by any revision cleanser. also, a little goes a long way.
Refreshing cleanser
I love an papaya enzyme peel so was excited to try this papaya enzyme cleaner. I was not disappointed by the freshness of my skin after using. It does help to remove make-up, though I am really careful around the eyes. It also leaves the skin feeling supple and ready for your next step - either toner or moisturizer. No tightness or dryness.
good stuff
Great everyday cleanser.
Great cleanser!
I use this cleanser morning and night. The papaya scent is nice without being overwhelmingly fruity, and it effectively removes my makeup. (I take off my eye makeup first.)
Papaya Enzyme Cleanser
Ive been using this cleanser for a little over two weeks and I love it! I love how clean and refreshed my face feels afterwards and the papaya scent is pleasant. Im glad I made the switch to Revision for my cleanser.
Papaya Enzyme Cleanser
I received a generously sized sample of this cleanser and really love it! I will definitely purchase this when I run out. It will be good to alternate with the other revision cleanser that I currently am using.
Deep, yet gentle cleansing
This cleanser deep cleans your skin without being too harsh. My skin gets very dry in the winter,and I usually use this weekly in combination with the Revision Gentle Cleansing Lotion (daily) to keep my skin looking its best in the winter months.
Love
I was sad when they discontinued the Alpha Cleanser. If this isnt the same product under a different name, Im fooled. Love the way it cleans and makes my face look and feel.
Another excellent Revision product
This is another must-have for me. I had a small breakout on my forehead, and washed my face with this for the very first time (as I had just bought it)...voila! the next day, gone! of course, my other skin products could have helped, but this one felt sooo good and refreshing after wash that Ive decided its a keeper...I will alternately use this with the Revision Skin Brightening facial wash, which I also love -)