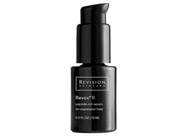 Write a Review - Receive 50 Rewards Points!
Tell us your thoughts about Revision Skincare Revox II so we can help you find the right products. With your review, you'll also receive 50 Rewards Points. Please note that it may take up to 72 hours for a review to appear on site. All reviews are subject to moderator approval.
Write a Review
25 Results
No Special Results
I'm a big fan of Revision products, however this is not worth the extra money. I have used it for a month and don't feel or see any added benefits than what I was already getting from the hydrating serum. I won't be purchasing this item again.
Not impressed
I didnt think this product had any impact on fine lines at all. Same results as applying nothing.
Not For Sensitive Skin
I really wanted this product to work and I did see a difference in my crows feet after just 5 days of using night and day but it was too harsh for my sensitive skin....left red dots wherever I put it.
Botox in a Bottle!
Revox II is like Botox in a bottle! Just a very small amount goes far and this little bottle can last a long time. Only use on fine lines that bother you and apply morning and night. You will need to continue use but the results are fantastic.
LOVE IT!
Love Revox ll, a little goes a long way, goes on very light to where you can apply other products without having a heavy feeling on your skin,,,,i see improvements along with D.E.J face cream and eye cream.....
Good serum
I have noticed that the wrinkles have soften up. I will continue to use it. I love this serum. I wish I could use it all over my face.
Revox II
I have been using Revox II for a number of years. My plastic surgeon sees no need to use both around my eyes or lips and I am 67! Gets no better than that.
Revision Skincare Revox II
Overall I am satisfied with this product as with the entire Revision line. There is a definite improvement of the soft wrinkles around the mouth and sides of the face. If I have a complaint, it is the price point because even though I only target only certain areas, I run out of this lovely serum too fast.
Im so happy I came upon REVISION SKINCARE REVOX!!!
I love that this amazing product, REVISION SKINCARE REVOX, is for specifically targeted areas of the face- genius!! And after more than a month of using this wonderful product, I can highly recommend this effective product to others! I have noticed (as have others!) lessened lines, more firmness & a more even and glowing complexion! I knew to trust in buying more Revision products due to their highly effective Revision Nectifirm. This bottle is very much worth its cost- as I only use it on my facial areas of concern which makes the bottle last longer!!
Revox II
I have been using the Revox II for about a month. I do see some softening of the fine lines around my eyes and mouth and my skin seems to be softer and brighter.
This works for me
Revox 11 is a wonderful product if you do Botox or other fillers. They seem to last longer for me. I am on my 3rd bottle of Rexox 11 and am very happy with the results.
Not sure it does anything
I have used two bottles of this because it was recommended by my dermatologist to prolong effects of botox. I used first bottle faithfully then quit in the middle of the second bottle. I dont think it helped. I could see no difference with or without use.
Nothing!
Ive tried this product for 3 months. I dont see any difference. Im only starting to like few things from revision. Such a pity. I thought I found something that was going to work after reading some of the reviews. Ill keep searching though.
Excellent
Ive been using Revision Revox II ever since it came out on the market. I believe it is the best product out there for small lines and wrinkles around the eyes
Revox II
I have very sensitive skin, in my early forties. I used this for three days around my laugh lines, and cornes of my eyes. It started to burn a biton the tird day. I endd up with dry red patches adn some mild irritation. I stopped using, had to use a soothing cream on the burned areas. I think this is better suited to more mature skin that's use to retinols.
A Nice Addition
I have been using the Revision line for several months and have found that my skin looks more smooth. When I had my last chemical peel, the esthetician mentioned that my skin looked fabulous even after one of our most harsh winters.
Burned and broke out my sensitive skin
I was eager to try this new serum. I am in my mid 40's and deal with dry skin, acne and aging skin. I have not yet received Botox or fillers, so I cannot comment about this serum complementing those procedures. Product burned for a few minutes after applying. I decided to try applying every couple of days instead, still burned. I ended up with a rosacea type of rash on my cheeks after using this. I will stick with the Replenix line of serums. They are definitely milder on my skin.
Great addition to Nectifirm
Have loved their neck product for years. This serum may prove to be the best yet.
I can see difference after one use!
I got this product last night, which came in a tiny tiny bottle. After using hundreds of $$ department store brand such as "la mer", "on the prairie", "she'sly" I learned those brands are just marketing tool to rip off people's money and decided to give this a shot. This is tiny and expensive, but I think considered to the other expensive brands that my mother and her friends just love to use, this actually does the job, and recommended in dermatologists' offices. So this little bottle has clear jelly type liquid. One or two pump will cover the entire face. I applied a very thin layer last night and washed my face this morning with the brightening cleanser. And wow! skin not only feels different but looks much tighter and lifted after just one use! The skin under my eyes and cheek looked much tighter and was glowing. I really like this product and hope to see better results. I'm so glad that lovelyskin offers sale!! I got it 25% on cyber week deal, yet it is still 20% off for friends and family
Almost as good as injections!
This is a must have product for aging skin!
GREAT PRODUCT!!!
Really has helped my Botox last longer.
Fabulous Product -- Highly Recommended
I gave this product some thought before I purchased it, and now I'll try never to be without it. I use it on spot areas: around the mouth and the crow's feet. It is fabulous. I can already see the difference.
Wow!
What can I say.....this was recommended to me by a friend...and I love it! I will continue to buy this product! Line eraser in a bottle.
A Must Have!
Any woman that is starting to see signs of aging needs to add this to their skin regimen. Revox works wonderfully and does what it says it will do. I am growing out my bangs and my forehead is more exposed now. I started using Revox II and have already noticed a difference in 2 weeks. I would highly recommend this.
Wow
I love this product. Wears well even though I am very oily. Feel I am getting far better results than I have with the LaRoche Posay LHA serum I have been using for the last 2 years.