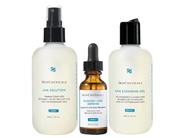 Write a Review - Receive 50 Rewards Points!
Tell us your thoughts about SkinCeuticals Adult Anti-Acne System so we can help you find the right products. With your review, you'll also receive 50 Rewards Points. Please note that it may take up to 72 hours for a review to appear on site. All reviews are subject to moderator approval.
Write a Review
23 Results
It works
I never write reviews, but this set really works as advertised.
SkinCeuticals Adult Anti-Acne System
Not a fan, but it may work for another buyer.
Great products
I have been using it for a week, and I am so in love with the products. No new pimples and the old ones are clearing up faster.
good for acne
I had a few break outs here and there, but this has helped with that.
Great Product!
I've only been using this product for a few weeks but the initial results have been great! I'm 41 years old and have Skin that is so unpredictable- breakouts and signs of aging. This product has minimized both issues immediately! Just last week I was told I looked 30 - what a great product!
Does what it says!
I bought this system to help clear up my adult acne. I just turned 40 and have experienced an oily t-zone in recent years with blackheads and hormonal acne. I have tried a number of products over the past few years and this is the first one that has actually worked for my skin. For those who are wanting a product that addresses both acne and signs of aging, I highly recommend this system. I noticed that my pores began to tighten up within a few weeks. I have been using this in conjunction with the Skinceuticals Daily Moisture. After a month, I added the Skinceuticals Retinol 0.5 and my skin is transformed. Less oily, refined pores, even texture and no breakouts. Nice to finally find a product that does what it says!
It''s very nice. Feeling my skin getting better
It's very nice. Feeling my skin getting better.
Best acne product I''ve ever used
I'm in my late 20s, and I've struggled with acne my whole life. I've tried everything to get rid of acne, even oral medication from my dermatologist. This system is the only thing that has ever worked! I cannot say enough! You have to try this!
Cleared up breakout fast!
I tried a very expensive skincare line that was unfortunately filled with a lot of bad ingredients as I soon found out when my skin broke out with cystic acne. One week using the Adult Anti-Acne System and I saw my skin getting better. The cleanser and toner leave my skin feeling clean. The serum stung a bit at first but after a few days it was fine. I plan to stick with this system and add other skinceuticals products.
Skin Ceuticals Adult acne system
I have been using the cleanser, toner and blemish for two weeks and I have had less breakouts. The small occasional breakout heals much faster using these products. I notice less oil around my nose and chin. I will continue using these 3 products as I see a noticeable difference in my skin. The toner is nice and soothing too.
Amazing!
This is the clearest my skin has been since I was 17 (and I'm now 42). I had always worked so hard to rid myself of a face full of acne that I never paid any attention to anti-aging.....this takes care of both! I've never looked better or felt more confident. If you're hesitant because of the price, this is well worth it. Believe me.....in 25 years, I've tried pretty much every product (including pharmaceuticals) that you can name!
Amazing
I have been using this product for almost two weeks now and have seen great improvement on my skin. Blemishes from acne marks have gone lighter. My skin is less oily and breakouts have become more manageable. It's not drying on the skin. Definitely worth every penny.
Skinceuticals Adult Acne System
I bought this product for my adult daughter who suffers with acne. I am amazed at the difference in her skin in just a short few days of use. Amazing!
No blemishes after only 1 week
Ok.... I never had that many blemishes to begin with, but I have been looking for a toner and a cleanser anyways so after I did the math I decided to go with this kit. I purchased this after done some research and received many recommendations about this product. I have been using the product for about 3 weeks and after week 1 I never had another pimple (and I even got my period). Before using the product I would have one here and another there, but after this product, not even one. I am very satisfied.
Skin Ceuticals anti acne system
I have been using this product for about 5 years now and I love it. My Esthetician recommended it to me. I use this system day and night and follow it with a moisturizer. I have not had a breakout in over 4 years. love it!
My best skin in years
It seems totally unfair to have both pimples AND wrinkles, but I do. This system has made my skin look the best it has in years! It has cleared up old chronic cysts and prevented new ones. I have recommended to my sister too.
Skin transformer !!
I am on my 3rd one of these sets and my skin went from pimples to clear.. I really love these I can't live without them .. Especially the cleanser and the toner and only because my skin is clear now but before I couldn't live without the dropper just goes to show how this product really works! I always buy together it's a deal! <3
Brilliant Beautiful Skin
I first bought this system one year ago because I had tried everything under the sun for acne and nothing worked. Two weeks into using this I noticed my ance was calming down and my skin had a healthy glow. After one month my face was completely cleared. This system works well and relatively fast. My skin was very oily before, but now my face is clear and stays oil free all day. Many acne fighting products dry you out, irritate your skin, and/or make your face peel, but this is not like other acne products. SkinCeuticals won me over with this acne system because it cleared my skin without causing irritation and it didn't dry me out. I love this system and highly recommend it to anyone who wants beautiful clear skin!
good product!
Very good use of products, like, after the use of my acne has been greatly improved. Thank you very much for this product. Too fond of!
A BIG Difference!
I have been on bio-identical hormone treatment for a few years now and Spironolactone for acne. About 4 months ago I stopped taking the Sprinolactone (didnt like some of the side effects) and my face went crazy. I had worse acne than I did as a teenager, including days that you dont want to go to work or leave the house. :( The SC Adult acne kit has made a HUGE difference. I use it twice a day, with an exfoliating brush and in 2 weeks, I am almost totally clear of acne (I doubt I will ever be 100% clear for more than a day or 2 knowing my skin) but overall my skin has changed tremendously. It is also more soft and less shiny throughout the day as well. I am using this with the SC B5 masque and a retinoid gel on alternating nights (have been on that for years, not sure if its worth the sensitive skin it creates though.) It is a big investment in skin products, but I would definitely recommend giving this a try if your skin is struggling!
I am loving this kit!
I have been using Obagi but, it was not clearing up my adult acne. I am still using Obagi Clear, Exfoderm, Blender and Retinol 1.0 because I cant do without them but, this kit works very well for me as a cleanser, toner and acne/aging serum.
Eliminate unwanted breakouts
This is a wonderful combination of skincare to help eliminate unwanted breakouts while not drying out your skin. If Im stranded on a desert island, I want the blemish and are defense serum!!! The combo of all 3 products only make them work better together
Great value
This set is awesome. I was originally going to get the serum and the LHA cleanser separately but this was a much better deal. All products are great and effective. The LHA cleanser leaves a tingling/cooling sensation on the skin and doesnt dry out my skin. The serum can be a little drying but nothing that a little bit of moisturizer cant fix.