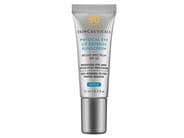 Reviews For
SkinCeuticals Physical Eye UV Defense Tinted Sunscreen SPF 50
$30.00
Love this product!
I use it daily. It is very creamy and I love having sun protection around my eyes! LovelySkin Customer
Verified Purchase
Garbage in a Tube
Waste of $30+, product piles like crazy on the skin, and comes out of the tube with the consistency of wet sand. Quite surprising for a product that is made for the eyes considering that it is barely spreadable. I don't know where these positive reviews came from. AMAZING!
First received this product as a gift. Now I gift it to everyone I know. Super sun protection in an amazingly creamy formula. Bonus that it covers lightly and thoroughly so concealer is never needed. My fav! LovelySkin Customer
Verified Purchase
SkinCeuticals Eye Defense Tinted Sunscreen SPF50
Love this little tube of sunscreen for under my eyes. Works great to reduce any dark circles under my eye. Very fine powdery consistency, not like regular sunscreen at all. Does not create creases and works all day. Only have to use a tiny amount, guess that is why the tube is small. One little tube lasts me for a year and I live in a hot, humid climate. Only takes a tiny amount to get around the eyes. Plugger
Verified Purchase
Excellent product
I love this eye concealer so much! The color blends well and looks natural. The SPF is a bonus, it's hard to find eye concealer that protects from the sun. Excellent!
Great eye cream with high sun protection. Color blends in well and covers dark circles a bit. SPF Eye Cream
This eye cream is great for outdoor activities. It does not run in your eyes. I have had eye lid cancer and wish I had known about this sooner. LovelySkin Customer
Verified Purchase
Excellent protection
Perfect for around the eyes. No irritation. inthbiz
Verified Purchase
Not for me
This was on the back order for a while, so I had to wait for it to come more when a month... I was really excited about the spf and decent cost, but really disappointed when I tried it. It feels really thick and dry... after mixing with the eye cream it still didn't apply nicely... I have mature skin and this is drying my under eye... Disappointing
I love all the other skinceuticals skin care line that I've tried but this was definitely a miss. It goes on streaky and settles in the lines. It didn't blend no matter how much I tried. It was disappointing for sure. LovelySkin Customer
Verified Purchase
excellent multitasker
Since I use Retin-A I need to be careful about sun exposure (and live in AZ), but I don't like to use traditional sunscreen right around my eyes. This product provides a high SPF, multi-tasks by acting as a light concealer, and doesn't get in my eyes. I keep one with my makeup to use in the morning and then in my purse to touch up during the day. LovelySkin Customer
Verified Purchase
Great SPF Eye Cream!
This product is great! The tint brightens up the under eye area, and I feel confident knowing I am protecting this delicate area! The formula is medium-thick, it's blendable and hydrating. I highly recommend this to anyone looking for an SPF eye cream for the day! It works beautifully with SkinCeuticals Physical Fusion SPF. LovelySkin Customer
Verified Purchase
Excellent
I like the texture it has. It runs smooth and it's absorbed quickly by skin. Nice color. LovelySkin Customer
Verified Purchase
Okay product
I use this for the sunscreen and also as a base for my eye shadow. It's okay—it doesn't creep into my eyes and has good coverage. I use something lighter weight during hot weather because I think this may have caused me to develop bumps around my eyes. LovelySkin Customer
Verified Purchase
SkinCeuticals
It's okay, and it works. But, I'm not in love with it enough to purchase it again. LovelySkin Customer
Verified Purchase
More than just sunscreen for around the eyes.
I am quite new to this product. I like the texture, the color and how nicely it blends in after a couple of minutes. I have also used it to cover up a small bruise, and it worked great for me. LovelySkin Customer
Verified Purchase
does the job!
A little bit grainy since it's a mineral/physical sunscreen but goes on smooth enough. It certainly is better than nothing as I was noticing more freckles on the sensitive skin around my eyes. It has a bit of a tint but not coverage like a concealer. My concealer goes on nicely after this. I suggest you give it a quick shake as the product can separate after it sits. LovelySkin Customer
Verified Purchase
Okay
Was very disappointed. I thought by the stellar reviews that this product would be wonderful. For me, a 66 year old, it seemed to make my skin shed. I tried using it alone and also with moisturizer. I also tried exfoliating around my eyes that did not work. I've had the product about month. Should send product back. Non-Greasy Protection
I started being concerned about SPF around my eyes a few years ago. Since I found this product, I know that my eye area is protected from sun exposure. This goes on a bit thick, which I don't mind because then it doesn't run into my eyes, and it doesn't clog pores. Elizabeth7
Verified Purchase
Time will tell
Applies easily, looks fine, haven't had a chance to use under major heat/sweat conditions to verify that it isn't going to run into my eyes and cause stinging. Under light pressure usage, there hasn't been any running and stinging so, I'm feeling optimistic! LovelySkin Customer
Verified Purchase
Great product, non-irritating and gentle
Since I've had skin cancer on my eyelid, I've been instructed to wear sunscreen around my eye area. This is not easy, as I have sensitive skin that is easily irritated and cannot tolerate any products with fragrance. This sunblock is wonderfully easy to apply, gentle and doesn't irritate the skin around the eye. The tint is nice—and the sun block is strong enough for skin cancer patients like me. Bravo! LovelySkin Customer
Verified Purchase
Great product, tube very small
Sunscreen applies smoothly to under-eye area, provides good coverage, has a nice universal tint and doesn't leave white cast. Tube is tiny but if applied only for eye area should hopefully last a decent amount of time. LovelySkin Customer
Verified Purchase
expensive, but worth it
This is my first time purchasing and using this product, and I am not disappointed. I have such sensitive skin, especially around my eyes. A little goes a long way, and the coverage is natural. More importantly, I bought it for sunscreen around the eyes, where I have already had a basal cell cancer, so they need protection. I highly recommend this product! LovelySkin Customer
Verified Purchase
Greatest addition to my morning routine
I recently discovered SkinCeuticals Physical Eye UV Defense Tinted Sunscreen SPF 50, and it will now be a permanent part of my morning regime. I love the texture of this product. Once I apply it, besides having a sun block it really improves the look of my under-eye area. It seems to fill small wrinkles. Because of this I also apply it around the edge of my lips as well. LovelySkin Customer
Verified Purchase
SkinCeuticals Physical Eye SPF
I use the Physical Fusion for the face and love it, so I was excited to try this for eyes. This goes on smoothly and doesn't crease. I like that is has SPF 50 for under eye area and It is very moisturizing. However, it doesn't cover the dark circles very well and leaves me needing something more. LovelySkin Customer
Verified Purchase