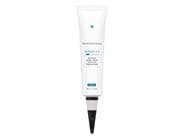 Write a Review - Receive 50 Rewards Points!
Tell us your thoughts about SkinCeuticals Retinol 0.3 Refining Night Cream so we can help you find the right products. With your review, you'll also receive 50 Rewards Points. Please note that it may take up to 72 hours for a review to appear on site. All reviews are subject to moderator approval.
Write a Review
22 Results
Gentle
I made sure my skin was completely dry before using this cream and waited 20 minutes before applying serum. It worked well I think. I did not find a dramatic improvement, but I did see that my blemishes were recovering faster the next morning. My skin didn't peel or was dry. LovelySkin Customer
Verified Purchase
Great product, yet applicator could be improved upon
I find that I like this better than the .25 other retinol products, as it seems to make a bigger difference in my skin condition without the peeling I get from stronger retinols. The one complaint I have about this product is that it is hard to know how much to dispense. The directions say a few drops, yet the applicator squeezes out more than that, and it is hard to just get a few drops out. Erica415
Verified Purchase
Application learning curve
I was so excited that a 0.3 retinol was finally available. On my first application, the results were fine without pealing. So satisfied with the results, I used the product 2 nights later making sure that my skin was well covered. Well, I should have waited longer before the second application because my skin pealed a lot for a few days. After the few days, my skin looked sensational. I think I should have waited another day before my second application. I am still very satisfied with product. I learned that I should apply it with more time between applications. It was another learning curve for me. Awesome product
I have tried other brands, and I definitely like this one more very gentle for those with sensitive skin. My esthetician recommend this brand and said to start with the 0.3. I definitely would like to try more of this brand. Highly recommend if your just starting a retinol. Would like to see more samples of this brand at LovelySkin. LovelySkin Customer
Verified Purchase
Retinol 0.3
I have a couple of sample tubes for a while now and had not tried it until last week. When I applied the retinol, I did not feel any sting and did not see any redness or irritation on my skin. I only use it once a week as I am new to retinol and would like to see if I will see any peeling on my skin. After a couple of days, I did see some minor peeling but not as noticeable. This tells me that it is doing its job. I will continue to use. Received in timely fashion and product great!
Great product! LovelySkin Customer
Verified Purchase
SkinCeuticals Retinol 0.3
I used their Retinol 1.0 for a very long time. At some point, for whatever reason, my skin couldn't tolerate it anymore. I had to quit retinol altogether. And now that I can slowly introduce it to my skin again, I am very happy to have this much lesser strength. By using a lesser strength, as well as using it less frequently, for now, I am hoping to build up to their 0.5 strength and maybe even higher, because the results were wonderful when my skin was tolerating it. Their retinol are definitely great products. LovelySkin Customer
Verified Purchase
Perfect Retinol for Sensitive Skin!
I have tried several different types of retinol, but have never been able to use any of them on a daily basis. SkinCeuticals Retinol 0.3 has finally solved the problem! I have been able to use this product daily, seeing the positive results of effective Retinol without suffering from dry, red and irritated skin. VickieM
Verified Purchase
Glad I bought the 0.3
I've always had a hard time using Retinol, but as I have aged, my skin needs it. I have been using this about 3 times a week now, applying moisturizer first to avoid irritation. I have had good results, but I do consistently have areas of flaking skin. When that happens, I will back off a day or too and then resume. Overall, my wrinkles and scarring have diminished. So, yes, it does work, and you will get results. LovelySkin Customer
Verified Purchase
Easy on my Skin
I am anxious to see the results over time using this cream which I apply 3-4 nights a week. It has not irritated my skin like other retinol products I have tried. I plan on gradually using the higher strength SkinCeuticals retinol creams to work on my skin texture and the discoloration. The 0.3 has been gently yet effective on my skin after 3 weeks. LovelySkin Customer
Verified Purchase
MAGIC!
This stuff is pure magic. It has cleared my forehead better than any dermatological RX product to date. My skin has never looked better! I can't wait to buy the full size and reap the benefits of long-term use. Good for sensitive skin
Less peeling than stronger products. Only peel for a day or two. No redness. LovelySkin Customer
Verified Purchase
Great retinol.
Skin has definitely improved after using this. Great retinol for beginners as it's not irritating when you use it once or twice a week to start. Will probably upgrade to the .5 after finishing this. LovelySkin Customer
Verified Purchase
Much better results than using Tretinoin
After trying Tretinoin 0.025 and 0.05 creams and dealing with peeling, red irritated skin, clogged pores and acne. I gave up. I'm in my 50s, and my skin freaked out post menopause. I tried using these Retin-A products for almost a year and skin was looking better due to less irritation but still had enlarged pores and breakouts. Received a sample of SkinCeuticals Retinol 0.3 and figured I'd give it a try after reading reviews. Wow! I can't believe the improvements in just a couple of weeks. Pores less clogged, acne has cleared and post acne scars are fading significantly. I did have some peeling on forehead so I backed off the amount and did every two days for a while, but now I'm back to every night using a pea sized amount. For anyone with sensitive, acne-prone, combination, skin I highly recommend trying this. It has definitely been the best product I have found in years. I'm also using the B5 hydrating gel and Hyaluronic enhancer. BTW, if this works for you, you may want to skip the Phloretin CF, that made my skin totally freak out! Good luck beauties!!! LovelySkin Customer
Verified Purchase
Not For Me!!
Sadly, this product did not work out for me. I have tried, unsuccessfully, to use retinols for years, and my very sensitive skin can never tolerate them. I thought this would be the perfect solution for me. After sticking with it for a month, I could no longer deal with the dry, painful alligator skin left behind. Plus, my foundation looked horrible! It took over 2 weeks just to get my skin somewhat "normal" again. While this may work well for others it's just a no go for me. I'll be sticking with natural based skin care. Eminence Organics products have worked amazingly for my dry sensitive skin. LovelySkin Customer
Verified Purchase
Skeptic about benefits. Can't see them!
This product caused my skin to itch and flake off and become red or darkened. I am hesitant to use it again. LovelySkin Customer
Verified Purchase
SkinCeuticals Retinol 0.3
SkinCeuticals Retinol 0.3 is a great place to start if you have not used retinol before or have very sensitive skin. It really helps with fine lines, wrinkles and age spots! LovelySkin Customer
Verified Purchase
SkinCeuticals retinol
It is a little drying for my skin, but I have super dry skin. LovelySkin Customer
Verified Purchase
Improves Skin
I had received a sample of this prior to me purchasing the product. I am 63 years old and have sensitive, dry skin, so I have to be careful what products I put on my face. I wanted a product that would bring moisture to my face and help with the aging process. This product is great! I apply it at night and by morning my face is moist and soft and looks younger. Since I have sensitive skin, I use it two to three times a week because I know sometimes retinol makes your face dry. As my face gets used to this routine, I will try and increase the number of times I use it on my face. As with all the products I use, I always wash my face prior to applying any product and I leave my face somewhat wet so the product spreads better. I find this works for me very well. LovelySkin Customer
Verified Purchase
Great for Sensitive Skin
I have very dry sensitive skin and usually cannot use Retinol in the winter months. This is amazing. Tones down redness and is very gentle. LovelySkin Customer
Verified Purchase
SkinCeutical retinol 0.3
This product is very gentle on my skin causing me no irritation or redness. My skin looks better after 4 applications every other day. Much easier to use then the higher concentrations with noticeable effects. I apply it at night after I wash my face. SkinCeuticals Retinol 0.3
I just started using it for about 2 weeks (twice a week) and so far I like it. Minimum irritation (minimum peeling and redness) but I can see it's working. After cleanser and toner, I apply the Retinol 0.3, wait for 1 minute and then apply moisturizer. I will give the update after 12 weeks. Thank you LovelySkin! LovelySkin Customer
Verified Purchase