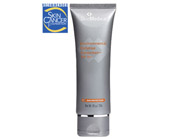 Write a Review - Receive 50 Rewards Points!
Tell us your thoughts about SkinMedica Environmental Defense Sunscreen SPF 50 with UV ProPlex so we can help you find the right products. With your review, you'll also receive 50 Rewards Points. Please note that it may take up to 72 hours for a review to appear on site. All reviews are subject to moderator approval.
Write a Review
24 Results
Awesome protection!!
This comes highly recommended!! It is very elegant. It leaves no greasy feel on your skin. It really protects from sun damage. This is a great product.
Excellent Sunscreen
Being a fair-skinned gal, I was looking for a great sunscreen with a higher SPF that would work well with my makeup, not make me oily, and that is long-lasting. This sunscreen has not disappointed at all. I wear it over my moisturizer and my makeup glides on beautifully. I feel extra protected and will definitely be repurchasing this sunscreen again.
Skin medica environmental defense sunscreen spf50
Great product. Great protection and I don't reapply if not swimming.
Love it
Nice smooth consistency without frying.
RN
I originally was referred to this product by a dermatology office. I like that it is water resistant, and I trust the effectiveness of the product to protect my skin. It goes on white and creamy, but like the other SkinMedica products that I use, this sunscreen absorbs into the skin nicely and allows for makeup to be put over it easily.
DOES NOT EVEN COME CLOSE TO VIVITE....EXTREMELY DISAPPOINTING
I have used Vivite Aftercare SPF 30 for several years.....before that it was MD Forte Aftercare SPF 30 and had used that since the year 2000. The products were the same, just had changed names.......they were fantastic. They had just the right mixture of ingredients to promote great SPF protection, moisture that lasted all day without being greasy, left a beautiful matte finish that worked great for a makeup primer and really helped my skin stay wrinkle free. They were great to use after laser resurfacing and chemical peels, the zinc content and the ingredient mix was very healing. I cannot say enough good things about Vivite/MD Forte. This SkinMedica product does not come close to Vivite. It does not moisturize, does not have the same ingredients, does not leave the matte finish, and makeup does not apply well over this product....I am finding it is very drying to my skin and dont see how it will fight wrinkles. Shame on SkinMedica for not reproducing the Vivite Aftercare Environmental Protection Cream and trying to pass this product off as the same or better. They have made a huge mistake by discontinuing the Vivite Aftercare product. I will not be purchasing this new product again or do I suggest purchasing it. A huge dissapointment! I hope SkinMedica will wise-up and add the Aftercare Environmental Protection Cream into their line!!!!
SkinMedica Environmental Sunscreen SPF 50 with UV PROPLEX
I have used quite a few various sunscreens since I have developed hyper pigmentation following fraxel laser a few years ago on my face. I find that the ones I have used have truly been pretty good but when I tried this one, I was utterly amazed. First of all, it went on so smoothly and I was able to apply makeup very easily afterwards. I really do not sit in the sun anymore, but I do apply sunscreen daily, especially during the summer when I am outside and this is just phenomenal. I will always use this one on my face, chest, and hands and arms since that would be the only part of body ever exposed directly to the sun. WONDERFUL PRODUCT!!
Lasts all day and works like a champ
I just came back from a week long cruise to Mexico.. Was in the sun all day every day and wanted full protection for my face, neck and chest... I only applied it once in am and it worked crazy great.. It comes on white but blends with just a little effort. It is not greasy at all. It is now my sunscreen of choice for me and my fair skinned freckled 15 year old daughter .... Maria from Denver
One of my favorite sunscreens
This sunscreen feels so good going on the skin. It is oil-free and fragrance-free and unlike many sunscreens this one does not cause any irritation to my skin. It takes a few minutes to soak in, but after that I can easily apply make-up over it. Due to the price, I use it only on my face, neck and chest.
great sunscreen
It goes on smooth with no build up or extra layer on my face! I get very dark spots if I am out in the sun, by using this sunscreen daily, I have been able to stay clear of the dark mask! No odor works great.
sunshine is not the enemy
I have purchased a lot of sunscrean this summer. each year it seems there is more concern over the "bad rays". I am very happy with tis sunscreen and knowing it is supported by the skin cancer people is a great feeling.
Very good sunscreen
I use this sunscreen on my neck and hands. It is white when applied but the color disappears after a little bit. I had used a tinted sunscreen before but it got on my clothes collars. This feels creamy and applies beautifully.
Best sunscreen
received a sample and after I used the sample I purchased product and will never use anything else on my face again
Excellent Sunscreen
After a procedure by my dermatologist, I needed a sunscreen that would totally block any rays from my new, tender skin. This did a great job!
SkinMedica Environmental Defense Sunscreen SPF 50 with UV ProPlex
This product is so smooth and non-greasy. it goes on clean and lasts all day. I have tried other products before and this one is light and creamy and hydrating. I dont think Ill ever stop using it.
non greasy!
The last thing I want is a sunscreen that leaves my skin looking oily. Skin Medicas sunscreen provides excellent coverage with no greasy feel or look.
My new favorite!
What's not to love? High SPF, creamy formula that dissappears, and very water resistant. Also, makeup applies easily over it.
SkinMedica Environmental Defense Sunscreen SPF 50 with UV ProPlex
Always great to have a high SPF and this works well.
light suncreen
light, provides cover and it is blends in perfectly
Environmental Defense Sunscrene SPF 50+
Best sunscrene for people that has Laser procedures on your face or neck and the skin where The shin is very delicate and easier to burn. Also excellent for very sensitive skin. I love it, because it really works. I'm 67 years old and would highly recomend this product to people that want to avoid skin damage from the sun Darlene LeCourt
Nice and creamy
Tried this on the recommendation of my medical aesthetician. Love the creamy texture and SPF!
Highly Recommended
I have been very happy with this sunscreen. It goes on smoothly, does not leave a white appearance and, best of all, it is 50 SPF!
Effective product at a decent price point...
This is one of the few products that trys to care for your skin like a moisturizer and can be used all over the body and offers a 50 level of protection.
Great product!
This sunscreen goes on smoothly and provides great broad spectrum protection.