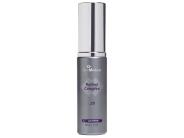 Write a Review - Receive 50 Rewards Points!
Tell us your thoughts about SkinMedica Retinol Complex 0.25 so we can help you find the right products. With your review, you'll also receive 50 Rewards Points. Please note that it may take up to 72 hours for a review to appear on site. All reviews are subject to moderator approval.
Write a Review
21 Results
Good retinol for extremely sensitive skin
I used to have very normal skin, until about five years ago. Now, just about anything can set off red, itchy blotches for no reason. But, even back in the day when I wasn't sensitive, I could never tolerate retinol. I tried all the prescription brands and those produced instant peeling and redness that would take weeks to heal. Recently my dermatologist was stressing the importance of retinol for my 40 something skin. She urged me to try to start with a small dose of an over the counter product. I ended up seeing an article about the SkinMedica retinol line and the fact that it has additional benefits in it (antioxidants, etc.) so I thought I'd give it a try. I've been using the .25 for about three weeks and I haven't had any redness or peeling. I started off using it every few nights and then every other night. I plan to start using it nightly by next week. I'm really happy to finally be able to incorporate a retinol into my regimen.
SkinMedica Retinol Complex 0.25 is a good product
I like this product, but it may be too soon to tell. I have only been using a short time, and I understand you have to use it for a while before you see an improvement. I will continue to use and give it some time. The product does apply nicely. I have had no issues with redness, irritation or dryness so I must be applying a correct amount. Like the pump and the fact that a whole lot of product doesn't come out.
Skinmedica 0.25
I'm 50 and have sentive skin, have used higher doses of Retinol which were not!! Good for my sentive skin, the 0.25 is fantastic, I can use it literally every night, no redness or soreness, got just a lil peeling not much, I've been using it for about a month now and can see less wrinkles around my crows feet, and a over all firmness to my face. I highly recommend the skinmedica 0.25. Will def buy again. Love it!!!!
Smooth Skin Ahead
My sensitive skin is glowing! 0.25 is the perfect strength for skin that needs to ease into the retinol world. This product clarifies, evens out skin tone, reduces super fine lines, repairs, and helps skin to look its best. If you find that it's too strong, use it every other day, or every two days until you find a happy medium. Using a high quality moisturizer as a first step before applying the 0.25 helps a lot...If I could change one thing, it would be to remove the soy from the ingredients, as I have a food intolerance to soy. This product does, however, seem to be doing okay thus far on my face as a topical treatment. I've already ordered another bottle so that I'm ready to go when my first runs out--this treatment is a keeper and has become an essential step in my beauty routine.
Great product.
Love this product. .5 and 1.0 were too strong for my skin type but have found that .25 works really well.
1.0 is too strong, this one good for sensitive skin
I bought the 1% and the .25. After using the 1%, it would take a week for me to get rid of all the dead skin. The .25 is way more gentle and you don't have to worry about having flaking skin on your face.
Gentle retinol
I love using this retinol treatment product during the winter months when my skin is dry. I put this over my moisturizer at night and have not had any issues with irritation. Have repurchased!
Decent low concentration retinol product
Liked this product. Used to condition my skin for higher retinol concentration products. May use in future for maintenance. I have sensitive skin and this did not cause any reactions.
Great Product
This product definitely works to get rid of fine lines. I wouldnt be without it.
great product
I have only been using this Retinol product for a week, but so far I like it. I came from a sensitive skin Retinol and was afraid my skin would react poorly to this one, but thus far using it every other night has proven no issue. I like that the consistency is more of a lotion, easy to apply. Bottle says use 1 pump, but I find I need 2 pumps to reach all areas of my face. So far so good!!!
not as great as SkinMedica Tri Retinol
When I used tri-retinol, my skin lost the lines. Now that Im using this substitute (tri-retinol was phased out), my lines wont go away. Wish they would bring back the old one!
Retinol for Sensitive Skin
I have been using this product in the .5 retinol strength but have found when my skin gets dry I am better off using the .25 strength. Either one is an excellent product and I highly recommend.
Great Product...
I really do like this product (it was recommended to me by my plastic surgeon). Just be careful when starting to use this product. If used everyday at first, it can cause your skin to be dry and flaky (at least this was my experience). Also, do start with the low percentage first and work your way up. Its tempting to just go for the stronger formula, but thats not a great idea!
Great for sensitive skin
This retinol is great for sensitive skin. Does not cause dryness or redness. I just reordered this product because of how my skins feels and looks!
Gentle retinol
Skinmedica retionol .25 is just right for sensitive skin. It helps to smooth your skin and doesnt cause irritation.
Great product to begin a retinol regimen
My skin tends to be sensitive, so I was skeptical about using a retinol product. However, knowing the importance of using retinol for anti-aging skin care, I needed to find something my skin could tolerate. I have been using the .25% retinol for three weeks and am following the recommendation to use the product twice a week until I feel my skin can tolerate it more frequently. I wait about 20 minutes after washing my face, and I use an oil-free moisturizer after applying the retinol. So far, I have not seen any redness or irritation on my skin and my skin is smoother (and my pores less noticeable). The product is fragrance-free, which is a plus. I would definitely recommend this product to others looking for a product to begin an anti-aging skincare regimen.
Must have
This product is the best that I have ever used! I usually cant use retinol products but this has worked very nice!
Thumbs Up!
This product has improved my skin tone. Feels great on your face and has not been drying or given me any redness which retinols tend to do.
Doctors Recommendated
My wifes doctor recommended this and my wife says its the best she ever used!
Perfect for sensitive and dry skins
I stopped chemotherapy 8 months ago and my skin still has not recovered completely. I was unable to tolerate the full strength retinol I have been using in the past, and I was happy to find a 0.25 strength retinol. I spread some moisturizer over the retinol, and my skin does tingle a bit in the morning, but that is all.
Retinol Complex
I originally attempted to order SkinMedica Tri-Retinol Complex but found it was discontinued, and Retinol Complex was the suggested substitution. I have not yet tried it as I plan on using my older product first. However, Retinol Complex was recommended to me by a skin specialist for its anti-aging benefits. She did caution that there might be some initial "reactions" such as irritation or redness, but I am hopeful that will not be a serious issue. As I have been very pleased with the Tri-Retinol by SkinMedica, I am optimistic that the Retinol Complex will be just as satisfactory.