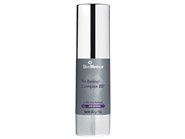 Write a Review - Receive 50 Rewards Points!
Tell us your thoughts about SkinMedica Tri-Retinol Complex ES so we can help you find the right products. With your review, you'll also receive 50 Rewards Points. Please note that it may take up to 72 hours for a review to appear on site. All reviews are subject to moderator approval.
Write a Review
23 Results
Gentle & Effective
Excellent product. Gentle, yet effective. The only negative is the price.
Great Retinol Product!
I switch nights between my retinol product and my AHA product, and out of all the retinol products I have used this brand, at this potency, has been my favorite. I graduated from the 0.5 and there was no irritation, dryness or redness...and I have sensitive, dry skin. It keeps consistent cell turnover, and made my skin look flawless in the morning.
Tri Retinol ES
I have been using this product for 1 week daily and used the weaker strength before. This one does cause some mild redness however my skin still feels very smooth and looks great. I didnt start with every other day because my skin had used the weaker strength to begin with. I may have to do this. Overall no complaints - didnt give it a 5 due to just started using.
Caution!
I have used this retinol product at a lower strength for two years. After switching up to the ES I have found that you need to use caution when starting with a higher strength!! There will be some naturally occurring redness and some peeling. Over all this has been a wonderful product I am 60 years old and my skin looks like years younger!! Even my closest friends can see a difference in my skin! That should be testimonial enough!!
Jolt to the Skin
I've been using Tri-Retinol Complex for a while and switched to the ES. It's a little irritating to my skin so I am alternating it with the milder version and seem to be doing fine. Hopefully my skin will acclimate to the ES.
Just OK
I have been using some of SkinMedica's other products and really like them. This product is difficult to get out of the container and clogs easily. The cream itself doesn't seem as smooth, but you don't need as much as it has a higher concentration of retinol in it. Recommend starting out slowly so you don't burn your skin and keep away from eyes. Not sure that it is improving my skin any faster than the regular Tri-Retinol Complex and it feels like you get less.
Highly recommend
I absolutely love this product and definitely will reorder. I have very sensitive skin this product caused no irritation whatsoever. I am able to use it daily with no skin problems.
Tri-Retinol Complex
Great product! I have been using this product for several months. My skin looks great!
SKIN MEDICA TRI-RETINOL ES
Excellent vitamin A product, absorbs fast, non irritating, and doesn't leave my skin peeling.
good product
I would recommend this product to anyone. It works well.
Undecided
I read all the reviews before ordering this product and decided to try. Directions say to begin once a week and increase. Since I had used Retinol products before, I began using it every other day. I'm not sure whether it was too strong or an interaction occured with my other products, but my skin became red and irritated so I backed off using it so often. At this time, I will begin using it again but less frequent.
New product for me.
While having used other products from this line, I hadn't used this one before. I made the decision to purchase this one after discussion with the Customer Care representative. She was very helpful! I believe I am going to be quite happy with my purchase.
The Regeneration Project
I was so excited when I saw this retinol product's avaiability. I have used for about two weeks and the texture of my skin is much smoother. The fine lines around my mouth are also improving. I have large pores especially on my chin and these are improving with each day. I feel my skin regenerating to a more youthful appearance.
Recommended by Aesthetician
This was recommended because of my intollerance to even low strength ReninA. It workes for my dry sensitive skin.
Amazing for Skin and Reduction of Scarring
I use SkinMedica Tri-Retinol Complex ES on my arms because I have Keratosis Pilaris (more commonly known as KP), those little red bumps some people get on their arms. This was recommended by an Esthetician when I went to see if I could have the scars removed. Tri-Retinol has helped removed dead skin, rejuvenated the underlying skin cells and reduced previous scarring. It also seems to keep those little red bumps from forming again. I actually feel comfortable wearing sleeveless tops again, so I can't live without this product!
Love The Retinol Product
I noticed an very big improvement in fine lines and texture. Worth the money, only have to use a little.
It does what Retinol is supposed to do
It works
Great Product
This product has improved the texture of my skin. I am very pleased with it.
Outstanding product
I love this retinol product. I noticed an improvement in fine lines and texture. Worth the money.
It Works!
The SkinMedica Tri-Retinol Complex works just as advertised. After using it for such a short period of time, I am already very pleased with my skin and complexion.
Love SkinMedica!
I love this product. I have noticed a big difference in my skin and love it!
Effective and Elegant Product
I am a big fan of this product. SkinMedica Tri-Retinol Complex delivers the skin changing properties of retina/retinol in an elegant cream base without the cost of a prescription. The pump makes for easy, measured delivery and keeps the product fresh. I have slightly dry skin and experienced mild irritation at first, but following the directions to increase usage slowly allowed my skin to quickly adjust. Using the product nightly now and I love the results!
Does what it says without irritation
I had previously tried prescription Renova at the lower dose strength and had reasonable results but found it too costly (insurance does not pay for cosmetic drugs). After trying SkinMedica Tri-retinol I can honestly say that for me it works equally as well as the low dose Reonva at about 25% of the cost. In addition I have no irritation what-so-ever. Excellent product.