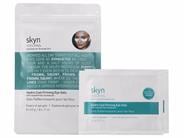 Reviews For
skyn ICELAND Hydro Cool Firming Eye Gels
$17.50
6 Results
Really COOL
I bought these to share with a friend. We both loved the results reducing the puffiness and cooling feel on the eyes after a late night was great. Would recommend ! LovelySkin Customer
Verified Purchase
Tweety
Great product!! The pads are very cool and soothing as advertised. My eyes definitely looked refreshed and tighter. So cooling!
These eye patches are great! They did seem to de puff but regardless of visible results, they feel amazing! I throw mine in the refrigerator for 10 mins before using. LovelySkin Customer
Verified Purchase
Considering filler try these first
I love these for my dark circles/hallows/swelling underneath my eyes. I'm able to put off getting filler because these plumped me up and made me appear that I've slept well. They are pricey but totally worth the investment. Do yourself a favor and try them and you won't be disappointed. LovelySkin Customer
Verified Purchase
Love these
I know there is no miracle product, but I love these. I am sure that there are better ones out there, but I like the price and the product. I have very big eyes, so now that I am in my late 30's, the bags below are more prominent when they are swollen. I have a lot of sensitivities and allergies, so my eyes are often swollen. While my eye cream and other products also help me, these things are an awesome pick me up when it's bad. Sbolivas
Verified Purchase
Not worth it for me
Unfortunately I only used two of these as they made under eye area very red for a few hours. I do have sensitive skin so maybe that is the issue but have used other eye patches and not experienced this. Too bad I wanted to love these. LovelySkin Customer
Verified Purchase