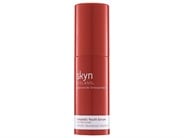 Reviews For
skyn ICELAND Icelandic Youth Serum
$45.00
2 Results
Third Bottle !
So glad LovelySkin.com carries the youth serum as it is so hard to find. My facial skin was very red and dry from a dermatologists prescribing retinal use at night , for acne and aging. I wanted to find a product that would treat the redness without resorting to prescription steroid use. I did some research and after talking to someone in customer service who had similar issues as me decided to try. At first there was light stinging upon application but that went away by the 2nd bottle. The main ingredient is Astaxanthin, 6000 times more powerful than vitamin C, offers antioxidant protection. It soothes the redness, helps with dryness and has left my skin texture soft and smooth, with noticeable evening of pigment. In the am I use it and apply moisturizer over, at night it goes on about half an hour before I apply my retinal, followed by moisturizer. The only negative for me was I also wanted to also use on my neck and chest area but my skin was so sensitive it could not tolerate. When the pump no longer works, pull off and you can cut the inner bag to get the last drops of serum out. LovelySkin Customer
Verified Purchase
Great for my "stressed" skin
I have fair, sensitive and acne prone skin that easily gets red. This serum absorbs easily and does not break out my skin!! I see an improvement in my skin, but I have also started a new skincare routine (Which includes this product). I think this is a great day serum. I combine it with a vitamin c serum and I am seeing great results so far! Kellilyn
Verified Purchase