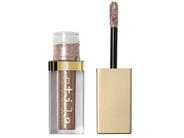 Reviews For
stila Glitter & Glow Liquid Eye Shadow
13 Results
Beautiful!
I am not make up application expert, but this glitter is easy to apply and has awesome staying power! I will definitely be buying again. LovelySkin Customer
Verified Purchase
Pretty!
These are super pretty, but you have to work fast! I found that if I tried to layer, it looked like an uneven application. The swatch so nicely, but are hard to work with. I''m often scared to play with them because I don't know how it will play out. I really need to work with them more, because I really like the colors! Gorgeous!
Bought this in four colors and loved every one. I used the applicator to apply onto a q-tip and then applied as a liner. Beautiful! LovelySkin Customer
Verified Purchase
Glitter eye shadow
This eye shadow is great if you have a special occasion or really want to make your eyes pop. It makes your eyes look a lot bigger. You can wear it alone, as a highlighter, or close to your eyelashes. Anywhere you put it on your eyelid, it makes a big impact on your eyes. LovelySkin Customer
Verified Purchase
Beautiful!
As the title says, these are so beautiful! I love layering mine over eye shadows. The glitter dries down nicely, and doesn't transfer onto your eyelids or flake off on your under eyes/cheeks. Would absolutely repurchase and would love to try out more of the colors! LovelySkin Customer
Verified Purchase
Holy Grail
This is my favorite glitter eyeshadow for a night out or when my eyes need some brightening! Lasts ALL day! Love
I'm obsessed with this liquid eye shadow! It's so pretty and super sparkly!! LovelySkin Customer
Verified Purchase
Product Does As It Says
This liquid glitter eye shadow really does stay in place as it claims. Once you put it on, it stays put, and I like that because I don't have to worry about glitter getting on other parts of my face. ChrisLove
Verified Purchase
Long-lasting and high quality
I don't even need a primer when I use this. It is a really high quality product and stays on all day long, even without primer. It is also very pigmented. I find that the finish is very glowy and light-reflecting. Will purchase this again, and I do recommend this product. Stila Magnificent Metals in Rose Gold
Love this shade. Very soft color and easy to apply with a small brush or your finger. Great spring and summer color, even all year round. LovelySkin Customer
Verified Purchase
Pretty big glitter eye shadow
This eye shadow makes my eyes look like they twinkle. The glitters don't fall off the eye area easily from morning to night. Adjust the amount precisely and carefully because just a little dab can give the eyes a huge glowing effect. Love this eye shadow. LovelySkin Customer
Verified Purchase
Love it!
Great way to apply glitter for a pop of color and shine. No fallout. Dries quick but there is still time to blend before completely drying. LovelySkin Customer
Verified Purchase
No tax no shipping
My first time ordering from this site & it was a great experience. Only paid $24 just for the liquid eyeshadow & got really good samples. The stila magnificent metals are so sparkly & beautiful. They have small glitters that shine so bright in lights for pictures. Love this. I want a couple more shades as well.