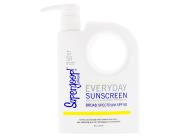 Reviews For


Supergoop! Everyday SPF 50 with Cellular Response Technology - 18 fl oz View Product Details
Write a Review - Receive 50 Rewards Points!
Tell us your thoughts about Supergoop! Everyday SPF 50 with Cellular Response Technology - 18 fl oz so we can help you find the right products. With your review, you'll also receive 50 Rewards Points. Please note that it may take up to 72 hours for a review to appear on site. All reviews are subject to moderator approval.
Write a Review
11 Results
Best Overall Body Sunscreen!
This stuff is wonderful! Great coverage and smells great. It does seem to sell out so get it while you can!
Took care of Mexican sun.
We took five grandchildren to Mexico recently. The reason I purchased the large pump bottle of Supergoop. A week of sun, swimming (pool and ocean), sand and shopping were not marred by burning or irritation. The pump worked well and the bottle supplied enough for the whole week.
Easy way to make sunscreen a habit
After a shower, use this as a wonderful body lotion that just happens to also have sunscreen. The pump dispenser is great. It's even got my husband using sunscreen every day!
Super goop
I've been using super goop since last year, and it is may favorite sunscreen! I use it on my son and I, who both have sensitive skin. I decided to purchase a big size this time around for the perfect coverage for this summer. It goes on nice, smells good, and lasts. Will definitely be back for more.
Amazing and has a cooling effect!
I live in Arizona, so the summers are brutal. We have weeks of temperatures above 110F. My family and I go to the lake a lot, and this sunscreen is my favorite. I am already on my 3rd bottle. First of all, it protects the skin. I went to the lake (all day fishing expeditions) and did not get any tan at all. I reapplied a lot since I was in the water and wind. But we also love how this has a cooling effect, so when I was hot and parched from the sun, it actually gave me a cooling sensation. It is my favorite sunscreen, for sure. It does not make my skin white and my body loves it. I did not apply it to the face. This is perfect for families because it does not sting, spreads easy and lasts!
Best all-round sunscreen for men and women
I started using Supergoop products in the past 2 years and fell in love with them - I bought this for the family to use on their face, body, hands, etc. Instead of buying different sunscreens for different body parts, this is multi-purpose. The husband enjoys it too because 1.) it doesn't smell like sunscreen and 2) it's not oily. We'll certainly continue to purchase these Supergoop products.
Great and Non-greasy
I pretty much never write reviews, but this product warrants it I think. My family has newly moved from Canada to South Texas and we are probably the most fair skinned family (maybe in the world haha). Our kids are fair and red haired while I react to most skin products....but of course we need to be sun screened daily here (quite an adjustment). Ive tried out several products looking for something that is light, non greasy, easy to put on children, and wont irritate my skin. I feel like I"ve finally found it with this product. Im very pleased! I like that the bottle is big enough that I wont run out immediately and it has a pump top which is a nice touch. I keep it on my bathroom counter and just cycle the kids through each morning and have added it to my morning routine. I dont feel greased up leaving the house, and the kids dont look shiny or greasy either! Would definitely recommend this product.
Protection I Can Trust
Prior to purchasing, I actually watched an interview with the Founder and Creator of Supergoop!. Listening to her speak about her line and products gave me great confidence in the company/products. Supergoop! is a physical sunscreen (rather than chemical). In addition to protecting the skin, the product is meant to also nourish and help the skin. I purchased this for an upcoming trip my husband and I have in Mexico. Being from Chicago, the sun is going to be much different during our vacation. I wanted maxium protection. The best part - I can use this sunscreen on my face AND body AND it is water resistant up to 80 minutes. We have since purcahsed the spray version of this product and the BB Cream Foundation. I will be sure to share my thoughts on those post our trip to Mexico.
Sunscreen Fanatic
I love this sunscreen. Its really thin and easy to apply, which makes it perfect for daily all over body use. It has little to no smell. I live at the beach and am a volunteer as interpretive guide at the Elephant Seal Rookery on the California Central Coast so sunscreen is a daily must.
Love this stuff!
I put my bottle by my bathroom sink and always so easy to apply. Love the packaging and a great sunscreen for my fair skin!
This is my favorite sunscreen!
I love Supergoop! Its thinner than most sunscreens, so it spreads easily and soaks right in. I love the large size and handy pump. Its easy for my kids to use. I leave the bottle on the console by our front door, and it only takes about a minute for everyone to put on sunscreen on the way out.