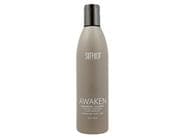 Reviews For
Surface Awaken Therapeutic Shampoo
$32.78
47 Results
Love!
Love the clean tingly feeling this shampoo leaves behind. Hair feels really clean without extra ingredients weighing it down. LovelySkin Customer
Verified Purchase
Great Cleansing Shampoo
Invigorating. Feels tingly on the scalp. LovelySkin Customer
Verified Purchase
Winner!
Rarely do I change shampoos. When I find something that works I stick with it. This one is a keeper for my fine blonde hair. It is moisturizing so I use it every other hair wash day. Love the menthol smell and tingly feeling on the scalp. Plugger
Verified Purchase
Hooked by a sample
I got a sample of this shampoo and conditioner and first. Loved the smell and after using loved the results. I have a lot of fine hair and it just felt thicker and fuller. I use it alternately with another brand. LNfit70
Verified Purchase
Satisfied
Very happy with this shampoo. It has helped with my scalp issues I was having. LovelySkin Customer
Verified Purchase
Thickening shampoo
I got a sample of this shampoo and conditioner when I ordered another product. After I washed my hair - I thought my hair looked great. Tried it a second time with the same result and ordered it right away. I feel it makes my hair look thicker and better. Ordered the large sizes because I was so impressed with it. skymom5
Verified Purchase
Best shampoo
I've been using Surface shampoo and conditioner for quite sometime. I love these two together. My hair never looked healthier and fuller. LovelySkin Customer
Verified Purchase
Awaken shampoo
Was recommended to use this shampoo for my thinning hair. have been using for over 6 months. I'm very satisfied with the results I've gotten, the balding spot on the back of my head is less noticeable. LovelySkin Customer
Verified Purchase
Ends Hair Loss
I was going through a divorce and started losing huge amounts of hair. My hair dresser suggested using Surface. Wow, what a difference! I got new growth and stopped losing as much hair. It makes my hair feel great. No need to use the conditioner, I was told, to get results. I use it every other day and religiously use two applications each time. It doesn't stink, soothes my scalp, and leaves it feeling rejuvenated. LovelySkin Customer
Verified Purchase
Healed my scalp
Along with the surface awaken shampoo, this has healed my scap. I struggled with itchy, flaky scalp for a long time. My dermatologist prescribed a shampoo that would work temporarily, but it would come back shortly. This went on for a long time. I've even changed my diet without it helping my scalp. I'm so glad I found this set because not only has the itching and flaking stopped, but my scap in general feels healed and no longer sensitve. Very Good
I've used a number of shampoos to deal with my scalp condition. Awaken has made the biggest difference for me. Very good!!! BigFanofAwaken
Verified Purchase
Thankful for daughter in laws!
My DIL gave me samples of Awaken Shampoo and Conditioner and it was wonderful from the first time I used it. I started losing my hair shortly after my husband died in 2017 and it's been a journey to put it mildly. I'm not focused on hair growth as much as my hair and scalp being healthy. My scalp and hair really respond to the cooling effect and good ingredients. I'm so grateful to have even found out about this product. I'll keep buying. LovelySkin Customer
Verified Purchase
soothing and gentle
This shampoo tingles in a good way, and leaves my hair clean without drying it out. It helps to calm my scalp itchiness. LovelySkin Customer
Verified Purchase
Best Shampoo Ever!
This shampoo is amazing! I feel like I have new hair. SunLover
Verified Purchase
This burns and stings!
This stuff is the worst! It burns your eyes and stings your scalp and skin. I was excited by the samples I got with a recent order but this was a big huge disappointment. Do not buy this! Not for Me.
This shampoo had great reviews, so I gave it a try. My hair is baby fine and at 50 is is dry and breaks easily. The shampoo smells wonderful and it lathers well, but that is it. I did not see any benefit after finishing a bottle of shampoo and conditioner. Smells and feels awesome
The mint smell is great and your scalp feels fresh Wendy730
Verified Purchase
Love it !!
I have only been using this shampoo for a little bit over two weeks and I love it. It cleans my hair and leaves it shiny and very manageable. I'm starting to feel good about my hair again and look forward to seeing new growth with the use of this system. LovelySkin Customer
Verified Purchase
Great for scalp itch
I have very dry hair, and an itchy scalp. This definitely helped with my scalp itch, didn't dry out my hair, and can be used for color treated hair. Would definitely purchase again. LovelySkin Customer
Verified Purchase
so far so good!
I have only been using this for a few weeks, but I like the way my hair & scalp feel after washing. Sometimes, it takes the second application to get a good lather, but I have that with many other shampoos as well. I like that it is color safe. LovelySkin Customer
Verified Purchase
Nice shampoo for thin hair
This shampoo feels great and gives somewhat cooling sensation during first few uses. I've used this product and moved on for a different one because I found that I needed to use conditioner after and that is something I rather not do daily LovelyGuy
Verified Purchase
Nice shampoo
I decided to try this shampoo after reading the reviews. It lathers up really well and a little bit goes a long way. I do think my dandruff has improved. LovelySkin Customer
Verified Purchase
Purchased for Hair Loss
I've been losing hair recently due to stress. Although I am aware that hair loss occurs roughly 3 months after a stressful event, I thought this shampoo and conditioner would feel good on my scalp and re-energize the follicles. It does feel very good on the scalp due to capsicum and menthol. It also smells very refreshing. The palm and coconut oils are nice but did little to make my blonde highlighted hair smooth and moisturized. I've decided the rotate Awaken with my Olipkex shampoo and conditioner to keep my hair hydrated and my scalp energized. My daughter used it on her natural unprocessed blonde hair and she loves it! I would definitely recommend for natural, never-processed hair. LovelySkin Customer
Verified Purchase
Worked for me!
This shampoo was recommended to me by my stylist for my thinning hair. We both have noticed new hair growth and I am intending to keep using it along with the conditioner and the treatment. Ireland
Verified Purchase
Just OK
I like the refreshing coolness of this shampoo. My hair is easy to brush through after. I do not notice a difference in the health or thickness of my hair though. The one thing I really do not like about this is the bottle it comes in. It is so stiff and hard that it makes it difficult to squeeze the product out. I fear when I get close to the end, it will be a challenge to get the product out to the point it will get wasted. I expected something better with such a pricey item. LovelySkin Customer
Verified Purchase