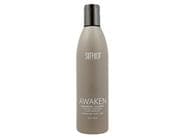 Reviews For
Surface Awaken Therapeutic Shampoo
$32.78
Strips color out of your hair!
This is supposed to be a color safe shampoo for colored hair. I've used it twice and each time it stripped more color from my roots. Now, after 2 times of use, I have red brassy roots on my very dark brown hair! I'm SO upset! LovelySkin Customer
Verified Purchase
Surface Awaken Therapeutic shampoo
Best shampoo leaves my hair feeling full and soft Shampoo
A wonderful product! I love the way it makes my hair so strong and healthy looking. But on the downside - it is way too expensive! Wonderful Shampoo
I bought this originally for my husband who has very long and very beautiful hair. He had some dandruff issues and this has wonderful results for him. Now I use it too, and with short and color treated hair, I love it too! Smell is fabulous! It has a bit of an invigorating tingle which feels quite awesome. Harleyhillmom
Verified Purchase
Best shampoo
I have plaque psoriasis on my scalp. This shampoo was recommended by my beautician. It works great in eliminating this condition. It is quite pricey but it is worth it. LovelySkin Customer
Verified Purchase
Excellent hair shampoo!
I absolutely love this shampoo. My scalp is sensitive and reacts to ingredients in other shampoos but not this one! My scalp and hair feel great and the smell is wonderful. My hair is full again!
Love this! My fine hair has volume for a change! I love the fullness and how well it washes out. I will buy it again. LovelySkin Customer
Verified Purchase
Not Great!
I purchased this after reading all the great reviews, but it's ok at best. Too expensive compared to other products I've used with better results. I have fine hair with oily scalp and it doesn't add any noticeable fullness or volume. I have to shampoo twice to actually feel like my scalp is clean. I gave 2 stars because of ingredients and does the job as far as cleaning. LovelySkin Customer
Verified Purchase
Cleans and soothes
This product has solved my family's scalp issues. Very satisfied. LovelySkin Customer
Verified Purchase
Broke me out in a rash
I really wanted to love this shampoo. I use the purple shampoo and Char from this line with no problems. I wanted to try something that would be really good for my hair and scalp. I have VERY sensitive skin, and am very allergic to most products. I am not sure if it was the menthol in this that caused me to react, I felt a lot of tingling but I thought it meant it was working. However, a few hours after I used it, the itching and hives started all around my hairline. I had to go wash it out. I'll stick with the Char for detoxifying. Brittney
Verified Purchase
Surface awaken
Love this shampoo! It is amazing -makes my hair and scalp feel amazing -just the right amount of "tingling" to the scalp! -helps wake me up in the morning :) and I love the smell. LovelySkin Customer
Verified Purchase
A little goes a long way
This product delivers a nice fresh smell & feeling, & just a dab will do ya! It doesn't dry out your hair & the only reason I give it 4 stars is that it's a nice precursor to the conditioner, which is what contains the actual hormone-blocking ingredient. LovelySkin Customer
Verified Purchase
So far, loving it
Feels invigorating on the scalp. It cleans well (I wash every other, or every third day), and doesn't overdry. One of my favorite shampoos thus far. I have not been using it long enough to see if it promotes hair growth, but I do like the way my hair looks and feels. SGBoston
Verified Purchase
Heavenly Hair
Received Surface shampoo and conditioner from a LovelySkin order. I was hooked on the smell and how it made my hair feel. I alternate between several brands. This one is one of my top 2 at the moment. When I asked my hairstylist about the brand as I wasn't familiar with Surface, she said it was a great brand. In fact she said her Mom uses it. I seem to now buy my skin and hair products from LovelySkin. Adds volume to my straight hair!
I've been using Surface products for several years after finding out I was allergic to many chemicals in other hair care lines. Gives volume and shine to my hair! Worth the price! LovelySkin Customer
Verified Purchase
Great purchase!
I love this shampoo! It gives my thin hair shine and extra volume! LovelySkin Customer
Verified Purchase
Excellent shampoo for sensitive skin & fine hair
I am always on the search for shampoo and other hair products that don't cause breakouts and that don't make my fine hair dull, flat, and lifeless. This is perfect. There are no miracle products out there, but the Surface Awaken products are as good as I have found so far, most notably the shampoo & conditioner as well as the mousse. Maerielle
Verified Purchase
Miracle Shampoo
I have been taking more showers as a healthcare worker during a pandemic, and my scalp has NOT been happy. After the first use of this shampoo, I had relief! I will be buying more when I get low on this! LovelySkin Customer
Verified Purchase
Good shampoo
This shampoo is deep cleaning yet gentle. That said, my hair is still falling out. Great!
Does what it says. Helps to soothe my scalp. Leaves my hair soft with body. Happy!! LovelySkin Customer
Verified Purchase
Great cleanser for scalp and hair
Really does a super job of cleaning hair and scalp. It has a very pleasant smell and tingling sensation while it is working. I find my hair seems fuller and thicker after use. I will continue using, as it also seems to help reduce my itchy scalp. Definitely good for fine thinning hair. Reggiesmom
Verified Purchase
This shampoo is excellent!
I got a sample for my husband who has psoriasis and itchy scalp. He tried it and liked it so I ordered a full size bottle. He has been using this for a couple weeks now and the itchy scalp and flakes have improved dramatically. So much that I was able to cancel his appointment with the dermatologist! I will most definitely reorder this product and I highly recommend it! Sharon1
Verified Purchase
Love!
Love the clean tingly feeling this shampoo leaves behind. Hair feels really clean without extra ingredients weighing it down. LovelySkin Customer
Verified Purchase
Great Cleansing Shampoo
Invigorating. Feels tingly on the scalp. LovelySkin Customer
Verified Purchase
Winner!
Rarely do I change shampoos. When I find something that works I stick with it. This one is a keeper for my fine blonde hair. It is moisturizing so I use it every other hair wash day. Love the menthol smell and tingly feeling on the scalp. Plugger
Verified Purchase