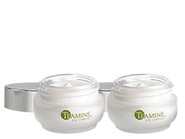 Write a Review - Receive 50 Rewards Points!
Tell us your thoughts about Teamine Value Set so we can help you find the right products. With your review, you'll also receive 50 Rewards Points. Please note that it may take up to 72 hours for a review to appear on site. All reviews are subject to moderator approval.
Write a Review
20 Results
Post Opt Blepharoplasty
Day 19 - LovelySkin clerk gave me a sample of this product along with a sample of concealer to cover my bruises. I applied the Eye Complex sparingly that night and the I could NOT believe when I woke the next morning how wonderful my eyes felt. Previous to using this product I had extreme tightness all around eye area, redness and puffiness. There was no way I was going to be able to apply eye makeup and walk out into the world prior to using this product. The tightness was almost entirely GONE. I could hardly believe it. Without using Eye Complex, I believe I would have a minimum of another 30 days of healing before I could have used eye make up and look half way normal. In addition to the tightness almost entirely gone, a large lump to the side of my right eye which was caused from a large stitch was half the size it was before I went to bed. After using this one night I was able to finally wear eye makeup. It was truly astonishing how this product contributed to the healing process overnight. It made a believer of me on the quality of this product. I will continue to use Eye Complex for as long as it is available, as I want to enhance and maintain the results of my eyelid surgery. It should be recommended to every patient post opt after incisions after healed completely.
Love, Love, Love Teamine
I have been using Teamine cream for about 5 years. I am an eye cream junkie (I tried everything from store brands to creams over $150) and this by far is the best. Of course there have been times in between the 5 years that I have tried others (because of recommendations) and I always go back to Teamine. It does everything, gets rid of dark circles, puffiness, moisturizes and diminishes wrinkles. Thank you LovelySkin for making this available online! You are a lifesaver! Try it, you won't regret it and you'll never buy anything else!
Good as Those Much more Expensive
I gave the product 4 stars because I do not know if there is anything better for more money or the same. It works as well as others I have used for twice the price. Teamine products are among the best available.
Great for dark circles around your eyes
The Teamine cream is an excellent eye cream. The texture is wonderful and it feels great on your eyes. Best of all it reduces dark circles significantly. A great product.
teamine value set
Not sure about effectiveness but price as a set is reasonable.
Teamine Eye Comlex
I have found that my dark circles are gone, puffiness and lines are greatly reduced. I shared this product with my twin sister last year and she agrees and loves it also.
Teamine Eye Cream Value set
I purchased the value set hoping that the product would not only prove to be effective especially since it is cream based but since I purchased the set, I was making a smart choice in terms of costs. However, while the eye cream is moisturizing, it has zero effectiveness on puffiness. Of course, I was sorely disappointed.
Great buy/not sure
The combo was a good buy. I use other under eye cream in addition. I'm not certain how well Teamine works because I still have dark circles under my eyes. Yet I do not have swelling. I'm staying with the product. I do not want to see what happens if I stop!
Teamine eye cream
This eye cream does the job. One of the things I like most about this cream compared to others is that I have very sensitive eyes and this eye cream does not sting or irritate my eyes. Plus, it helps with my fine lines and dark circles.
Teamine is the best eye treatment I''ve found
I've been using for about 2 years. I apply in the morning and at bedtime. It's light, but very hydrating. As I've heard many times, I use my ring finger to apply because there is less pressure and less pulling of skin. It's pricey, but I can't do without it.
Teamine Eye Cream
Goes on smooth. A little pricey.
Teamine
I have tried several eye creams to remove puffiness and fine wrinkles. Teamine Eye Complex appears to work the very best. The difference as soon as I start using it is really remarkable. It was recommended to me by a Board Certified Dermatologist and her advice has been priceless.
Makes Under my Eyes feel so Much Better!
I have been using Teamine for several years, and I feel that underneath my eye area is important to keep moist & strong! It really does help keep the dark circles away!! That's why I use it. I wish it would go on sale because it is a little pricey, but I'm glad I found it through LovelySkin.
Teamine
I just love this product. Skin around eyes looks great & skin feels so soft.
the best product EVER
For years I have tried various products with no success. I am extremely happy with the results from TEAMINE eye complex, highly recommend this product to anyone trying to remove dark circles and puffy eyes. Thanks you TEAMINE.
THE BEST!!!
Ive spent a great deal of money chasing eye products that deliver. Ive determined that Revisions Teamine is the best so far. Im 66 and spent 37 years in a zero humidity airplane as a stewardess and now live in Nevada so I need all the help I can get! This product DELIVERS!!! Cant recomend this product enough.
Very Gentle
The Teamine value set provides a great eye cream at a great savings. I was looking for an eye cream that did not irritate the sensitive skin around my eyes but still was effective at softening those fine lines around my eyes. This eye cream is the best I have found. I dont have much of a problem with dark circles, so I cant comment on its effectiveness concerning that issue. But, it is very effective at smoothing the fine lines without any irritation. Highly recommend!
Im very happy with this product !
I have been using Teamine for years ,Im 37 years old and everybody think that I look much younger , last year I stop using the cream because is a little pricey and it worth every penny believe me ,I start using different types of eye creams and my eyes were getting old , I said to myself !thats it ! Im getting the cream again ,because is the only cream that works for me ,and today ,I looked in the mirror and my eyes look so nice and beautiful ,Im so happy this is wonderful. I going to take some pictures of me before and after and see if I can post them here . I recommend to put a little amount and make circular movement with your ring finger around the eyes . Ill keep buying it ,the cream is Great !
My family noticed!
My relatives out West noticed how good my skin around my eyes looked! I then told them my secret was Teamine and they all were going to go on LovelySkin Web site for skin care since it is so dry out West. I then ran out and did not reorder it. I am 52 and believe me, as a Hospice nurse, I do a lot of on call crazy hours and and shed tears with my patients and families. This shows up under my eyes often. I used my little sample up and today at the bridal shop with my daughter, the staff did not believe I was older than all of them! I can really tell the difference how smooth the eye area is and the lack of my usual dark circles. I am now ordering the double deal and next fall when my daughter gets married I hope to not look 53!
Great Eye Cream
I bought this combo so I could give one to my best friend for her birthday and of course, I kept the other. She liked it as much as I do!