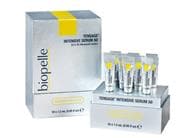 Reviews For
Biopelle Tensage Intensive Serum 50
$195.00
Amazing serum
This intense serum really worked quickly and I see significant improvement of better skin tone and elasticity after using 1-2 tubes. It's a bit expensive so I used very little of that a tube can last about 5 days even I used it day and night(twice per day). I highly recommend it especially if you want to look the best for certain occasion. LovelySkin Customer
Verified Purchase
Pricey but great results
This product is very pricey, but offers amazing results. If you are looking for dewey, radiant skin, this is the perfect product. Trixie777
Verified Purchase
Biopelle Tensage Serum 50
Found it extremely expensive!! Very small tubes, if you're lucky you can get two applications from one tube. Love Tensage Intensive Serum 50s
Love the Tensage Intensive Serum 50's! They wake up my face and make my skin glow. They are less oily than the 40's which I prefer. I tend to save them for times when I really want yo look my best! LovelySkin Customer
Verified Purchase
Love it!
This is my favorite growth factor product. It goes on smooth and absorbs into skin nicely, allowing layering of other products. I think it improves my skin's tone and texture. LovelySkin Customer
Verified Purchase
Great Product!
My skin glows when I use this serum. Friends ask me if I've been in the sun! LovelySkin Customer
Verified Purchase
Too pricey and marginally effective
Tried this after a laser procedure and was marginally impressed with outcome. The regular serum (SCA 15) appears to be just a effective when used on a daily basis, Based on cost, most likely will not purchase again. LovelySkin Customer
Verified Purchase
Amazing skin rejuvenating results
I have been very pleased with the results of the serum. The results were quite noticeable. More radiant skin, diminishing expression lines. It is worth the price.