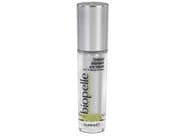 Reviews For
Biopelle Tensage Radiance Eye Cream
$87.00
Tensage radiance eye cream
I luv this eye cream. It's very hydrate & it leaves brighten color to my eyes. It seems to brighten my eyes Sweetie
Verified Purchase
Looks great when wearing.
I still think no under eye cream is a miracle but I like the look it gives, almost as if it is makeup. Reflects nicely on my skin. LovelySkin Customer
Verified Purchase
Love for my sensitive eyes
Love this cream for my sensitive eyes, it makes them feel mositurizied and the subtle hint of color is enough coverage or a good base for makeup. LovelySkin Customer
Verified Purchase
Biopelle Tensage Radiance Eye Cream Don't understand what went wrong
I've been using this about 3 Weeks. Am & Pm I t does firm under The eyes. Supposed to help with Dark circles. Which for me is the area on inside corner of eyes and down just the beginning of under eyes. But been noticing my right under Eye looking like really dark circle which I don't have Decided to stop use for a few days. The dark circle has gone away. I really wanted this to help with everything they claimed it would do. Never expected it to give me dark circles under my eye. LovelySkin Customer
Verified Purchase
Brightening eye cream
Biopelle Tensage Radiance Eye Cream Goes on smoothly, it has a little brightening color, and it keeps the eye skin moisturizer all day. Nice
I really like this eye cream. Although, the item is expensive, I like the consistency. I'm very hopeful about this product. Warrior
Verified Purchase
Excellent Product
Started this product when recommended by my dermatologist and love using it ever since. Joejopbg
Verified Purchase
Very nice
In my quest to discover the perfect eye cream, I purchased this product. I like the feel of it. Very smooth and absorbs nicely. LovelySkin Customer
Verified Purchase
Tensage Radiance Eye Cream
This eye cream is very blendable, just the right amount of color. It's moisturizing & creamy. LovelySkin Customer
Verified Purchase
Great eye cream
I've tried many eye creams and I feel this one really makes a difference. It keeps my eyes brighter and the fine lines are getting less. This is a true winner as well as all their products in this line! Laujodrik
Verified Purchase
Decent product.
My M.D. Dermatologist recommends this product and it is good but the Elemis eye product in my opinion does the same job and cost less for eye brightening. This product also has strong smell. LovelySkin Customer
Verified Purchase