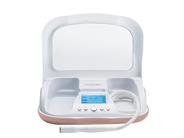 Write a Review - Receive 50 Rewards Points!
Tell us your thoughts about Trophy Skin MicrodermMD so we can help you find the right products. With your review, you'll also receive 50 Rewards Points. Please note that it may take up to 72 hours for a review to appear on site. All reviews are subject to moderator approval.
Write a Review
10 Results
Improves skin texture and looks better
I have had the Trophy Skin MicrodermMD machine for only a short time, and I have used it twice so far. I used it for the dermabrasion. (I haven't figured out how to use the extraction tool yet). The dermabrasion tool works very well. I noticed a visible difference in the way my skin looked and felt. I have been getting monthly professional dermabrasion treatments for 4 or 6 years, but I haven't been able to go for several months and thought this machine was worth a try to use on my own until I could get back to my esthetician. I like it. I used the machine on auto mode which walks the user through the different areas of the face for predefined periods of time. It was easy to use and did not overly irritate my skin. The machine is pricey, but I think its worth it. It is about the same price as two of my professional treatments, so it is a cost effective alternative for me. Since it is for consumer use at home, I am sure it is not as powerful as the one my aesthetician uses in the doctor office, but it worked well, my skin looks better and feels better.
Just ok
Expected more for the money. Wouldn't buy this apparatus again.
I think it's good
it worked really well for my mom and my boyfriend, but the result was less obvious for myself. hopefully I'll see better results after a few more months.
Trophy skin microderm MD
I am so happy with this product. I wish I would have purchased it long ago. It is so worth the money. My face feels soft after using it and my products seem to absorb much better. I could not live without this machine!!! Make sure you read the instructions well and look at the CD that comes with the machine. I also you tubed it which was really helpful.
great results from first use
I bought this device to help me fight against blackheads (yet to test for that), I put it in use after a recent skiing trip, I ended up with dry patches on my cheeks and forehead which was really bad. After just one use my skin was so polished and the wool filter was full of dead skin. I am pretty impressed so far.
Trophy Skin MicrodermMD
This is a great tool to use in between visits to the spa! I use it weekly to remove dead skin so that my skin care products can penetrate and work more effectively. It keeps my skin glowing! I highly recommend purchasing this product from LovelySkin!
Love Love Love!
Absolutely love this machine! Worth the money and skin is radiant after the first use. Just do not apply too much pressure as the diamond tip will cause abrasion lines but the abrasion lines will be gone after awhile.
Worth every cent!
I have been using this machine for a week now and, so far, I am extremely pleased with it. The very first time I used this, I was shocked by what came off of my face. I had been using a very expensive skin care system with the exfoliating brush, which I thought was doing a great job at getting my skin clean, but I was so very wrong. This has made a huge difference in my skin. It feels so soft and looks a lot better since I have been using this machine. I will clean my face, then use this machine, wash my face again and follow up with a moisturizer. I cant stop touching my face. Its so soft. The machine is very easy to use and with some practice, it gets easier. The auto function walks you through the entire process. It shows you on the display which areas to clean and beeps when you should move on to the next area. The different tips are very useful and I really like the one for applying your lotion. You also receive an instruction manual and DVD, 100 filters, o-rings, 3 tips and a cleaning brush. This is quite expensive but I believe it is totally worth it. Im looking forward to seeing more improvements in my skin with continued use of this machine. I love it!!
Professional results in the comfort of your home! Love it!
If your goal is to find a product that helps you to exfoliate regularly, isnt overly abrasive, and visibly minimizes your large pores, then MicrodermMD is totally for you!! Ive been trough the ringer with acne, makeup harsh chemical scars and just plain old facial care laziness. Each has affected my face negatively. MicrodermMD is now part of my weekly routine and so far its helped me reduce the visibility of the large pores around my cheek area. It has also got me to be less lazy with my facial routine as it only takes 5 mins to give myself a professional grade exfoliation with MicrodermMD. Ive been using this product for the month of October and will continue using it once (sometimes twice) a week. Here are some of my pros and cons: PRODUCT PROS • This product although bigger than I expected appears to be made of great quality pieces. • As opposed to its competitors having 100 filters come with the kit allows for ease of use and affordable replacement (when you run out of filters). • The kit has a digital screen that gives you a visual of how you should be using the product. • It comes with a cleaning tool (great for a germ phobic like me) • After first few uses I visibly saw smaller pores near my cheek area and less overall oiliness • Most importantly... it uses a DIAMOND TIP! (Not those detrimental aluminum oxide crystals) PRODUCT CONS • It's a little hard at first to hold your skin taught with one hand and position the suction flat with the other hand, not really a product con, but its really the only small issue I had. Give it a try, trust me you wont regret it!
Professional Grade System for Home!
I love this system!!! I was skeptical that I would get the same results as a spa treatment but I did! Its very easy to use and the results are amazing! I dont feel like I need to pay for a spa treatment ever again. I purchased the smaller diamond tip head for my eye area and I plan on purchasing the larger tip for the body. If you love spa microdermabrasion then purchase this system!!