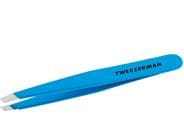 Reviews For
Tweezerman Slant Tweezer
$23.00
STAPLE instrument
This has and will always have my back. The tips are fine that it will be able to pick up even the tiniest unwanted hair. A must have in the bathroom and in your toiletry bag. FelixRN
Verified Purchase
Tweezerman is the Best!
Have always used them and will never use any other tweezers. LovelySkin Customer
Verified Purchase
The Perfect Tweezer!
Tweezerman Tweezer is the best! Very precise, great grip and sharp. Stays sharp for a very long time. Pinky01
Verified Purchase
Such fun colors to choose from
Classic tweezers. I've been using these for years and years. My favorite tweezers. They work so well. When I find a pair I love, I stick with them. Grabbed this new fun color because it was time for a new pair. Reliable and I'll always buy them. Tweezerman
Best tweezer on market. I only order these and they work great. LovelySkin Customer
Verified Purchase
Very good tweezers!
I've been using Tweezerman tweezers for several years and I continue to purchase them because they work better for me than other brands. LovelySkin Customer
Verified Purchase
Great tweezers!
These are sharp and slanted. They grab even the shortest, finest hair. They are definitely my favorite tweezers. Love the colors, especially the green. LovelySkin Customer
Verified Purchase
Best tweezers ever
They may be a little pricey, but they are sharp and accurate and they usually get the job done on the first try. Lisayomama
Verified Purchase
Tweezerman
I was very disappointed with the slanted tweezerman tweezers I ordered. I read so many glowing reviews about their products and expected better results. LovelySkin Customer
Verified Purchase
I love Tweezerman Tweezers and this colour is awesome!
I love Tweezerman Tweezers, they never fail to perform well and grab even the smallest and shortest of hairs. I purchased it in green as it goes with a couple of things in my bathroom, and they fit in perfectly. It also makes them easier to find than my silver ones, when I'm fumbling for them! Highly recommended! The Only Tweezers I Use
I was browsing the LovelySkin website and just saw that they sell Tweezerman tweezers. Wow! These are the only tweezers I use, and have used, for years. The perfect slant allows me to grab those hard-to-reach hairs under my eyebrows easily. They are sharp and easy to clean. The spring lasts. I am confident in the grip which is necessary since I am using them near my eyes. I definitely recommend. Best tweezers I have used!
These tweezers are the best I have ever used. The slant really helps to pluck even the hardest hairs to pluck. It works great and you won't be disappointed! Pretty, but color fades
The tweezers are very sharp and precise, which I love, but the color on the handle and tips (rose gold) does fade with time. Gorgongirl
Verified Purchase
The Best
These are the best out there! Tweezerman Slant Tweezer
I LOVE this Tweezer! It is the only Tweezer I will ever use! I especially love pink! ( my fave color. Great Tweezer!
I have this in pink and it works great (precise) and feels great in the hand. tweezerman slant tweezer
Tweezerman is the absolute best tweezer for me. I've tried several other brands but none compare. Long-lasting too! Lisbeth
Verified Purchase
Best Tweezer
Have been using Tweezerman for years, and it never fails to disappoint! LovelySkin Customer
Verified Purchase
Tweezerman
More expensive than other tweezers but works really well. LovelySkin Customer
Verified Purchase