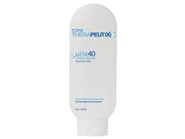 Reviews For
Urix 40 Urea Cream - 8 oz
19 Results
Really works
This got rid of the bumps on my arms after a month!! No smell and goes on smooth!! LovelySkin Customer
Verified Purchase
Nice
Very effective cream. LovelySkin Customer
Verified Purchase
My first choice and my last one
I applied it to my feet and HATED the feeling of it on my skin, I thought it was like applying baby oil and I was afraid that I would wake up with greasy broken out skin, and stains on my sheets. But I kept it on any ways. The next morning I woke up and did notice a slight break out which is normal for a new product. I kept at it though and the second night I found that my skin absorbed the product a lot faster than it did the night before. I went to bed and got up the next morning with plump healthy looking skin and the areas that had given me a problem the day before seemed to have calmed down immediately. I started using it every night Not only that but during my routine, I use to get a feeling of dry itchy skin and I would have to apply a moisturizer, now I never get that feeling even now in the harsh winter weather. This is a golden product and it works. LovelySkin Customer
Verified Purchase
Good for keratosis pilaris
This is a medical-grade cream for conditions like keratosis pilaris. It does have a mild odor (no, it doesnt smell like urine), but I dont mind it. It also doesnt sting. It is a bit sticky, so I dont apply it to my entire body, only to the areas where my KP is worst. This is the exact same cream my dermatologist sells in her office. Works quick
I have used this product for about a week and it has made a world of a difference. A must buy for those with KP. shoptilludrop
Verified Purchase
Fantastic product
My feet love this lotion. I used to use a prescription from the dermatologist that was a cream with this ingredient. It was really expensive and then no drug store could refill it. I found this product and was so impressed with the results. LovelySkin Customer
Verified Purchase
A product that works!
I used this for the pillaris keratosis on my arms and saw very quick results. Nearly all bumps were gone with in 2 weeks, when used once a day. Plus one bottle last a really long time. LovelySkin Customer
Verified Purchase
Urix 40 Urea Cream
This product is helping to soften dry, cracked heels and has even helped lessen the severity of a few psoriatic patches in a very short period of time. I have developed very dry skin as Ive gotten older, and this product has worked the best after Ive tried so many creams and lotions. LovelySkin Customer
Verified Purchase
Love this!
I have always had problems with dry cracked heels in the winter. I had gone to my doctor and he prescribed this. After it I ran out I found it here cheaper than going to the doctor for a refill and then paying for it at the pharmacy. I use this every night and then put on socks and havent had anymore cracked heels. LovelySkin Customer
Verified Purchase
Repeat Purchase!
My boss has been using this lotion for her dry cracking heels for a few years as recommended by her dermatologist. She tried everything imaginable over-the-counter and also a few Rx items, but this is the one she sticks with for relief from the cracked feet. Very great product that she always keeps in stock at home! LovelySkin Customer
Verified Purchase
It Works!
I had suffered from severely cracked heels for all my adult life, so bad that walking was often painful from the deep cracks. All of my bed-sheets always had holes worn in them from my rough feet. I had tried every kind of over-the-counter cream and ointment known to man. I finally went to a podiatrist, who gave me a prescription for a 40% urea cream. It was the first thing that had ever worked! Finally, my feet not only didn't hurt and didn't tear up the sheets, they looked pretty much "normal." When my insurance stopped paying for the prescription, I found this over-the-counter equivalent, and it works just as well as the prescription did. LovelySkin Customer
Verified Purchase
Urix40
very effective - prompt and courteous service and delivery. All in all an A+ LovelySkin Customer
Verified Purchase
Excellent lotion
I have keratosis pilaris on my upper arms. This lotion has pretty much eliminated it. Also, the lotion is excellent for my very dry hands. My cuticles look very healthy. It does the job. LovelySkin Customer
Verified Purchase
Good for dry, cracked heels
This cream worked better than anything else I've found (including a podiatrist's prescription) on my dry, cracked heels and feet. I'll be a repeat customer. LovelySkin Customer
Verified Purchase
Dry Itchy skin
I've had problems with winter itch this year. I bought the Urix 40 for the urea which is frequently prescribed by Doctors to help with this problem. It has helped tremendously. I don't have the urge to scratch myself raw any longer. I would recommend this product to anyone having dry skin problems. LovelySkin Customer
Verified Purchase
Dry skin
As I have problems with very dry cracked feet and hands in the winter time especially it was recommended by my podiatrist. I found your website and ordered the Uris 40 urea cream and it has worked wonders. I would definitely recommend this for anyone with dry skin. LovelySkin Customer
Verified Purchase
Works Like It Promises
This product does a great job on overly dry skin, and a little goes a long way. I will continue to use it. LovelySkin Customer
Verified Purchase
Best price on a premium product
Urea cream is the best product for healing dry, cracked feet, but creams with a high urea content are usually available by prescription only and cost at least $80. This is the best non-prescription product available, and most stores charge more than $40 for it. This is a wonderful buy. LovelySkin Customer
Verified Purchase
Does the Job
I use Topix Urix 40 to eliminate calluses and dry flakey skin on the bottoms of my feet. I have type 2 diabetes and I feel this works better than all other products I have tried including Urix 10 and 20. For soft feet, I apply after my morning shower and just before bed time. My doctor approves of the results. LovelySkin Customer
Verified Purchase