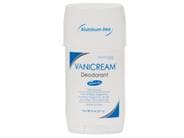 Write a Review - Receive 50 Rewards Points!
Tell us your thoughts about Vanicream Deodorant so we can help you find the right products. With your review, you'll also receive 50 Rewards Points. Please note that it may take up to 72 hours for a review to appear on site. All reviews are subject to moderator approval.
Write a Review
20 Results
Vanicream Deodorant
Really like this product except it does not eliminate odor as well as others. But both my husband and have underarm itching with many other deodorants and tried Vanicream and have absolutely no irritation. So we will take a little odor with no irritation. LovelySkin Customer
Verified Purchase
Beware.......Contains Irritant!!!
I was excited to order this product because the reviews on various sites are really positive. However, shortly after I began to use the deodorant, my underarms started to itch and burn severely. This deodorant contains sodium hydroxide, which is a known skin irritant that can result in burns and lacerations on the skin. After using this, I felt like my armpits had been set on fire! I'm not even joking, it really does feel someone took a match and lit up my armpits! If you have VERY sensitive skin and lots of allergies and sensitivities like I do, please avoid purchasing this deodorant. Also, this deodorant is a gel like substance, so after applying it, your underarms feel very wet until it fully dries. I have been searching for a reliable deodorant for years it seems and I have not found anything yet. I cannot use anything with aluminum, fragrances, or other skin irritants. Due to my sensitive skin, I have to apply hydrocortisone cream before using most deodorants to prevent severe itching and burning. I did that before using this Vanicream deodorant, but it did not help subside anything, I still felt the burns, itching, and I was left with a rash. I am trying to remain hopeful about my deodorant search, but it is not looking good because most companies use some type of harsh chemical to manufacture deodorant. I am just hoping that this incident does not leave me with anymore scars. I am a Black woman, so when I get scars, they turn very dark and I definitely am not about to put fade cream under my arms because my skin would probably peel off if I did that. Being me is very depressing at times because my body is extremely sensitive, I cannot use too many products, and if I do, they cannot contain any fragrances or harsh chemicals. The strange thing is that I can wear perfume and it does not bother my skin......weird! Like a very smart nurse practitioner once told me, there are other people in the world like me, I just have never met them :). LovelySkin Customer
Verified Purchase
Very effective
I love this deodorant! It is very effective while being hypoallergenic and aluminum-free. Little goes a long way. It takes about 30-60 seconds to dry. Just not great for travel as the gel gets out of the container and into the cap. I travel with a solid deodorant of a different brand. LovelySkin Customer
Verified Purchase
Not irritating but...
It doesn't do much for odor. LovelySkin Customer
Verified Purchase
Effective and gentle
I have extremely sensitive skin and have tried several natural deodorants at the natural health stores, but they all irritated and allowed odor to come through after a few hours, but not this one. Best I've ever used! No Itch
This works well for my sensitive skin. No odor to product. I use several other Vanicream products and am pleased with their quality and ingredients. 2dreamgirl6
Verified Purchase
Excellent!
We love this for what it does not contain, harmful chemicals and offensive irritating fragrance. It performs perfectly, lasts a long time and doesn't break the bank or make ridiculous claims. Vanicream is a line we rely on for no nonsense streamlined product range. Rather than spending money on advertising, it puts it into research and offers a great value to the discerning and informed consumer. So glad to see LovelySkin carrying this line of products. teadivamuse
Verified Purchase
Works for me
Best aluminum-free deodorant I've found. With twice daily application it's been working well for me. LovelySkin Customer
Verified Purchase
Good deodorant
I tried Vanicream deodorant for the first time a couple of months ago. I've used other Vanicream products and have been pleased with them. I wanted to try this product because it is aluminum free, and I have sensitive skin. I felt like this would work well like other Vanicream products do on sensitive skin. I like this deodorant because it has no scent at all, goes on completely clear, has not been irritating so far and works well in fighting odor. I would definitely recommend it and will order it again. LovelySkin Customer
Verified Purchase
Great Deodorant
I recently became allergic to a certian brand of a deodorant that I had been using for many years. It caused contact dermatitis on my skin. I switched to this deodorant and have had no reaction. It is very good and holds up well through out the day. LovelySkin Customer
Verified Purchase
Works well
I got this for my son who has eczema and is also a teenager. He was very happy with the protection and no irritation. LovelySkin Customer
Verified Purchase
Hypoallergenic protection!
This Vanicream deodorant is a good option for my daughter who gets rashes from regular deodorants. So glad LovelySkin carries all the Vanicream products. LovelySkin Customer
Verified Purchase
Best I've found!
It was recommended to me by my dermatologist. Best aluminum-free deodorant I have found! It works!! The Best I've Used
My dermatologist referred me to the Vanicream brand of solid deodorant about 2 years ago, and I have been very pleased with its use on my sensitive skin. After I developed shingles a few months ago, I found that the friction of applying solid deodorant was quite painful. I looked further on your website and tried the same product in gel form. What a blessing for my poor underarms - same super results with no added pain! Thank you again, Vanicream, from a loyal customer. LovelySkin Customer
Verified Purchase
Vanicream Deodorant outperforms all others
Vanicream deodorant works very well and no yellow stains. LovelySkin Customer
Verified Purchase
It really, really works!
This really, really works, & it doesn't cause any rash or irritation, even right after shaving! I have worn this Vanicream deodorant even in 95 (plus) degree heat & humidity it has never failed me! I only have to apply it once a day, unlike other brands that recommend re-applying & believe me, I have tried MANY! I have extremely sensitive skin & this is, quite honestly, the ONLY deodorant I have been able to use that actually works. I am so thankful! LovelySkin Customer
Verified Purchase
Lasting, Non-Irritating
I've tried many deodorants without antiperspirant and after having an intense allergic reaction I finally went to see my dermatologist. He prescribed this product and it's been a miracle. No more redness, itching, or discomfort, and it lasts longer than almost all natural deodorants I've tried. I generally apply in the morning and evening after the workday. I recommend this product for anyone with sensitive skin who's had issues finding something that works. Lovelyskin.com packs well and ships fast! LovelySkin Customer
Verified Purchase
So gentle.
I love this deodorant because it's so gentle on sensitive skin. It doesn't sting after shaving. It is a clear gel that comes through holes in the bottle. It has been effective for me. I go through it pretty fast though, wish the bottle was bigger, but I love it. LovelySkin Customer
Verified Purchase
Wonderful customer service
Wonderful customer service!! Big selection of natural products. Will definitely shop here again !! Easy access website. LovelySkin Customer
Verified Purchase
A sensitive skin godsend! Try it and see for yourself.
Who knows how Vanicream did it, but this non-antiperspirant deodorant applies like silk and works to keep you odor-free all day! Whether a light or intense day, this has not yet failed. If you have sensitive underarm skin and seek an aluminum-free deodorant, this is a must try! Thank you to LovelySkin for carrying this item. LovelySkin Customer
Verified Purchase