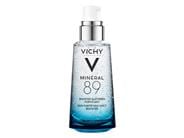 Reviews For
Vichy Mineral 89 Hyaluronic Acid Face Moisturizer
$29.50
69 Results
Vichy mineral 89 HA
I absolutely love this HA, think I'm on my fourth bottle, a total staple in my skincare routine. All you need is two small pumps to cover face and neck as it spreads easily. Very lightweight, that instantly melts into your skin, I literally panic when I'm near the end of the product. Lol.. LovelySkin Customer
Verified Purchase
Soothing
Very nice smooth feeling moisturizer. Not sticky. Let dry and then apply makeup. Doesn't roll up into balls. Jeannie
Verified Purchase
Great!
A must in my routine. Lightweight, yet effective. Perfect to dry and breakout-prone skin
Being my first face hydrant, I love it! I'm breakout-prone skin and all the products of acne tend to dry my face, and after I try the Vichy mineral my face looks more healthy without making more breakout. At this moment, I love this product. JeanetteLee
Verified Purchase
Magic
I love this product. I don't know how it works but I can say that my skin has been much clearer since using this. It is lightweight and goes on smoothly. My products are absorbed much better after using this product. I will definitely keep this as part of my daily routine! LovelySkin Customer
Verified Purchase
perfect
dries quickly, keeps my skin moisturized! perfect under sunscreen LovelySkin Customer
Verified Purchase
Can't Live Without It
Very hydrating. Good for sensitive skin. Clean product including fragrance free. Spreads easily. Feels amazing. Excellent packaging. Awesome customer service. Highly recommend sassycat1
Verified Purchase
Gentle and refreshing
This is very gentle and refreshing for skin. I find it a little sticky and my skin feels better if I use a moisturizer soon after. Knisholm
Verified Purchase
Happy skin!
I am so in love with this product! It is perfect for the hot summer days as it is lightweight and absorbs quickly, but gives you a great level of hydration and a nice glow :) great for combo skin LovelySkin Customer
Verified Purchase
Nice Product
The Vichy Mineral 89 Ha seems to be ok for my morning routine. I use this first thing and my skin and makeup maintains all day. For the price and quantity you can't go wrong. Monicasg
Verified Purchase
Vichy Mineral 89 HA
I really like this product. I use it under my daily moisturizer and it soaks right it. It just gives my skin that extra boost of hydration. Will repurchase. LovelySkin Customer
Verified Purchase
Absorbs well
Great product that absorbs well and helped my skin look dewy and glowing. LovelySkin Customer
Verified Purchase
Very nice product
I have been using this for a few weeks now, and I must say my skin feels softer already! LovelySkin Customer
Verified Purchase
Feels great
I love anything hyaluronic acid and this is no exception. You get a lot of product for your money and a little goes a long way. It is not greasy or sticky so it is perfect for layering under other products at night and to use as a primer for makeup. I wake up in the morning with my skin looking refreshed and hydrated. I'll be buying again and again. nice product!
this is a great moisturizer/serum! i use it under my regular moisturizers (Vichy and 1 other brand). it is a lightweight gel that goes on smoothly. i definitely see a difference in my skin- lessening of fine lines and highly moisturized-when using this along with my regular routine. but for those with younger, less dry skin, i think this would be great to use on its own! it's also a great value compared to other similar products. LovelySkin Customer
Verified Purchase
This Stuff is Wonderful
I use this hyaluronic acid every day and night, along with my regular moisturizers, and my skin appears & feels MUCH healthier and smoother. I love the added moisture as, although my skin is normal, I DO have a few drier spots that this Vichy Mineral 89 has really helped. Nawlinsgal
Verified Purchase
Makes your face feel so pampered
I like this a lot. Soaks in quickly without leaving a sticky feeling and leaves my skin feeling supple and dewy. It works extremely well during those hot, humid summer days when you need a little more moisture for your face but your lotions are too heavy. It feels even better on those hot days if you store it in the fridge. Moisturizer
This is great for sensitive skin & acne prone skin. It keeps my skin hydrated without a heavy feel. Kjohnson
Verified Purchase
Awesome!!!!!
This is a spectacular moisturizer and I use it everyday! My skin feels soft and majorly moisturized. I recommend it to everyone of every age! LovelySkin Customer
Verified Purchase
Nice if you do not like heavy moisture
My husband loves this stuff. He does not like heavy moisturizers or creams. I gave him a few samples of this and he immediately asked for a full bottle. It is light moisture and absorbs quickly without leaving any noticeable residue. He wears it alone as he does not want a complicated or lengthy routine. However, this would also be great layered with other products. A little goes a long way. Awesome product!!
I have been through 2 of the largest bottles of this serum and I love it!! I use morning/night each day after I cleanse along with the Mineral Eye Serum 89! I recommend it to anyone who loves to have great skin. I love it!! Jaimied
Verified Purchase
Excellent Find!
Excellent product for a reasonable price. Very soothing and keeps skin well hydrated. LovelySkin Customer
Verified Purchase
Very light weightless texture!
Leaving nothing but refreshed skin without heavy feeling! LovelySkin Customer
Verified Purchase
Great product for my skin
This is probably the third bottle that I have ordered since I found this product. Something about it just seems to make my skin smoother and reduces the look of my pores. Perfect for me! Vichy Mineral 89
I like this product. It doesn't leave a film feeling on your face. LovelySkin Customer
Verified Purchase