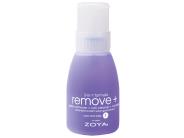 Write a Review - Receive 50 Rewards Points!
Tell us your thoughts about Zoya Remove 3-in-1 Polish Remover so we can help you find the right products. With your review, you'll also receive 50 Rewards Points. Please note that it may take up to 72 hours for a review to appear on site. All reviews are subject to moderator approval.
Write a Review
24 Results
Best ever
This product is the most efficient and least damaging and drying of any product I have ever used. My only complaint is that I wish it was easier to find. LovelySkin usually has it and I really appreciate that the shipping is free.
My go to nail polish remover
This is the only nail polish remover i'll use. The smell is lovely compared to other nail polish removers out there, the dispenser is so convenient and it works like a charm every time.
This really works.
This works with a single application, is not drying to the cuticle, does not smell. I love it and highly recommend it
Very well packaged
Easy to use! Perfect amount released to cotton pads which makes the process very professional!
Zoya 3-in one remover
This is the best nail remover I have ever used. My nails are dry and tend to crack, since using this product they are stronger and are actually growing. This product is easy to use and almost impossible to spill. I have ordered two more bottles just recently am so pleased with it.
The only nail polisher remover I use
Gentle and non-drying. The scent is very mild and dissipates quickly. And, a little bit goes a long way to thoroughly remover polish. I haven't found any nail polisher remover I like better!
Gentle and works great!
Zoya polish remover is the most gentle I have ever used and it actually preps your nails for polish!
Works just as well as the chemical removers
I've purchased this product a couple of times and it works the same as any typical remover. It comes in easy to use pump packaging as well! Quick and easy!
Wonderful Product
This nail polish remover is so easy to use. I use this, and I bought this for my daughter and daughter-in-law for Christmas presents. Thanks LovelySkin for carrying this product.
Nice remover
It's a good remover, gets the polish off without too much fuss. I thought it was acetone-free because I didn't look up what "2-Propanone" is it's acetone. That's fine, I just like knowing what I'm buying.
BEST nail polish remover!
Doesnt smell bad, GREAT easy to use container....Ill never use another!
Excellent Remover
The remover is pricey, but it is incredible: fast, thorough, and gentle. Effectively removes all nail polish and doesnt dry my nails including glittered ones. Its the only remover I use on my nails.
Excellent Polish Remover
The best nail polish remover Ive ever used. Very effective at removing every last bit of polish with little effort. Smells really nice. Love the dispenser cap, pumps out just the right amount with no waste/spills. Great product, way better than drugstore brands.
Zoya Polish Remover
I have always loved this polish remover. It makes taking polish off very easy without a lot of effort. It is even great at taking all dark colors completely off.
Cost effective
I was using OPIs and get empty quick. This product will last longer & cheaper & does nice job.
Great polish remover!
Great price! The scent is mild and not too strong. Removes my nail polish with ease!
LOVE, LOVE, LOVE
I have tried all kinds of polish remover, but Zoya has a winner. Their polish stays on really well, but this remover takes it right off. Your hands dont smell funny afterward, your skin doesnt turn white, and theres not that strange flavor that sticks to your fingers even through several washings.
Leaked in the mail
This product showed up in the mail, it had leaked through the box and I thus could not use the other products that were shipped with it. I have ordered from Lovely Skin for years and this will be the last time. A huge waste of money and lack of competence.
The BEST Polish Remover!
This is a simple, fast remover, in a professional dispenser that eliminates the usual mess and seems to be good for my nails, too! quick and easy!
Excellent
This is my new favorite nail polish remover. This takes off nail polish in an instant and prepares your nails for a new paint job.
Zoya 3 in 1 polish remover
This is a great product. It works easily and has a great applicator. However, it would have been nice if it had instructions to gently twist the entire top before trying to pump, so that it could/would pump. It wasnt really difficult, but some people would never figure out the procedure. (works like an alcohol dispenser in a clinic) I do like it and the dispenser works great! It also seals back up for traveling purposes, which is a real plus.
LOVE this remover!!
I really like this product. It doesnt have as overpowering a scent as many other nail polish removers that work well! The bottle is a HUGE plus. Although Im embarrassed (on a number of levels) to say that my husband had to show me how the push-top bottle worked! (NO idea how he knew...) But I was struggling with it, tipping it upside down with a cotton ball on top like Id do with "old school" bottles. But it would drip everywhere and Id be whining about the mess I was making! My husband took a look at it and explained how he thought it might work. He was right! Very handy! In retrospect, Im guessing these are the types of bottles used in salons but Ive never had a professional manicure or pedicure (sad but true), so Id never seen one before!
Awesome
This is hands down the best polish remover. It works! Doesnt smell bad and is good for your nails/cuticles
Effective—but theres a learning curve on pump!
For a gentle remover, this works surprisingly well. Am having a hard time getting used to the pump action though. First few tries ended up in spills. Suggest opening and closing at first over a remover-proof surface!