Ask the Experts
5 Surprising Ways to Use NUXE Huile Prodigieuse Dry Oil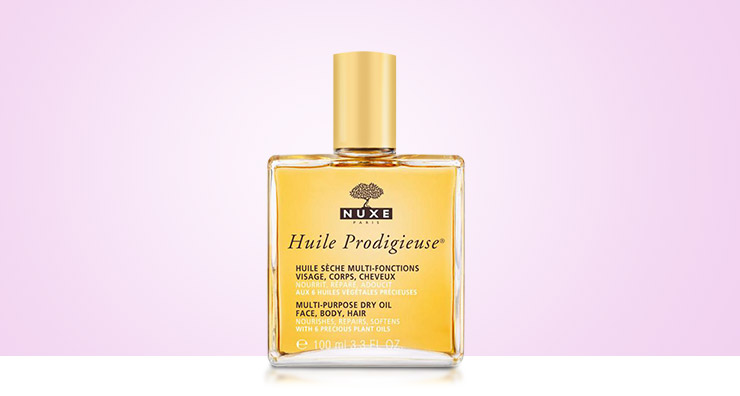 Our guests from NUXE are here to tell us about the many uses of the best-selling Huile Prodigieuse dry oil.
In 1991, NUXE Huile Prodigieuse Multi-Usage Dry Oil was created and it sparked an innovation that has single-handedly changed the rules of cosmetics. Still legendary today, this oil can be used multiple ways to nourish, repair, soften and smooth skin on the face and body, as well as the hair.
For the face:
1. Super charge your moisturizer. Mix a couple drops of Huile Prodigieuse with some of your usual moisturizer and apply to your face working outwards from the center. Perfectly hydrated, your skin will feel softer and suppler.
2. Say goodbye to dry, chapped lips. A drop of Huile Prodigieuse mixed with some NUXE Rêve de Miel Ultra-Nourishing Lip Balm is ideal to repair and beautify your lips. The hydration allows your makeup products to apply more smoothly and last throughout the day without becoming dry.
For the body:
1. Soften and smooth the driest, roughest parts of your body. After applying your favorite body cream or lotion, apply Huile Prodigieuse onto the driest areas, including the elbows, knees and feet, and then massage it into each area using circular movements. The oil will seal in the lotion to prevent moisture loss and keep skin hydrated for longer.
For the hair:
1. Brush away flyaways and frizz. Spritz this oil onto a natural bristle brush and then gently comb through your hair. The lightweight, hydrating formula will tame flyaways, add a boost of shine and leave an incredibly soft texture.
2. Deliver intense nourishment with a hot oil treatment. Spray this dry oil onto your hair and then wrap it in a warm towel. Leave on for 15 to 20 minutes to allow the Huile Prodigieuse to penetrate and then shampoo as normal. The result of this treatment is shiny and intensely nourished hair.
What's your favorite way to use this multipurpose oil? Tell us on Facebook, Twitter or Instagram.
Shop This Blog
Highlights
97.8% of the ingredients in this Dry Oil are of natural origin, it is a unique combination of 30% P...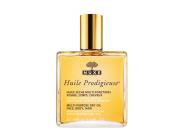 Quick Shop +
Connect with Us!