Ask the Experts
Dear LovelySkin: Are injectables right for me?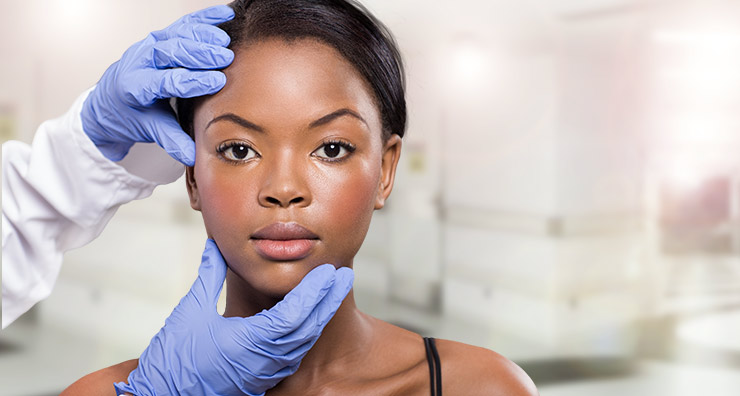 Dear LovelySkin, Are injectables right for me? - Anonymous
With age, collagen breaks down and leaves behind slack skin. Injectable treatments are used to combat the signs of aging associated with sagging skin. Injectable treatments are a great, safe option for revitalizing and rejuvenating your look. They are non-surgical procedures that usually yield quick, impressive results that can last anywhere from three months to two years.
There are types of injectables that address different issues. Neuromodulators such as Botox, Dysport and Xeomin relax muscles to reduce fine lines and wrinkles in your face and neck. Neuromodulators are the best option for someone hoping to reduce forehead lines and other wrinkles. Dermal fillers lift certain sections of the face. With age, skin begins to lose hyaluronic acid, causing a change in the structure and volume of the complexion. Dermal fillers such as Restylane, Perlane (now Restylane Lyft), Juvederm, Voluma and Belotero are made with hyaluronic fluid to help restore skin's natural volume. These treatments are ideal for someone who wants to soften smile lines or increase cheek volume. There are other fillers that are made of different materials, but we will be discussing the hyaluronic acid fillers only here.
Choosing an injectable treatment depends on which area you are looking to improve. If you're hoping to reduce the appearance of wrinkles, the neuromodulator BOTOX is a great option. BOTOX is the original formulation of botulinum toxin A, and its unique protein composition relaxes facial muscles to give patients a more youthful appearance. BOTOX is used to smooth frown lines and wrinkles between the eyebrows and on the forehead as well as its newer indication, crows feet. This injectable treatment also effectively relaxes lines on the lips and around the mouth. Patients typically see a reduction in lines and wrinkles anywhere from three to seven days after the injections, and the effects can last three months or more.
The injectable treatment Dysport also targets wrinkles. This FDA-approved wrinkle relaxer is a newer form of botulinum toxin A, similar to BOTOX, but takes effect quicker, lasts longer and is less expensive. When Dysport is injected, it inactivates the nerves that control facial expression, which allows the muscles to relax for up to four months. This treatment smooths crow's feet around the eyes, frown lines and the wrinkles between the eyes and forehead. Dr. Schlessinger and his team were part of the research studies that led to its approval and Dr. Schlessinger is published on several articles regarding this treament.
Xeomin is a newly approved treatment in the United States after trials that were, in part, performed in Omaha, Nebraska under the direction of board-certified dermatologist Joel Schlessinger, MD. Dr. Schlessinger is also published on this treatment. This injectable treatment relaxes severe frown lines, crow's feet and wrinkles between the eyebrows. Its unique formula has a slightly less intense effect than BOTOX or Dysport with results lasting about two and a half to three months with more movement available than with Botox or Dysport. Xeomin is sometimes an effective anti-wrinkle treatment for patients who have developed a resistance to other neurotoxins although success isn't always possible to predict once resistance has occurred.
Kybella is an exciting new drug that helps to dissolve fat below the jawline to reduce the appearance of a double chin. Skin Specialists P.C. of Omaha is the first in the country to offer Kybella after Dr. Joel Schlessinger and his team helped to complete eight years of research culminating in Kybella's nationwide release. This injectable treatment is a synthetic form of naturally occurring deoxycholic acid, a substance that helps to absorb, metabolize and destroy fat. When injected, Kybella targets the fat cells in the chin area without harming healthy skin cells. Typically, patients enjoy the visible results of Kybella after two to three treatments.
For some patients, dermal fillers are a better option for reducing the appearance of wrinkles or increasing volume. Restylane is a natural and fully degradable FDA-approved hyaluronic acid in the form of a clear gel. It is injected to give skin additional volume by filling a fold in the skin, smoothing wrinkles or lifting the lip. The effects of this injectable treatment can last months.
If you are interested in filling in fine lines on the upper or lower lip or deeper wrinkles in the cheek areas, Restylane Lyft (Perlane) is your best bet. When injected into the lip, Restylane Lyft (Perlane) restores a more natural and sensuous appearance. This natural, FDA-approved hyaluronic acid gel has up to twice the longevity of standard collagen implant treatments.
Restalyne Silk is another type of dermal filler that uses hyaluronic acid gel to create volume, resulting in a healthier and younger appearance. This FDA-approved treatment is specifically formulated to plump thin lips and smooth wrinkles around the mouth. Depending on the area treated, Restalyne Silk can last up to six months or longer.
Employing naturally occurring hyaluronic acid, JUVÉDERM fills fine lines on the upper and lower lip and the deeper wrinkles found in the cheek area. JUVÉDERM can last up to six months or longer and repeat maintenance treatments can be performed whenever you feel the need. JUVÉDERM VOLUMA XC is a great addition to JUVÉDERM injectables because it enhances a different area of the face. JUVÉDERM VOLUMA XC is the first and only FDA-approved filler designed to instantly add volume to the cheek area. This injectable treatment has a quick recovery time, allowing you to resume normal activity within 24 hours of the injections. The results can last for up to two years.
Belotero is an ideal injectable option to treat fine lines around the lips and cheeks. This hyaluronic acid filler plumps the skin and reduces the depth of wrinkles to give your complexion a smoother, more even texture. This treatment is often used to smooth visible fine lines caused by aging or sun damage. It is also effective in filling etched lines around the mouth and the indentations on the complexion that are caused by scarring.
Typically, candidates for injectables are 35 to 60 years old who still have relatively flexible skin. Though injectable treatments are non-surgical, it is still important that anyone interested in injectables be in good health. Your physician will help you decide on a course of action that is best suited for your personal goals. This course of action may include one filler injection, a series of injections or a combination of fillers and other procedures. Just remember that results will not appear overnight.
When your doctor declares you ready for injectables, you can expect a treatment of about 20 minutes that will require little to no downtime unless otherwise instructed. You may have mild swelling or bruising, but most patients can return to normal activities almost immediately after the injections.
If you have sagging skin that is in need of revitalization, contact your board-certified dermatologist and cosmetic surgeon to decide which injectable treatment is right for you.
Do you have a question about injectables? Ask below in the comments section.
Connect with Us!