News and Events
Brent Saunders, the CEO of Allergan, Visits LovelySkin!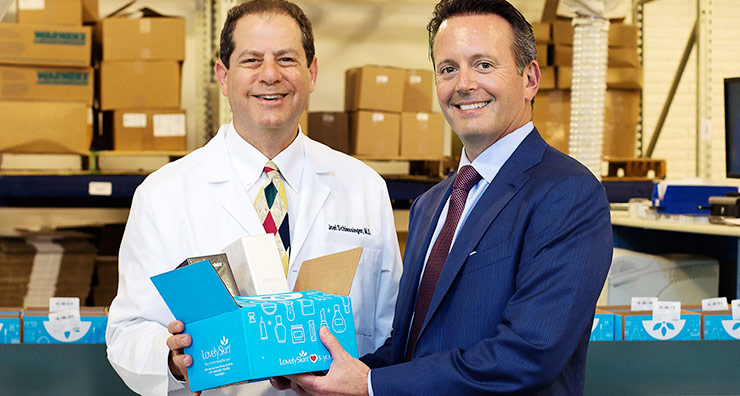 Last Friday, LovelySkin was honored to host Brent Saunders, the CEO of Allergan, and welcome him to Omaha! While Saunders visited Dr. Joel Schlessinger's Omaha clinic, he shared the exciting news that we are Allergan's no. 1 account worldwide. We are so pleased to be the nation's top source for Allergan products, both in Dr. Schlessinger's practice and on LovelySkin.com!
Allergan is a global pharmaceutical company and a leader in developing, manufacturing and commercializing branded pharmaceuticals, devices and products for patients around the world. As CEO and president of Allergan, Saunders frequently visits with top Allergan accounts across the country. During his visit last Friday, he toured our clinic, study, website and retail facilities. He also discussed key topics in the pharma industry and the business of medical aesthetics.
Dr. Schlessinger has been offering Allergan products in his practice for more than 20 years, including BOTOX, Juvederm, Kybella and LATISSE. Dr. Schlessinger has even been instrumental in several clinical trials for Allergan products, most recently for Kybella. SkinMedica has also been a LovelySkin top-shelf brand for more than 10 years.
Saunders also shared some of his valuable expertise with the LovelySkin staff. He was impressed by the Skin Specialists P.C. and LovelySkin facilities, saying, he's "not seen anything like this anywhere in the world." Allergan's continued support means a great deal to our entire staff.
We were also excited to be featured in an Omaha World-Herald article about Saunders's visit to our facilities! It is great to see that the hard work from our team of superb employees has resulted in us being the best in the world, according to Allergan's CEO. We look forward to continuing this dedication to customers and patients for many years to come!